MLS W2W4: Zlatan and LA Galaxy take on Cincinnati without Mexico stars, Portland must start winning
After a one-week break, MLS is back in action with Zlatan Ibrahimovic and the LA Galaxy traveling to Cincinnati, FC Dallas hosting Toronto FC and Portland looking to begin a climb up the table at home against Houston.
Zlatan looking to take Cincy by storm
MLS matches during international tournaments always make for an interesting challenge for teams, and the LA Galaxy are no different. The likes of midfielder Jonathan dos Santos and forward Uriel Antuna are busy with Mexico in the Gold Cup but have no fear: Zlatan is here.
- CONCACAF Gold Cup: All you need to know
- Full Gold Cup fixtures schedule
The short rest will have done the Swedish striker some good, but with so many key pieces missing because of international duty or injury, one has to wonder exactly who will be helping Ibrahimovic up top.
To boot, there was the 4-0 U.S. Open Cup loss in Portland on Wednesday, meaning there are sure to be some heavy legs after playing in the pacific northwest and then having to travel across the country to play FC Cincinnati on Saturday (7:30 ET, ESPN+).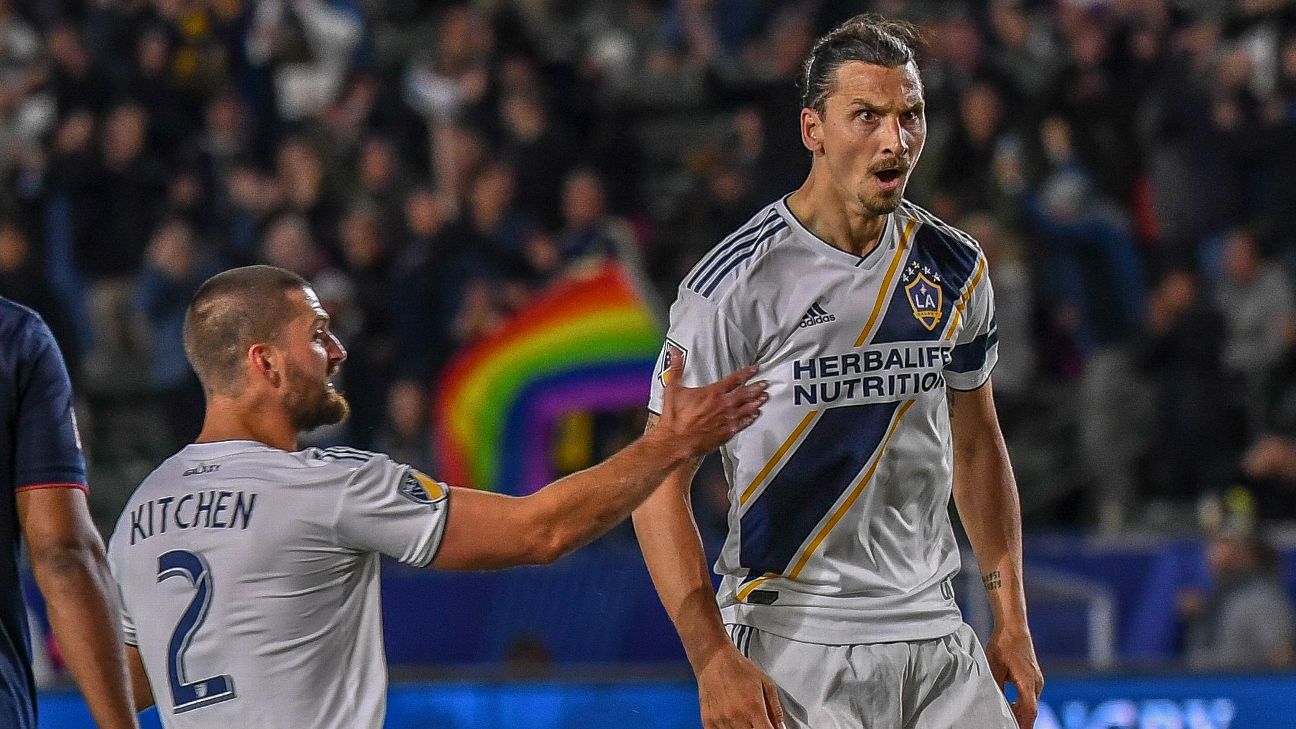 It may well be time for Efrain Alvarez to see the field for longer stretches. The 16-year-old took the league by storm at the start of the season but has mostly been either stuck on the bench or away on international duty with Mexico. He showed zero rust in notching a pair of goals last week in the cup win over Orange County but was not as effective on Wednesday, going 90 minutes in the loss. Still, it would be great fun to see how well the 37-year-old Ibrahimovic and young pup Alvarez work together.
As for Cincinnati, their defense had been dreadful ahead of the break, and without top defender Kendall Waston, Saturday could be a long day.
FC Dallas's U-20 trio back for Toronto clash
FC Dallas find themselves in a very curious position. While many of the teams in MLS are hurriedly filling the gaps during the Gold Cup, FC Dallas will be able to put out a starting XI that's nearly full strength when they host Toronto FC on Saturday (8:00 ET, ESPN+).
The Texan side took their big international hit during the recent Under-20 World Cup when Paxton Pomykal, Edwin Cerrillo and Brandon Servania were all away with the U.S. U-20 team. That trio is back from Poland where the U.S. reached the quarterfinals and will surely be eager to get back to MLS action.
Of the three, it was no surprise that Pomykal was the standout, and now with a World Cup under his belt, he'll be looking to back that up in the second half of the season.
On the flip side is Toronto FC. Jozy Altidore and Michael Bradley are of course with the U.S. national team, as is new center-back Omar Gonzalez, while the likes of Jonathan Osorio and Ashtone Morgan are with Canada.
The depth of TFC is going to be tested over the next few weeks, especially with Canada advancing to the knockout stage, so the scoring/creative burden will rest heavier than ever on the shoulders of Alejandro Pozuelo.
Portland begins the long climb back against Houston
It's odd to see the Portland Timbers sitting in last place in the Western Conference. They played their first 12 games away from home while Providence Park was being revamped, and after narrowly falling 3-2 in a thrilling encounter to LAFC in the season's home opener, Portland can now focus on making the long climb up the table.
To their benefit, Argentines who play in MLS don't get called up to the national team much of the time, if ever, so the Timbers will be ready with their Albiceleste trio of Brian Fernandez, Sebastian Blanco and Diego Valeri. Each time he takes the field in a Timbers jersey, Fernandez impresses and there will be ample opportunity to add to his four-goal total on Saturday against Houston (11:00 pm ET, ESPN+).
The Dynamo will be missing some key pieces both in the back and front, with attacking duo Alberth Elis and Romell Quioto and defender Maynor Figueroa away with Honduras. But Portland would be foolish to pencil in an easy three points, especially with the underrated Mauro Manotas on the field.
This is just the type of game that no one expects the Dynamo to win, which in the crazy world of MLS means that Houston will probably win.