Marco Fabian can't wait to get started on next chapter in MLS with Philadelphia
Every Major League Soccer player will be getting anxious ahead of opening weekend on March 2 and 3. If they aren't, then they almost certainly aren't in the right profession, and it will be a long season ahead. But when 29-year-old Marco Fabian declares midway through an interview -- far from his first since signing for Philadelphia Union on Feb. 8 -- that his overriding emotion right now is that he is "anxious to be on the pitch," it doesn't feel like a throwaway statement.
The veteran of two World Cups for Mexico has had more extremes in his career than most. From losing his older brother to violence when he was starting out, winning Olympic gold in 2012 and proving himself in the Bundesliga, it's been quite the ride for Fabian.
But even given his past, stepping out onto the field at the start of this MLS season will have a special significance to the Mexico international.
The elephant in the room regarding his move has been his recent lack of playing time. Since a back complaint sidelined Fabian after the 2017 Confederations Cup, he's played a total of 1,046 minutes. Some conservative therapy on lumbar spine pain was unsuccessful, and he went to undergo surgery in Houston in August 2017 on a problem multiple doctors had struggled to diagnose. Fabian questioned not only whether his career would end, but whether his life would be affected by the complaint over the long term, with the Guadalajara native admitting he had struggled to walk and dress himself.
"At that time is was all the uncertainty of not knowing exactly what it was; a number of doctors couldn't diagnose it [and] things crossed my mind which made me scared, even putting football to one side," said Fabian in an interview with ESPN FC. "Above all I wanted my personal life and health to be OK."
"Of course, what would happen in the future and a lot of thoughts like that came along, but they were fleeting, and I've always been a positive person, very strong mentally and physically, and I knew that once they detected what I had, everything would be OK."
The injury came at arguably the peak of his career, after a 2016-17 season in which he lit up the Bundesliga with Eintracht Frankfurt. But even after he returned on Feb. 4, 2018 and went on earn a spot in the Mexico squad at the last World Cup, doubts about his fitness were heightened by the collapse of a proposed move to Fenerbahce in the final days of the 2018 summer transfer window. Word leaked out into the Turkish press that Fabian had failed a medical, which was strenuously denied by Eintracht Frankfurt and Fabian, who suggest Fenerbahce had changed the terms of the deal last minute.
Union sporting director Ernst Tanner did his research. The MLS club was given assurances, as well as access to Fabian's medical records, and the Union took its time in doing background checks.
"[Eintracht Frankfurt director of football] Fredi Bobic called," Tanner said. "Fredi is an honest guy. He said, 'He is completely fit, don't worry about it, we will send you every bit of medical information you are requesting.' They were really open. That was very helpful."
The interest in Fabian originally surfaced in late 2018, even if the numbers being floated in the press initially put the MLS club off. But as 2019 swung around, the Union heard encouraging signs and the parties started to more formally discuss the idea of Fabian coming to the "City of Brotherly Love." Fabian was looking for a move, with his contract running out in the summer and the Gold Cup coming up. It probably didn't go unnoticed that regular playing time is an important requirement for new Mexico coach Gerardo Martino, whom Fabian hasn't yet spoken to.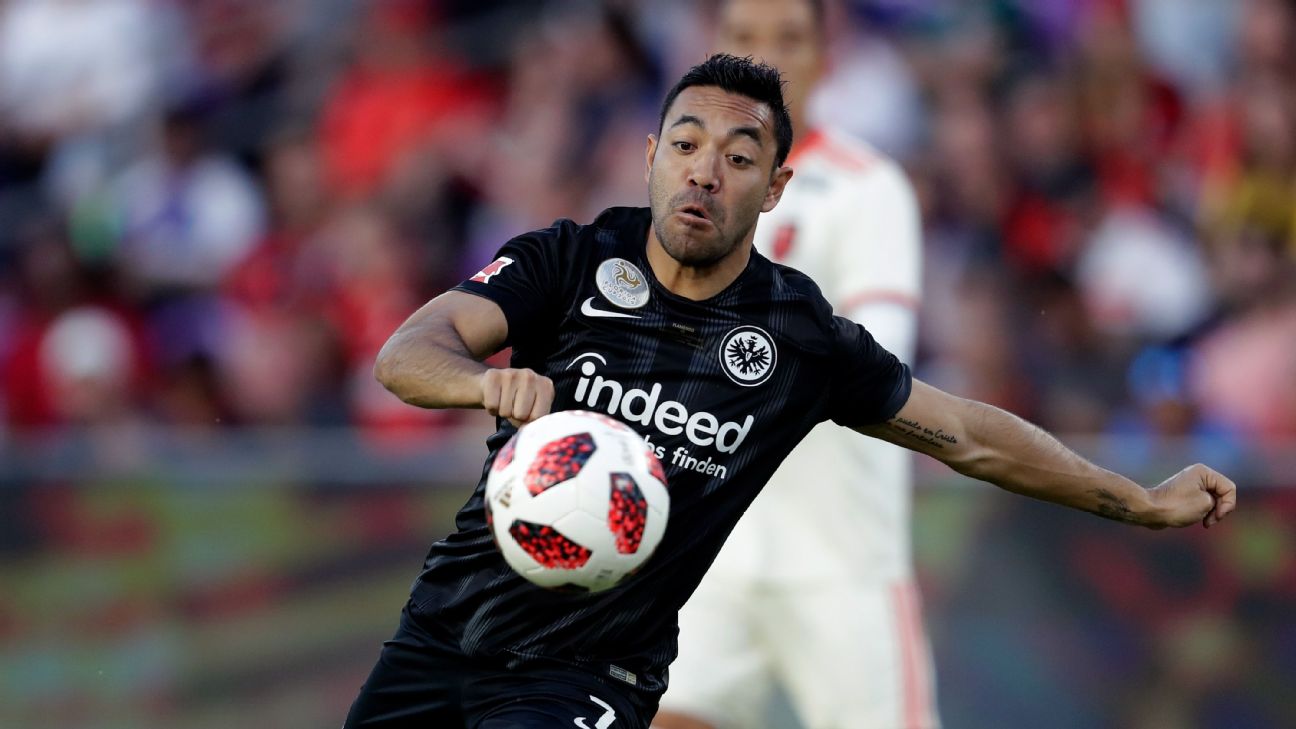 Although if Fabian's lack of minutes after the injury were concerning for some on the outside, it didn't stop the player being in demand. Fabian says "three or four" Liga MX clubs came calling over the winter, and there were offers from China and Dubai. But more than a return to Mexico, it was the Philadelphia offer that stood out, and the MLS institution pulled out all the stops, even visiting the player in Germany to talk about its project.
"I got a really good feeling from the people that approached me from Philadelphia. They've been really very, very good with me," emphasized Fabian. "They've welcomed me, and when the offer came in, I think they helped me decide and to want to be here." From talking to the midfielder, it's clear that the Philadelphia Union was not the player's most lucrative option on the table.
All in all, it's an exciting signing for the Union. Few players anywhere can match a highlight reel as brilliant as that of Fabian. The long-range shots, mazy runs, balance, left-foot goals, right-foot goals, overhead kicks. It all looks very impressive. The Union also had an advantage in signing Fabian, due to his previous trips to the United States to play with the Mexican national team and former team Chivas, as well as his conversations with the likes of the Dos Santos brothers and Carlos Vela added to his positive "feeling."
"Everyone knows that it is a league that is getting better each day, and obviously they are in agreement," Fabian said.
Former Atlanta United coach Martino has notably been including MLS in the conversation when he talks about future El Tri squads and Fabian also sees the league as an increasingly attractive landing spot for Mexicans, even if he does warn that earning a place isn't that simple.
"It's not easy for all of [the national team players] to get here," he said. "Hopefully we'll see more Mexicans playing here and the league keep growing more, which is what we all want."
Fabian is adamant that anybody who thinks MLS is a retirement league is "very wrong," and although there was a report that a return to Europe could happen at some point, the player is dedicated to succeeding at the club, even a citing a MLS title as the aim.
"In this life, in football, everything is possible," he stated. "There are huge examples of a lot of situations, but my mind, my head and my contract is 100 percent with Philadelphia. I want to make history."
The more immediate goal for Fabian is the present, namely getting back to starting games and giving everyone a reminder of just how good he can be.