After Austin's weird journey to MLS, the hard work to build a team, stadium and fanbase begins now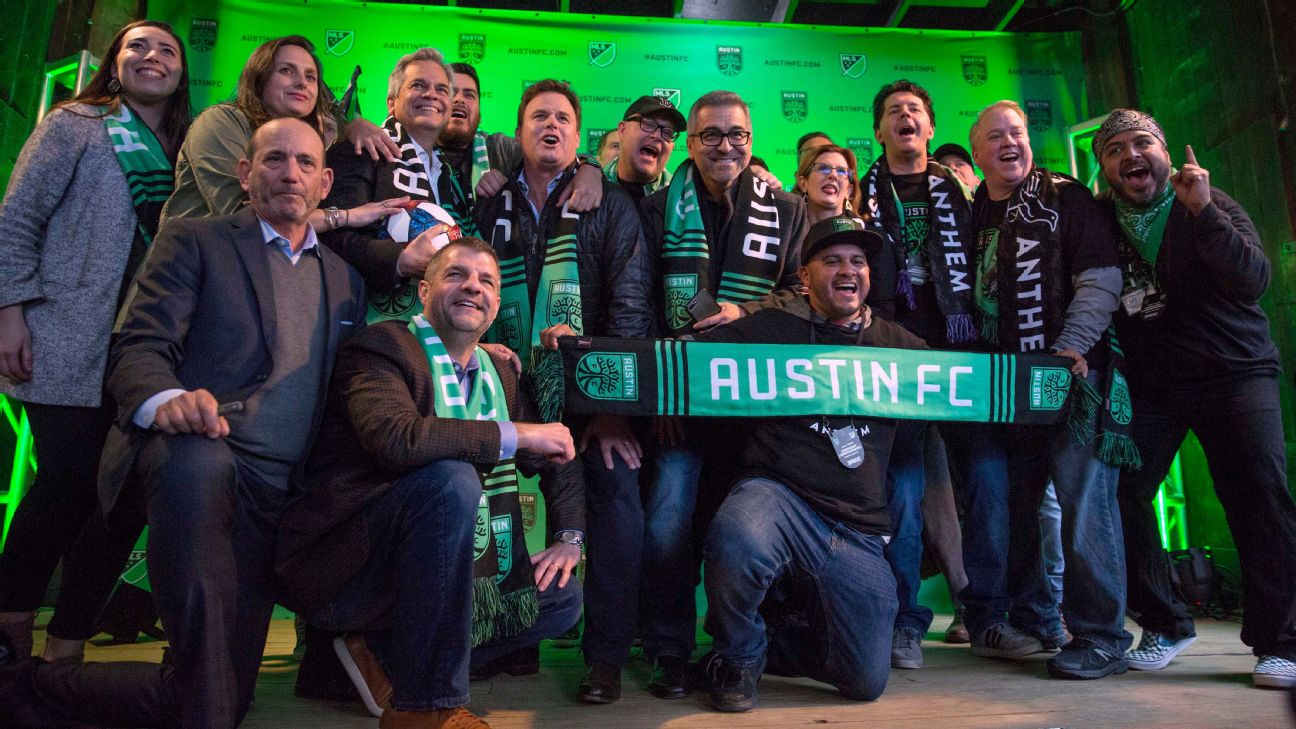 AUSTIN, Tex. -- For a city that prides itself on keeping things weird, it's only fitting that Austin's journey to becoming an MLS franchise has been as strange as it gets.
Fifteen months ago, Anthony Precourt of Precourt Sports Ventures (PSV) announced his intention of relocating his Columbus Crew SC franchise to the Texas capital, setting in motion a wild series of events that ended with the Crew staying in Columbus with new owners, and Precourt getting his Austin wish as an expansion franchise but without the expansion franchise fee. It was back in August when the Austin City Council approved a deal to begin negotiations with PSV, regarding the construction an MLS stadium in the McKalla Place area of North Austin, that the realization that MLS was coming to Austin began to set in. Then, months later, when the news came down that Columbus had saved the Crew, the feeling of guilt that Austin was "stealing" the Crew away from Columbus was stripped away.
"It was always my hope that both cities could have their teams, so it's a win for both cities," said Austin Mayor Steve Adler to ESPN FC via phone. "I feel like the deal we have is the best of its kind in the country. There are no subsidies and no tax exemptions, plus the stadium presents significant community benefit. Our process worked well."
But not everyone is convinced. A petition has been filed by stadium opponents IndyAustin that would seek a public vote on the construction project. "Right now, the mayor and the city are deciding who gets on their gravy train and the only way around that is to let the Austin voters decide," said IndyAustin representative Linda Curtis to ESPN FC.
Still, neither Mayor Adler nor PSV lawyer Richard Suttle anticipate that the petition will stop progress on the construction of the stadium, which is set for a September 2019 groundbreaking. "The petition does not impact Austin FC. The lease is signed and the plan for the stadium has been filed. We look forward to bringing Major League Soccer to Austin," said Suttle in a statement.
However, away from the politics, the fact that Austin's MLS franchise will be able build its own team from scratch makes the two-year delay worth the wait for an eager fan base.
"For Austin fans it's the best possible scenario," said Kit McConnico, host of "The Throw In" on Austin's 104.9 The Horn. "The team is 100% Austin's in every sense of the word, with its own stadium and a full two years to get everything ready and build excitement."
One can understand why PSV is keen on the Austin market. The city is experiencing overwhelming job growth and Austin has once again proved to be a top TV market, as evidenced by the 2018 World Cup ratings. It all feeds the idea that MLS in Austin can be a success.
"I'm very optimistic that we can see a full stadium on a regular basis. Austin seems to be a soccer city," said Lee Nichols, VP of the North Austin Soccer Alliance. Nichols, an Austin resident since 1986, was one of the many MLS2ATX supporters who attended nearly every City Council meeting and public discussion on the proposed construction of the stadium.
"I think we're all going into this with open eyes. Anthony Precourt is making a business decision and frankly, if this market doesn't produce and he wanted to leave, I would understand. My hope is that we have full stadiums every week, that we have a Portland-type atmosphere," said Nichols.
Still, the denizens of Austin know there are challenges to address. The stifling summer heat -- 103 degrees for a July/August kick-off -- is a major hurdle, while the lack of on-site parking at McKalla Place (just 1,000 spots) is another. Nichols used to cover transportation for Austin's weekly newspaper, The Austin Chronicle, and is all too aware of what gameday congestion problems may lie ahead.
"I'm concerned that transit doesn't have enough capacity to get fans there. Light rail and busses will need capacity. They'll need shuttles. It's not an insurmountable obstacle but it's imperative that the city and team collaborate on this. The team can't just let the city handle this. The team needs to be involved," said Nichols.
There's also the challenge of making this a truly inclusive team for all of Austin. The city is 35 percent Hispanic, with the majority being Mexican and Mexican-American. Last February when East Austin's Guerrero Park surfaced as a possible stadium location, residents in the neighborhood, an established home for the city's Hispanic residents, quickly moved to counter and PSV turned its attention elsewhere. Yet other forms of outreach have been warmly received. Austin resident Sergio Tristan, who founded Pancho Villa's Army, a nationwide Mexican national team supporters' group in the United States, believes the team is already taking the right steps to engage the Hispanic community.
"I know that there are ongoing discussions with Hispanic/Mexican leaders in town, like the Hispanic Chamber of Commerce and the people associated with the local Mexican leagues in town," said Tristan. "I think the newness will draw people in, but it's up to Austin FC to make sure they come back. I know I'll do everything in my power so that kids from East Austin, Manor and other Hispanic areas have the chance to go to games. That's my goal."
Others like Jorge Iturralde, the former sports anchor at Telemundo Austin and former host of the popular local radio program Club Deportes, agrees that marketing is key but that much of Austin's FC success with the Hispanic community will depend on whether the team can lure a big Mexican national team name to town.
"I think it comes down to the first squad that is presented and the marketing efforts of the club," said Iturralde. "The squad has to be attractive for the Mexican fan. If not, the only time you'll see the Mexican fan at a game is when Carlos Vela and LAFC are in town or Gio [Dos Santos] and the LA Galaxy. They're not going to spend $200 to bring their families to watch Austin play Real Salt Lake or somebody like that."
For now, it's all roses in the Texas capital, with the city's first MLS game still over two years away. It's been a rocky road since October 2017, but the efforts of fans and city officials alike have brought Austin its first professional sports team. It's now up to Precourt & Co. to make sure the enthusiasm doesn't wane.