Canadian clubs making big push, Jared Watts adds to rough Rapids season
While the European leagues are just starting up, MLS is nearing the home stretch. Here's a look at the best and worst from the weekend.
Heroes
Talk about a statement win. Toronto FC departed the Windy City with a decisive 3-1 victory over the Chicago Fire in a battle of arguably the two best teams in the Eastern Conference, if not the league. If there was ever an indicator of TFC's depth, it's the fact that 15 different players have scored for the Canadian outfit this season. The Reds also became the first team to win in Chicago this season, handing the Fire their first home loss in 12 games. Let's be honest; the title is TFC's to lose.
Sticking with Canada, don't look now but the Montreal Impact would be in the playoffs if the season ended on Sunday. Blerim Dzemaili made the Heroes list last week, but with two wins in the last seven days, giving them four straight, we have to give kudos to the whole squad. The man leading the charge is Ignacio Piatti, with a brace in the last two. What on earth is keeping Montreal owner Joey Saputo from giving Piatti an extension? Pay the man! But also full credit should go to the Impact defense, with just two goals conceded in the last four.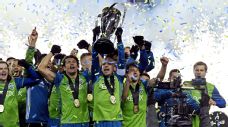 Subscribe to MLS LIVE today!
- MLS LIVE is back with an all-new platform for 2017
- Get the most matches ever, LIVE and ON DEMAND
- Packages start at only $14.99 a month
- Watch MLS on your phone, computer or TV
- Subscribe today at live.mlssoccer.com
If there was ever a model a consistency in MLS, it is San Jose Earthquakes forward Chris Wondolowski. His 94th-minute penalty conversion against Philadelphia on Saturday night to give the Quakes a 2-2 draw was his 10th goal of the season. Wondo is now the only player in MLS history to have eight straight 10-goal seasons. While some always like to bring up that miss against Belgium when talking about Wondo, his accomplishments in MLS are beyond reproach.
Last tip of the cap of the week goes to the one and only Kaka, man of the people. This was great to see. After being receiving that ludicrous red card last week, Kaka took in Orlando's 1-1 draw with Columbus in The Wall at Orlando City Stadium. You see; former Ballon d'Or winners are regular people just like us!
Villains
FC Dallas' summer slump went from bad to worse in Saturday night's 2-0 loss to Sporting Kansas City. If not for the heroics of Jesse Gonzalez in goal, it could have been even more lopsided. The Texan side is failing to muster anything in attack and is now 0-3-1 in their last four games, with just a goal scored. Midfielder Mauro Diaz was out with a knock, but this is still a team with plenty of weapons. The hope was that Cristian Colman would get hot after his brace against Montreal last month, but another goalless drought from the Paraguayan -- combined with Maxi Urruti's five-game goalless skid -- has FC Dallas reeling.
The Columbus Crew are right in the middle of a playoff chase, and so coach Gregg Berhalter had to have been beside himself after Harrison Afful got himself sent off for an elbow to the face of Yoshimar Yotun in the Crew's 1-1 draw at Orlando, a decision that was ultimately made by VAR. Columbus has too much at stake to put a point in peril, especially away from home. The Ghanaian defender left his squad a man down for the final 13 minutes and was fortunate Orlando did not find a winner. Still, that lack of discipline cannot happen when a single point could determine whether Columbus reach the playoffs or not.
If you are searching for the root of Chicago's recent woes, look no further than Nemanja Nikolic's scoring struggles. The two have mirrored each other. Nikolic has gone seven games without a goal; in that same span the Fire are 1-5-1. After flirting earlier this season with the Supporters' Shield trophy, suddenly the Fire are being run down by the teams below them in the standings; seventh-place Atlanta are just six points back and with three games in hand, while the aforementioned Impact are red-hot at the moment. It is certainly not all on Nikolic, but Chicago needs the Hungary international to get going quickly.
Oh boy ... Not a good day on Saturday for Colorado Rapids defender Jared Watts. His first half own goal in the 1-0 loss to DC United pretty much sums up the Rapids' season. Mama said there'd be days like this, and for Watts, that was Saturday.
Arch Bell is based in Austin, Texas and covers CONCACAF for ESPN FC. Follow him on Twitter @ArchBell .