VAR debuts to positive reviews, Orlando City continues to falter
As the Video Assistant Referee era begins in Major League Soccer, we take a look at who stood out for the right and wrong reasons over the weekend.
Heroes
The Video Assistant Referee made its debut this weekend in MLS and fulfilled expectations. Any fears of five-minute waits and players standing around with hands on hips were put to rest, but more importantly, a call such as the Maxi Urruti goal versus the Philadelphia Union was rightly disallowed. Considering this was its first weekend of prime-time use in the league, it has to be considered a success. I, for one, welcome our new video-review overlords.
Once Lloyd Sam was sent off late in the first half of DC United's home date against league leading Toronto FC, things looked bleak for Ben Olsen's men, even though they were leading 1-0. It's been a miserable season in the nation's capital, but to their credit, they gutted out a 1-1 draw against the Canadians on Saturday. It wasn't like DC United had to hang on for dear life, either, to get the draw. They kept TFC at bay with Luciano Acosta frustrating everyone in sight. Meanwhile, the defense, having been gutted for 15 goals in the previous four games, stayed compact and organized. Kudos to DC United for a very good result.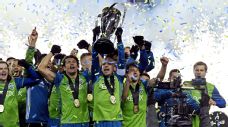 Subscribe to MLS LIVE today!
- MLS LIVE is back with an all-new platform for 2017
- Get the most matches ever, LIVE and ON DEMAND
- Packages start at only $14.99 a month
- Watch MLS on your phone, computer or TV
- Subscribe today at live.mlssoccer.com
The eighth edition of the New York derby was played on Sunday, and hands down it was the best of the bunch thus far between the Red Bulls and NYCFC. After two years of one-way traffic in favor of the Red Bulls, NYCFC can say that the Big Apple is blue after Sunday's 3-2 win. Winning the season series was important for NYCFC, and more so because they overcame a 2-1 second half deficit. It was the first time that NYCFC has shown resiliency in the face of adversity in this rivalry. A significant win, no doubt.
This felt like the weekend of the MLS ball boy. First there was the DC United ball boy who skillfully ball-faked a Toronto FC player in the second half of Saturday's 1-1 draw at RFK Stadium. That was then followed by the molasses-like reaction from the NYCFC ball boy during Sunday's New York derby. Are these childish techniques used to waste time? Yes, of course they are. They're ball kids. If opponents don't like it, they should make better use of the other 89:55.
Villains
There is arguably no team in a bigger rut right now than Orlando City after Saturday's 2-1 loss in Montreal. While still in the playoff hunt, Orlando's form of late -- one win in nine games -- reflects a team lacking ideas. The OCSC attack is painful to watch. With the pieces they have in Dom Dwyer, Cyle Larin and Kaka, they should be doing better, but the shortcomings come in midfield, and it's on head coach Jason Kreis to figure it out. Quickly.
Minnesota United remains an enigma. The team's past three matches, all at home, have been a roller coaster, with a dismal 3-0 loss to the Red Bulls followed by a euphoric 4-0 win over DC United, then ending with a 4-0 whipping at the hands of the Seattle Sounders. Just when you think Minnesota has taken a step forward and had one of those "this could change our season" games, it falls on its face.
Houston Dynamo midfielder Alex had an epically bad 90 seconds on Saturday night, earning a pair of yellow cards in less time than it takes to microwave popcorn. For a team that habitually struggles away from home -- just one win-- playing with 10 men ended any hopes of victory on Saturday against Real Salt Lake. Alex has been fantastic this season for the Dynamo, but his reckless decisions put the Dynamo in peril of reverting back to losing ways on the road.
What's going on with FC Dallas? In past seasons the Texans have gone through rough spells, but it looked like they would shake that in 2017. No such luck. A week after getting pasted 4-0 at home to Vancouver, FC Dallas responded with a desultory 3-1 loss in Philadelphia. Even more curious was Mauro Diaz's substitution off at halftime with the score at 2-0. Swapping your main playmaker after just 45 minutes will raise plenty of questions. It could be just a rough spell, but after two bad losses and midfielder Kellyn Acosta's "I'd move to Europe in this window" comment, things are rocky in Big D.
Arch Bell is based in Austin, Texas and covers CONCACAF for ESPN FC. Follow him on Twitter @ArchBell .