LA Galaxy, San Jose Earthquakes produce classic in California
Rivalry week in Major League Soccer season is done and dusted. Here's who stood out for the right and wrong reasons.
Heroes
The Seattle Sounders-Portland Timbers rivalry gets a lot of mention as the best rivalry in MLS, but this weekend the nod goes to the Cali Clasico. The LA Galaxy and San Jose Earthquakes put on a fantastic show, with the Galaxy winning 4-2. It had everything: Stars scoring goals (Giovani dos Santos; Chris Wondolowski), lead changes and L.A. defender Jelle Van Damme rubbing the Galaxy shield in Marco Urena's face seconds before full time. Can you smell the hatred? Yes, and it was a fantastic game, too. Can't wait for the next one.
Toronto FC are a better team in 2017, thanks in large part to the addition of Victor Vazquez. The Spanish midfielder turned in an extraordinary performance this past Friday night against the Columbus Crew, with a pair of goals in a 5-0 thumping. His perfectly weighted pass for Tosaint Ricketts led to a penalty which Vazquez then converted, but the jewel was his second of the night. A Ronaldinho-esque free kick, firing the ball under the feet of the leaping Crew players on the wall. Take a bow, Victor.
There was arguably no person more closely identified with Orlando City SC than Adrian Heath, who was with the club dating back to their first days in Austin, Texas. Heath's firing in the summer of 2016 had to have been a bitter pill to swallow after so many years with the club, so full credit to Heath, now in charge of Minnesota United, for openly admitting how badly he wanted to beat Orlando. Of course he did, and it was refreshing to hear him say that. Saturday's 1-0 win is one for the Englishman to savor, and rightly so.
There was no happier sight in MLS this weekend than the one late Sunday night in Frisco, Texas, when Mauro Diaz made his return from injury in the 80th minute of FC Dallas' 0-0 draw versus the Houston Dynamo. The Argentine had been out since last October with an Achilles injury, missing the team's playoff run after being in the MVP conversation for the 2016 season. As discussed last week, FC Dallas' new signings have struggled, so Diaz's return takes on a greater significance for the Texans. Nice seeing one of the league's great playmakers back in the fold.
Villains
Oh, Columbus. ... Mercy, that was a tough watch. Parity rules in MLS, so it's not every day you see a team lose 5-0. But the Crew managed to pull that off in Toronto this past Friday. The defending was poor, the attack was nonexistent -- more of the same, unthreatening possession that has plagued the Crew -- and twice (twice!) conceding after going a man up. But the most bewildering decision from coach Gregg Berhalter was subbing off Justin Meram (he of the hat trick two weeks ago) in just the 40th minute. Maybe this was just a one-off, but it was very poor team performance, nonetheless.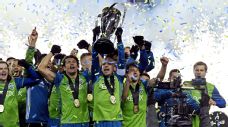 Subscribe to MLS LIVE today!
- MLS LIVE is back with an all-new platform for 2017
- Get the most matches ever, LIVE and ON DEMAND
- Packages start at only $14.99 a month
- Watch MLS on your phone, computer or TV
- Subscribe today at live.mlssoccer.com
Caleb Porter is one of the most successful coaches in MLS, but his comments about the refereeing in the 1-0 loss to the Seattle Sounders on Saturday rings hollow. C'mon, Caleb. You're better than this. You've won an MLS Cup. You're undefeated against Pep Guardiola! If Porter can figure out how to get midfielder Sebastian Blanco firing, then the postgame "I'm-not-making-excuses-but-I-think-it-was-the-ref's-fault" comments can end.
Pity poor Vancouver. Not once, not twice, not thrice, but four -- count 'em -- four times the Whitecaps hit the woodwork in Saturday's 1-0 loss to DC United. If you were scoring at home, and I know you were, the 'Caps hit the crossbar three times before hitting the post on the last kick of the game. They couldn't repeat that feat even if they tried. On top of that, they also had a shot cleared off the line by D.C. Some days, they just don't go in.
Things aren't looking so good at Orlando City right now. The team is winless in their past six, with four defeats, after Saturday's 1-0 loss at Minnesota. Simply put, their finishing is atrocious. Carlos Rivas had every chance to score on Saturday, yet contrived to hit the post on his best chance of the day. Even with Kaka back from injury, Orlando is struggling. Opponents have smartened up: Take away Cyle Larin, and you can beat Orlando City.
Arch Bell is based in Austin, Texas and covers CONCACAF for ESPN FC. Follow him on Twitter @ArchBell .