Montero haunts Seattle, World Cup winners star, Philadelphia beaten again
With another round of Major League Soccer in the books, here's who fired and who failed this weekend.
Heroes
Before Friday, Fredy Montero was a Seattle legend who had, much to the pain of Sounders fans, later signed with local rival Vancouver. After the Whitecaps' 2-1 win over Seattle at BC Place on Friday, his status has likely been altered further. Montero scored twice, lifting his new team to an important win over his old one; Vancouver's second win of 2017 also scored the first blow in this year's Cascadia Cup battle. Montero used his head for both goals, first slipping his mark in the 65th minute before redirecting a set-piece opportunity 10 minutes from full-time. With three goals on the season, he just needs 44 more Whitecaps goals to match his total in Seattle colors.
NYCFC ultimately didn't need David Villa's long-range chip of Philadelphia keeper Andre Blake to secure their first away win of 2017, but it sure was fun to watch and just another stunning example of the former Barcelona man's ability to drop our jaws, even at 35 years of age. It was Villa's fourth goal of the season and his 45th in 69 MLS games.
The Chicago Fire revival still needs to prove itself over a longer stretch, but the early returns have people smiling in Bridgeview. Bastian Schweinsteiger's first impression has been nothing short of spectacular. The club took significant criticism for handing a big salary to a player with a recent history of spotty play and injuries, but that looks severely misplaced so far. The World Cup winner contributed a goal -- his second in three games since his arrival -- and an incisive passing element in the 3-0 win over New England.
Cyle Larin is not just the league's brightest young scoring talent; he's got a penchant for the dramatic. Whether he is "clutch" or his goals just tend to come when his team needs them most by coincidence, his ability to put the ball in the net has Orlando sitting on a perfect 4-0 record in its new stadium. Larin's latest decisive strike came in added time against the LA Galaxy. After Romain Alessandrini leveled the game at 1-1 with seven minutes left, Larin beat Jermaine Jones to the ball on a late corner, slamming home a volley to beat Clement Diop and preserve the perfect start.
Villains
Ahead of Philadelphia's game against NYCFC, Union sporting director Earnie Stewart called pressure on coach Jim Curtin "unfair" and stated emphatically that any heat was not coming from internal sources. Despite hostility to the idea that his job should be on the line, though, fans have plenty of reason to question the leadership in Chester, given Philadelphia is now winless in 14 games. There were a few bright moments in Friday's 2-0 defeat, but across the breadth of 90 minutes, the home side was outplayed, created few chances and never really looked capable of winning. If that's not reason to doubt Curtin's effectiveness and wonder whether it might be time for a change, maybe the pressure should fall on Stewart himself.
Seattle was beaten by Montero in Vancouver, but things might have been very different if not for an uncooperative goal frame at BC Place: Clint Dempsey hit the woodwork twice with shots that beat Whitecaps keeper David Ousted. If even one of those went in, Seattle might have been in a better position to hold on for a point or more.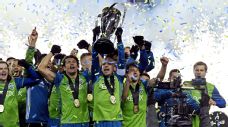 Subscribe to MLS LIVE today!
- MLS LIVE is back with an all-new platform for 2017
- Get the most matches ever, LIVE and ON DEMAND
- Packages start at only $14.99 a month
- Watch MLS on your phone, computer or TV
- Subscribe today at live.mlssoccer.com
Chicago is better than it used to be and Schweinsteiger has been a hit. But it helps to have a man advantage for more than an hour thanks to a pair of silly fouls from an opposing defender. Je-Vaughn Watson put New England in a significant hole with his two first-half yellows and the Revolution was unable to overcome that numerical disadvantage on the road.
In all of 2016, Colorado conceded a grand total of seven goals at home. A year on, the Rapids have allowed four in just two games at Dick's Sporting Goods Park. In a 2-1 loss vs. Real Salt Lake, a handball by Jay Watts and a long-range effort by Brooks Lennon did in Pablo Mastroeni's team. If the stingiest defense in the league -- especially at home -- is no longer that and Colorado's attack continues to be anemic, 2017 promises to be less successful in Denver.
Jason Davis covers Major League Soccer and the United States national team for ESPN FC. Twitter: @davisjsn.