Atlanta United keeps roadshow going; goals should flow in Columbus, Toronto
Major League Soccer is back in full swing. Here are the matches you can't miss as week 7 gets underway!
Atlanta keeps road show rolling vs. Montreal
Atlanta United's trial by fire on the road as a Major League Soccer expansion team continues this Saturday in Montreal against the Impact. In back-to-back games against defending conference champs, Atlanta acquitted itself well enough that there's a very real reason to think it is one of the best teams in the league. Last week in Toronto, Tata Martino's team used its remarkable attacking talent to victimize the TFC defense with long balls over the top. Miguel Almiron and Hector Villalba stood out for their contributions and should be dangerous again at Stade Saputo.
Meanwhile, the Impact are win-less in five tries this season thanks in part to a brutal schedule that has seen them play four of five matches on the road. A loss to the LA Galaxy last weekend was made more difficult to swallow when Marco Donadel was sent off for a debatable elbow on Jermaine Jones. Hoping to get the call reversed and have Donadel available against Atlanta, the Impact appealed the red card but that appeal was denied Thursday, leaving Mauro Biello without the Italian veteran.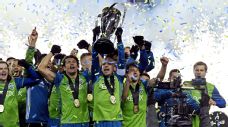 Subscribe to MLS LIVE today!
- MLS LIVE is back with an all-new platform for 2017
- Get the most matches ever, LIVE and ON DEMAND
- Packages start at only $14.99 a month
- Watch MLS on your phone, computer or TV
- Subscribe today at live.mlssoccer.com
That said, Atlanta will be missing a few crucial pieces as well. Josef Martinez remains out because of injury while Yamil Asad will sit out after picking up a red card against Toronto.
On paper, the game represents a clash of styles. The Impact's preference to sit back, absorb pressure and hit opponents on the counter-attack goes up against Atlanta's preferred approach of turning the high press into an irresistible wave of speedy attacks. Faced with a more compact defensive setup than it saw in Toronto, it will be interesting to see if Atlanta can break down the Impact.
Orlando's home streak on line against Galaxy
The Lions have opened up their new venue with a run of three straight wins. The Galaxy enter off an important (and much-needed) home victory against the aforementioned Impact. In another year, or even later in the season, the Galaxy spoiling a Eastern Conference opponent's perfect home record wouldn't seem too far-fetched. But as it is, LA will be firm underdogs in Florida if only because nothing about the Galaxy has looked convincing in 2017.
Part of that is down to injuries. Curt Onalfo hasn't had his first-choice XI on the field once through the opening five games. Sebastian Lletget's long-term injury means that will be continue to be true through the summer, though the Galaxy boss will have most of his best players available to him in Orlando. Gyasi Zardes, Giovani Dos Santos and Ashley Cole are just a few of the names that have already missed time in the early going.
But some of the Galaxy's ineffectiveness can be laid at the feet of midfielder Jermaine Jones. Integrating the all-action U.S. international into the LA setup hasn't been as smooth as Onalfo would have liked, and it was only last week against the Impact that Jones first looked the part of team leader and midfield dynamo in Galaxy colors.
Jones' performance came against the backdrop of controversy: last week, he decried the lack of respect he believes he should get as part of the USMNT setup in comments to Max Bretos and Herculez Gomez. If Jones is going to continue to prove his apparent haters wrong and demand a place in the national team, putting in dominant performances on the road in a place like Orlando could help immensely.
Orlando will be missing midfielder Matias Perez Garcia due to suspension in addition to the continued absence of Kaka. With those holes to fill, new arrival Luis Gil could get a start.
Goals should flow when Columbus hosts Toronto
Once upon a time, someone got the bright idea that Columbus vs. Toronto was a rivalry and should be treated as such. There's even a trophy, the Trillium Cup, that goes to the winner of the season series between the two Eastern Conference teams. Back when Toronto was bad and Crew SC was a slightly less exciting team, the "rivalry" played out more as a humorous aside than anything that brought actual heat to the matches.
Times have changed. While the Trillium Cup still feels forced and unnatural, the rise of the two clubs into the league's elite makes any match pitting them against one another worth watching. The last two Eastern Conference champions are aiming for that lofty achievement and more with all guns blazing. The chances for an attacking show of real entertainment value is high.
TFC arrives in Ohio off a draw against Atlanta that delivered some good and some bad moments. The good: Sebastian Giovinco scored his first goal of the season and did it off a sublime pass from Jozy Altidore. The Reds need that pair to improve after a slow start. The bad: Atlanta were a constant menace for the Toronto defense and grabbed a point at BMO Field in a 2-2 draw. As an MLS Cup contender, TFC shouldn't be dropping points at home.
The defensive issues should lead to a change. Look for Nick Hagglund to be back in the lineup after serving as understudy to offseason acquisition Chris Mavinga. Crew SC is atop the Eastern Conference, but not everything is great with Columbus, either. After a Justin Meram-lead win over Orlando two weeks ago, Crew SC lost to the Chicago Fire in Week 5.
Jason Davis covers Major League Soccer and the United States national team for ESPN FC. Twitter: @davisjsn.