Toronto, Seattle, Atlanta climb; Dallas remains No. 1 in MLS Power Rankings
The top two stay the same in our MLS Power Rankings but look out for Atlanta United, who added another impressive road win this weekend and are reaping the rewards with a two-point jump.
1. FC Dallas (no change)
Javier Morales scored his first goal for his new team in a 2-0 win against Minnesota United and joined the MLS 50-goal, 50-assist club in the process.

2. Portland Timbers (no change)
Call the Timbers road warriors. After going winless away from home last year, Portland already has two road wins in 2017, including a 3-1 result against the Philadelphia Union.

3. Toronto FC (+2)
Toronto will hope Sebastian Giovinco's first goal of the year in the 2-2 draw with Atlanta United will jump-start his scoring.
4. Seattle Sounders (+2)
The Sounders will kick themselves for wasting Nicolas Lodeiro's goal and failing to close out proceedings in the 1-1 draw with the San Jose Earthquakes.
5. Atlanta United (+2)
The new boys can play -- and not just at home. Another road point in a tough Toronto environment is very impressive.
6. Houston Dynamo (-3)
For the first time in 2017, Erick Torres failed to score in a Dynamo match, as his team fell 2-0 against the New England Revolution.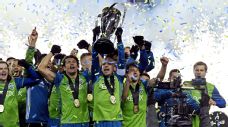 Subscribe to MLS LIVE today!
- MLS LIVE is back with an all-new platform for 2017
- Get the most matches ever, LIVE and ON DEMAND
- Packages start at only $14.99 a month
- Watch MLS on your phone, computer or TV
- Subscribe today at live.mlssoccer.com
7. Columbus Crew SC (-3)
If not for Zack Steffen, Columbus might have taken a bigger beating on the road in its 1-0 loss to the Chicago Fire.
8. Orlando City SC (+2)
Servando Carrasco scored just his second-ever MLS goal in the 1-0 win over the New York Red Bulls.
9. Sporting Kansas City (+2)
Sporting ripped the Colorado Rapids apart on the counterattack on Sunday night, with Dom Dwyer starring with his hold-up play and goal scoring in the 3-1 win.
10. New York Red Bulls (-2)
The Red Bulls have gone cold in front of goal, most recently against Orlando, and it's going to take more than Bradley Wright-Phillips to fix it.
11. New York City FC (-2)
NYCFC is proof of the problem with possession from the back; if you mess it up, it gifts golden chances to the opposition, which the team did in its 2-1 loss to D.C. United.
12. San Jose Earthquakes (no change)
Chris Wondolowski is the silent assassin, so quiet that he can pop up in the box unmarked mere yards from goal, which is precisely what he did to level in the 90th minute vs. Seattle.
13. Chicago Fire (+2)
The post-Bastian Schweinsteiger glow goes on in Chicago, but it was Dax McCarty who stood out most in a big win over Columbus.
14. LA Galaxy (+2)
Romain Alessandrini has been a bright spot for the Galaxy so far with three goals and two assists, most recently scoring in a 2-0 win over the Montreal Impact.
15. D.C. United (+2)
As Luciano Acosta goes, so go D.C. United. The Argentine playmaker is proving the difference on the attacking end.

16. New England Revolution (+2)
On Saturday, Revs midfielder Diego Fagundez became the first homegrown field player to surpass 10,000 minutes in MLS in the win over Houston.
17. Colorado Rapids (-4)
The Rapids' defense has started to show cracks after letting three slip by against Sporting KC, a major problem given Colorado's lack of scoring prowess.
18. Montreal Impact (-4)
Marco Donadel's red card did in the Impact on their cross-country trip to L.A., leaving the club near the bottom of the East.
19. Real Salt Lake (+3)
Mike Petke's first game saw RSL finally deliver some goals in a 3-0 win against the Vancouver Whitecaps. Albert Rusnak's performance in particular should have fans excited.

20. Minnesota United (-1)
Minnesota United's defense got a boost with Marc Burch and Sam Cronin in the lineup, but winning away in Frisco was too big a task as the expansion side fell 2-0.
21. Vancouver Whitecaps (-1)
The snow complicated proceedings in Utah, but that was a particularly disappointing performance against RSL.
22. Philadelphia Union (-1)
The Union are winless in 13 games going back to 2016 and are facing the wrath of some pretty upset fans in Chester, Pennsylvania.
Jason Davis covers Major League Soccer and the United States national team for ESPN FC. Twitter: @davisjsn.