MLS' amalgamation of roster rules gives the league spending flexibility
The page labeled "MLS Roster Rules and Regulations" on MLSsoccer.com stretches on for more than 8,000 words. Eight thousand, one hundred and thirteen to be exact. When cut and pasted from an internet browser into a Word document, the rules and regs extend to 25 pages (though a mere 15 when reduced to 12-point font). The document is, shall we say, rather extensive, even though as a public-facing tool it's no doubt intended to be a clear and concise as possible.
MLS, as anyone who's even a casual fan of the domestic league knows, has a seemingly never-ending list of salary- and player acquisition-related requirements. The rules and regs are a Frankenstein's monster, and that's by design.
"The league and the ownership group is always looking at how rosters are constructed and what are the strategic needs in terms of improving product quality," Todd Durbin, MLS' executive vice president of competition and player relations, told ESPN FC. "When you're having those conversations, what you see in terms of some of the initiatives that we've created over the years is that each initiative was designed to address a specific area of investment."
Translation: As MLS has developed and grown throughout the past two decades, league executives and teams have faced an ever-changing set of issues when it comes to building rosters along with recruiting and retaining players. The current structure is an amalgamation of individual mechanisms invented to solve individual problems.
The league and teams wanted to get big international stars (read: Beckham, David), so they invented designated players in 2007. They wanted to retain talented youth, so they instituted a homegrown subsidy (read: Morris, Jordan) in 2016. They wanted better quality across the board, so they introduced general allocation money and targeted allocation money in 2015. TAM was successful, so they supercharged it.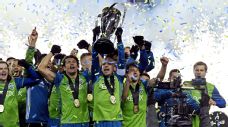 Subscribe to MLS LIVE today!
- MLS LIVE is back with an all-new platform for 2017
- Get the most matches ever, LIVE and ON DEMAND
- Packages start at only $14.99 a month
- Watch MLS on your phone, computer or TV
- Subscribe today at live.mlssoccer.com
MLS has always been, and continues to be, a work in progress. Is the current format what you'd build if someone asked you to create a league structure today? Probably not, but that doesn't mean that the individual decisions don't make sense. Take that thinking a step further, and it's easy to see how MLS ends up with today's alphabet soup.
There's a growing tension between MLS' "keep costs down" origin story and the reality that the league, now in its 22nd season, is on stronger financial footing. Some ownership groups, especially the newer ones, want to spend more, while the league as a whole needs to do so to raise the level of play. So rather than invoke the simplest solution -- a flat salary cap -- MLS built in multiple exceptions. That's how you get a system in which Toronto FC spent nearly $22 million on salaries in 2016 while FC Dallas was on just $4.3 million. The understandable compromise allows ambitious owners to spend more while letting more purse-focused owners keep their salary budgets down.
It's a construction that's perhaps not the most attractive thing in the world -- and confusing to casual fans -- but one that allows a certain amount of flexibility, which Durbin argues is important. "One of the benefits of our system is that it allows us to feed money into the system based on where we think the need is and to react strategically, based on speaking to our teams, what are the immediate and long-term strategic needs of our clubs," he said.
The most recent alteration is TAM, which made its debut in the newest collective bargaining agreement. It can be used to pay players more than the DP cap hit of $480,625 while not counting that player as one of a team's three DPs. As with other innovations, it arrived to address a specific concern.
"We were sitting down and thinking about the strategic needs of the league in terms of where, right now, are we going to spend our money to get the greatest level of return," Durbin said. "The consensus among the technical folks in the league was that we needed to find a way to get more players between $500,000 and $1 million on each team."
He continued: "In the relatively short time it's been here, I think TAM has allowed our teams to do three very important things: Go into the market and get players who can be impact players on their first team, have the resources to retain players rather than lose them overseas and convert DPs and then go into the market and add another DP."
This year, teams will get $1.2 million in TAM. That's significantly more than the $250,000 per year MLS squads got in 2015, the first year of TAM. It's also four times what the CBA initially called for in 2017, a sign that the program is working. (Also, there's plenty of money in league coffers after the players union settled for such low salary cap terms during the last CBA.) About 60 players are having their cap hits paid down with TAM this season, including Kyle Beckerman, Jermaine Jones and Darlington Nagbe.
Players like that trio getting paid is a good move by the league. Here's the problem, though: According to a recent survey conducted by ESPN FC, 79 percent of the players aren't happy with the salary structure. And that's despite the fact that there's more money in the pot than ever. Consider that each team can have three DPs, and the 60 players using TAM works out to about three players per team as well. Even if another player or two gets some of the $200,000 GAM and one takes the homegrown subsidy, that means only a third of the 24-man roster is benefiting from the extra flow of money. That leaves the majority of the league in the $64,000 to $250,000 range.
While making six figures to play soccer isn't too shabby -- and it's certainly better than a dozen years ago when cracking $50,000 was excellent -- MLS' rules still make the rich richer while doing less to bring up the bottom half of the league. If MLS is to achieve its goal of becoming one of the top leagues by 2022, that calculus will have to change. After all, what's one more acronym?
Noah Davis is a Brooklyn-based correspondent for ESPN FC and deputy editor at American Soccer Now. Twitter: @Noahedavis.