Magnitude of Onalfo's task in L.A. reflected in Cassar's struggles at RSL
(Editor's note: In the hours after this story's publication, Jeff Cassar was fired as manager of Real Salt Lake.)
Sometimes recognition comes from unexpected sources.
If Curt Onalfo was beginning to worry about the scale of the task he had taken on in replacing club institution Bruce Arena as head coach of LA Galaxy this offseason, he would only have needed to look to the next technical box to receive a nod of sympathy on Saturday night. Real Salt Lake's Jeff Cassar knows what it's like to inherit a successful team that needs to change, but has been deeply affected -- infected even -- by a previously successful model.
At the end of 2013, Jason Kreis had just led Real Salt Lake to within a penalty kick of a second MLS Cup in four years. The team was a perennial 50-plus-points-per-season contender in the Western Conference, and the core ideals of developing young players with technical aptitude, to play in a hardworking and fluid 4-4-2 diamond, all amid the unpretentious and all-encompassing principle that "the team is the star," all seemed embedded into RSL's DNA.
And then Kreis was gone, lured to an ill-fated stint at New York City FC, while Real Salt Lake was left with something of an identity crisis for the new head coach, Cassar, to handle. Just like Onalfo, Cassar was promoted from within the coaching ranks of the club, but also just like Onalfo, the internal appointment concealed a lack of continuity at the club rather than addressing it.
Even before Kreis's departure, RSL's famed stability was under threat when minority owner Dell Loy Hansen bought out former owner Dave Checketts at the start of 2013. Change was coming, as Hansen sought to put his mark on the team, but in truth the team was about to change anyway. The successful core of the team held together by Kreis and general manager Garth Lagerwey was both aging and bumping up against the salary cap -- victims of their own success and best practice.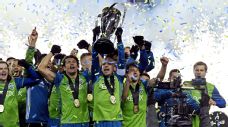 Subscribe to MLS LIVE today!
- MLS LIVE is back with an all-new platform for 2017
- Get the most matches ever, LIVE and ON DEMAND
- Packages start at only $14.99 a month
- Watch MLS on your phone, computer or TV
- Subscribe today at live.mlssoccer.com
That was the task handed to Cassar: replicate a stable pattern of competitive consistency and core principles, all while overhauling team personnel and refining the team's default tactics for a new technical age dominated by teams playing 4-2-3-1. And he had to do all this while developing his own personal mandate clear of the shadow of his successful predecessor.
If this scenario sounds familiar, it's fair to say that Onalfo's position is, in many regards, the same -- but more so.
For one thing, Onalfo is being charged with managing a big shift in technical emphasis for the Galaxy, right after a season that could not have been more entrenched in another approach.
If Arena had any sense that 2016 would be his last season with the Galaxy, it seemed he was determined to go out doubling down on the principle that you can't win anything with kids. The trouble was that what on paper looked like the most stacked roster in MLS history at the start of the year, ended the season as a creaking mass of awkwardly overlapping veterans, cancelling each other out.
LA Galaxy had ushered in the age of the designated player when David Beckham signed in 2007, but by the end of 2016 they looked stuck in it. Other teams, such as the New York Red Bulls, had veered away from star power to drawing on homegrown talent, yet the Galaxy appeared to be a paradox in that regard; they had one of the best catchment areas in the country for youth talent, and an academy system (and climate for training them in) that was the envy of the league. And yet the man who functioned as both head coach and GM seemed unconvinced that the product was ready for prime time, even as teams like New York and Dallas threatened to redefine the paradigm of MLS best practice.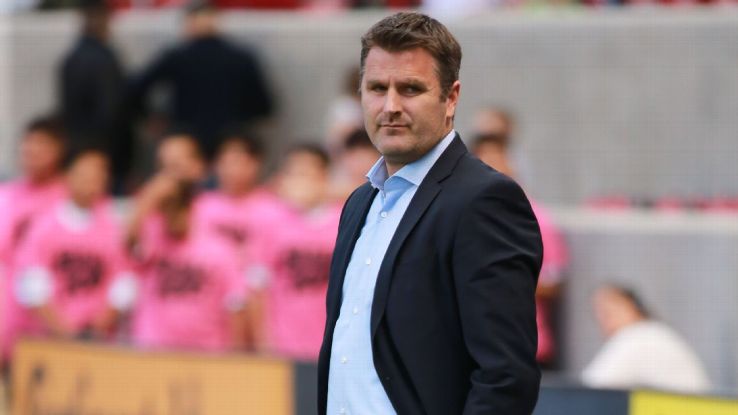 But now Arena has gone, and with president Chris Klein keenly aware of the need to strengthen the team's local footprint in the face of regional competition from Mexico and, soon, LAFC, Onalfo has been given the task of integrating the youth system into what's left of the holdovers from the designated player era. Or most likely, this being L.A., he's expected to straddle the two approaches and get everyone to buy in. No easy task for any coach, but for one implicated in the previous regime it's arguably even trickier.
At 1-0 down on Saturday night it looked trickier still. The Galaxy had already lost their first two home games, despite being competitive in patches, and looked to be sliding to a third consecutive defeat in a sequence that would have been unthinkable for most of the Arena years.
Kyle Beckerman's red card just before halftime turned the game though, and L.A. would go on to beat RSL's 10 men 2-1 with goals in the last quarter of the game, as the mix of youngsters and veterans grew in confidence.
And it's that latter group that will be key in the coming months; not only buying into the new approach but easing their young peers through the growing pains of a new LA Galaxy. Perhaps that's where Onalfo's history with the franchise may stand him in good stead, just as Cassar's relationship with Beckerman et al helped buy him time in his transitional period.
It'll take a while for the new team to become Onalfo's, but in the meantime, as Cassar could tell him, it doesn't hurt to have a working knowledge of the old one. Just as long as he's clear about what wasn't working anymore.
Graham Parker writes for ESPN FC, FourFourTwo and Howler. He covers MLS and the U.S. national teams. Follow him on Twitter @grahamparkerfc.