Player scouting at the forefront of Major League Soccer's rapid evolution
Everywhere you look in MLS, the league is evolving at warp speed.
Academies are cranking out players who eventually play for the first team at an increasing rate. Organizations are investing more in sports science and are doing more to look after the welfare of their players off the field. Clubs are also becoming savvier about how they manage the salary budget.
And one area that is undergoing considerable change is player scouting.
Sporting Kansas City manager and technical director Peter Vermes called scouting "one of the last bastions in a club to start to get resources." But now MLS clubs are investing more money in processes, technology and people in a bid to find those players who can turn a team into a title contender.
That teams are investing more in scouting certainly counts as an oddity. To hear Seattle Sounders GM and president of soccer Garth Lagerwey tell it, hitting up ownership for a scouting budget doesn't take much convincing, or at least not as much as it used to.
"I don't care what your philosophy is; you need good players," Lagerwey told ESPN FC in an exclusive interview. "That's not something that is a terribly hard sell to an owner, to say, 'Hey, we want to win, so we need good players, so we should probably spend some money trying to find good players.' Now obviously different owners are willing to commit different levels of money to that, but it's not a hard one to explain."
There have been some catalysts behind the greater emphasis on scouting. Recent additions to the league like New York City FC and Atlanta United, with their vast resources, have increased the competition among teams. Another factor has been the introduction of targeted allocation money. It has meant a higher caliber of player entering the league, and with greater investment comes a need to maximize the odds in terms of making good signings.
"We're in a slightly different market, a slightly different world than just as recently as the last 12-24 months," New England GM Mike Burns told ESPN FC. "I think because of that we're going to have to make a larger investment in scouting for us as well as across the league because you're in a different kind of tier of players you're trying to attract. We're trying to get higher-end guys."
Historically scouting has been very labor intensive. It often required trips abroad and was terribly reactive. The task of scouting also tended to fall on a team's coaching staff, and in some cases still does. Given the responsibilities of an assistant coach during the season, it doesn't take long for the workload to be spread too thin.
"You think you can get it done with your existing staff," Vermes said. "But the bottom line is as this league continues to grow, you have to have areas in your organization that have focus."
Technology has done plenty to change the scouting dynamic. Lagerwey recalled how when he started with Real Salt Lake back in 2007, he would sometimes wait weeks to receive a DVD of a player via regular mail. Usually there would be just one copy, so he and the coaching staff would sit around and watch the DVD together, knowing what they were seeing had to be taken with a degree of skepticism.
"If you're watching one game of a guy, that's inevitably the best game he played in the last six months," Lagerwey said. "That's why the agent is sending you stuff on him."
Now, thanks to services like Match Analysis, Wyscout, Scout7, Opta and InStat, it's possible to watch just about any player, anywhere in the world almost instantaneously. The amount of data is greater too, allowing an analyst to filter video or statistics down to the individual touches, both good and bad. That has led to a significant increase in efficiency in terms of identifying targets and weeding out players who aren't a good fit.
"It used to be go out and scout, and bring 30 names back," Portland Timbers GM and president of soccer Gavin Wilkinson said. "Sending someone out and having them be gone for three weeks no longer makes sense from a business, financial or scouting standpoint. When you're able to have people in the office for eight, nine hours a day, and they're watching three games, or they're able to complete homework on many more players, that's a lot more efficient, a better use of time. I think a lot of it is based on analytics, based on [video] scouting. We still do live scouting, but for us that is one of the final boxes towards signing a player."
Technology alone will not automatically lead to better results, however. Lagerwey noted there is almost too much information available now, so sifting through the noise is important. It also puts a premium on putting processes in place for player identification and tracking, the better to make player scouting a more proactive endeavor.
There still remains a need to have boots on the ground. While technology is a huge help, the eye test still has value, though it is often reserved for the biggest signings.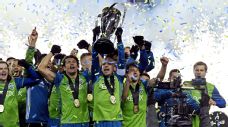 Subscribe to MLS LIVE today!
- MLS LIVE is back with an all-new platform for 2017
- Get the most matches ever, LIVE and ON DEMAND
- Packages start at only $14.99 a month
- Watch MLS on your phone, computer or TV
- Subscribe today at live.mlssoccer.com
"You always want to try to see a guy play live before you sign him, just because it gives you a level of comfort," Lagerwey said. "A big part of that is meeting the person; talking to him, being able to get a measure of him and having a conversation with him. I think that kind of personal stuff is really valuable. Certainly going to a game and watching him live, you can see how he interacts with teammates, you can see what he does outside of the camera, so there's a little bit more information available."
Another way scouting has changed in MLS is that the spectrum of players to be tracked is much broader than it used to be. Scouting in MLS used to focus on foreign and college players. Not anymore.
"As homegrown players have become more and more important and everyone starts to recognize the value of getting these kids in the system, you're scouting the entire country now for youth kids," Lagerwey said. "We're restricted and we can't pull kids out of another MLS team's home territory, but that still leaves big patches of the country to scout and recruit kids."
The emphasis on scouting players takes on added importance for a club like Kansas City. Vermes said SKC's philosophy is to find value in players it recruits while developing its own, as opposed to spending $5 million on one player. The organization is devoting scouting resources to that end.
But finding capable scouts isn't as easy as it sounds. Inside every scout is usually someone who is trying to get into coaching. That can result in considerable turnover in the job, which can lead to a lack of continuity. Finding someone with the breadth of knowledge needed, from youth to domestic pros to international, is difficult as well. That was the challenge for Wilkinson when he was trying to fill the team's director of scouting and recruitment position.
"I think a lot of clubs are still solving this problem," Wilkinson said. "What we did is we went down the road of getting an MLS player that knows the league, knows the philosophy in Portland, knows [coach] Caleb [Porter], knows myself, and he knows the philosophy and expectations of the club."
That player turned out to be recently retired Timbers midfielder Ned Grabavoy, who now oversees all of Portland's scouting efforts.
In terms of staffing dedicated to scouting, the numbers vary wildly. A team like New England still relies heavily on its coaching staff to do scouting, though it has hired a video analyst as well as an additional assistant in Carlos Llamosa this season. Seattle has three dedicated front-office members, led by sporting director Chris Henderson, who handle the scouting duties, splitting up the foreign, domestic and youth buckets. Portland has a more extensive organization, with the number of people -- both internal and external -- dedicated to scouting exceeding double digits. On top of that are the informal networks of contacts that various coaches and staff have developed over the years.
"We have all these tentacles out there that are connected to all these different people that we all know from our years in the game," Vermes said. "The good thing with those connections is that we can double-, triple- or even quadruple-check references on a guy. What's he like off the field, in the locker room? I think those become the more important aspects because a lot of times we can turn to one of our contacts who can really get behind the scenes and find out what a guy is really like."
Kansas City has taken the approach of employing two foreign scouts, one each in Europe and South America. SKC's man in Europe, Rui Marques, is based in Portugal and covers five leagues in Europe. It was through his efforts that Kansas City signed winger Gerso Fernandes and Spanish midfielder Ilie Sanchez.
"That piece has lent itself well because when he's looking at players, they're not far off or they're really close to what we would be looking for ourselves," Vermes said.
By Marques' count, he's seen more than 100 games live since he first started working for the club in summer 2015. He's also watched countless others on video. Marques admits sometimes he has trouble sleeping if he's watched too many games in one day, but that overall he finds the work fulfilling. And throughout the years, he's been able to hone is craft in finding potential signings.
"I think the most difficult task for a scout, it's to evaluate if the player does the best decisions during a match," Marques said via email. "It is easy to see if a player has shooting or dribbling skills or if he plays with enough intensity and hardness. I think the best scouts should process in their minds accurate information on a quick way when they are observing a match and within that information must be not only the technical aspects but also the ones that fall into the decision-making category."
If Vermes had his way, he'd prefer to find even more staffers like Marques and spread them throughout the world. Other teams across the spectrum, from Portland to New England, will continue to expand the number of staff dedicated to scouting and player recruitment.
"The rate of foreigners that failed when they came to MLS six, seven years ago, versus where we're at now, I think it's gotten better," Wilkinson said. "There's a lot more information, there's a lot more scouting going on, there's a lot more checks and balances that are going into it. It's just the evolution of the game in this country."
And to compete in MLS, there's no going back.
Jeff Carlisle covers MLS and the U.S. national team for ESPN FC. Follow him on Twitter @JeffreyCarlisle.