Portland marches into first place,
San Jose jumps up the Power Rankings
It's just Week 2 and there's already a new No. 1 in the Power Rankings, thanks to a fantastic counterattack by the Timbers and FC Dallas playing for a point on the road.

1. Portland Timbers (+1)
The Timbers scored their first road win since 2015 against the LA Galaxy on Sunday night -- Portland didn't have single win away from home last campaign.
2. FC Dallas (-1)
Oscar Pareja rested a host of first-choice players against Sporting Kansas City and still managed an away point.
3. New York Red Bulls (no change)
Goalkeeper Luis Robles set an MLS record on Sunday with his 142nd consecutive start en route to a 1-0 win vs. Colorado.
4. New York City FC (+5)
David Villa returned to the scoresheet in a big way with a pair of goals for Patrick Vieira & Co. in their 4-0 win over D.C. United.
5. Houston Dynamo (+5)
Two goals in two games for both Erick Torres and Romell Quioto has Houston flying high.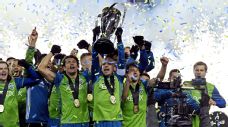 Subscribe to MLS LIVE today!
- MLS LIVE is back with an all-new platform for 2017
- Get the most matches ever, LIVE and ON DEMAND
- Packages start at only $14.99 a month
- Watch MLS on your phone, computer or TV
- Subscribe today at live.mlssoccer.com
6. San Jose Earthquakes (+7)
Anibal Godoy's game winner against Vancouver has turned the Panamanian's wonder goal run into a streak.

7. Toronto FC (-2)
Everyone is holding their breath in Toronto after Sebastian Giovinco was forced off before half-time with an injury in Saturday's draw against the Union.
8. Colorado Rapids (-4)
Tim Howard's return to the lineup was a lift for the Rapids, until it was spoiled by an own goal in the defeat to the Red Bulls.
9. Orlando City SC (-3)
The Lions got an unexpected week off thanks to inclement weather in New England.
10. Seattle Sounders (-3)
The Sounders didn't look great against the Montreal Impact, but a late equalizer and the season's first point might wake up the champs.
11. Montreal Impact (-3)
Good teams have to close out 2-0 leads at home. The Impact let Seattle dictate terms in the final minutes and it cost them.
12. Chicago Fire (+2)
Progress! Juninho and Dax McCarty's first run out together in the Fire's midfield helped push Chicago to their first win of the year, defeating Real Salt Lake 2-0.
13. D.C. United (-2)
United is one of three goalless teams through two games played after being shut out in the loss to NYCFC. It's a problem Ben Olsen doesn't have a ready answer to without Luciano Acosta in the lineup.
14. Sporting Kansas City (-2)
The good? Sporting Kansas City still hasn't given up a goal in 2017 after the 0-0 draw with Dallas. The bad is that it hasn't scored one, either.
15. Philadelphia Union (no change)
Despite the comeback draw against Toronto, the Union have to feel like they dropped two points at home.
16. Atlanta United (+5)
Atlanta United is the highest scoring team in MLS through two weeks thanks to the six goals they scored in the win at Minnesota.
17. LA Galaxy (-1)
Beset by red-card suspensions and injuries, things are off to a rough start for Curt Onalfo in LA after the Galaxy dropped their second defeat of the season.
18. Real Salt Lake (-1)
RSL never recovered from a bad opening 15 minutes on the road against the Fire and they are still looking for their first goal of the year.
19. Columbus Crew SC (-1)
Zack Steffen's early miscue, gifting the Dynamo a goal, put Crew SC in a hole they could never escape from as they fell 3-1.

20. New England Revolution (-1)
The Revs will have to wait a week to try for their first win after weather caused a postponement of their home match against Orlando.
21. Vancouver Whitecaps (-1)
Nobody is really talking Carl Robinson being on the hotseat, but it doesn't speak well when a team loses after holding a two-goal lead like the 'Caps did against the Quakes.

22. Minnesota United (no change)
MNUFC wasn't planning on making any personnel moves until the summer, but they may have to rethink that after giving up 11 goals in two games.
Jason Davis covers Major League Soccer and the United States national team for ESPN FC. Twitter: @davisjsn.