Atlanta loses in Tata Martino's MLS debut, but ex-Barca coach has a plan
The MLS managerial graveyard is littered with foreign head coaches who couldn't find success. World Cup-winning manager Carlos Alberto Parreira failed to make the playoffs during his one season in charge of the New York/New Jersey MetroStars. The same was true for Italy legend Walter Zenga with the New England Revolution. Owen Coyle had a miserable spell with the Houston Dynamo.
Recently, Patrick Vieira has had more success with New York City FC but all told, the only MLS Cup-winning manager who didn't have considerable roots in North America was Englishman Gary Smith, who won the title in 2010 with the Colorado Rapids.
Yet if any foreign coach can successfully counter those historical forces, it should be Atlanta United manager Gerardo "Tata" Martino.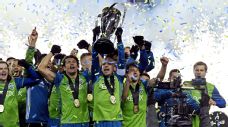 Subscribe to MLS LIVE today!
- MLS LIVE is back with an all-new platform for 2017
- Get the most matches ever, LIVE and ON DEMAND
- Packages start at only $14.99 a month
- Watch MLS on your phone, computer or TV
- Subscribe today at live.mlssoccer.com
Suffice it to say, few head coaches have arrived in MLS with his kind of resume, one that includes a stint with Barcelona as well as Argentina's national team. His history creates instant credibility for Atlanta United and demands attention. Martino's cause is also helped by the fact that MLS is a different league now, one that is more diverse in terms of its players and the tactics that teams employ. The deep pockets of owner Arthur Blank don't hurt, either.
Of course, no manager is immune to a difficult MLS baptism, and over the weekend, Martino received precisely that.
In Atlanta's inaugural match against the New York Red Bulls, Martino's side took the field before 55,297 fans at Bobby Dodd Stadium. Atlanta's ability to counter at speed was breathtaking at times, but it's clear the team's cohesiveness and ability to manage games is still very much in its infancy, which is to be expected for an expansion team. That didn't make what transpired any less difficult for Atlanta fans to watch. A 1-0 lead was soon flipped into a 2-1 deficit, one that the Red Bulls managed to close out to claim three valuable points on the road, leaving Atlanta to rue a missed opportunity.
Given Martino's credentials -- he's won league titles in two countries and managed some of the game's greatest players, including Lionel Messi -- Atlanta figures to collectively be a quick study.
"Nothing has surprised me," he said prior to last weekend's match, in an exclusive interview with ESPN FC.
"I like that the league is organized, that it has rules that make the league very competitive. And I hope soon I'll be able to understand everything about the league and the necessities that it takes to have a good team."
When the rather complicated roster rules of MLS are brought up as something he has to get used to, he laughed and said, "Yeah, that's a big difference."
Given the caliber of player Martino has been able to recruit, he is in many ways off to an impressive start. Atlanta boasts the likes of Paraguayan international Miguel Almiron, Venezuela forward Josef Martinez and Chile international Carlos Carmona. Young imports Hector Villalba and Leandro Gonzalez Pirez bring an impressive amount of experience despite being just 22 and 25 years old, respectively. There are some older MLS veterans in the mix, too, such as Michael Parkhurst and Jeff Larentowicz, but the way Martino has tapped into his South American pipeline is what has turned heads.
"Fundamentally, the decision is theirs to come," Martino said about his South American contingent via a translator. "But what I tried to do was show them the evolution of the league, and how it's grown, and also to show them the project that is Atlanta United and what the team is trying to accomplish."
Yet no manager can anticipate every obstacle. It's one thing to recognize what difficulties lay ahead. It's another matter entirely to size up the magnitude of those challenges. When Martino was hired by Atlanta last September, he highlighted the opportunity to build a team from the ground up as one of the reasons he took the job. Five months later, he counts it as the single biggest challenge he's had.
"I've never had to start a team from scratch, so this idea of signing players to all fit my style is new," he said.
Ah yes, the style. Martino has long been affiliated with the high pressing, quick-strike tactics of Marcelo Bielsa, who coached Martino at Newell's Old Boys in the early 1990s. Martino doesn't deny Bielsa's influence, but insists that he has long since become his own man.
"I think that when managers start, they always have someone who is their mentor, who they've obviously learned a lot from," he said. "But then as you go through your career, you start understanding certain changes, and you adding a few of your own ideas. That's just kind of how it goes over the course of your career. Obviously, you have certain ideas that you learn from other coaches, but they're also ideas that you've seen or learned to implement into your own team.
"I had Marcelo Bielsa as a coach over 20 years ago, and in the years since I've learned a lot of things. I was with him so long ago that I'm not going to mention what things are exactly mine now, but it's a combination."
Anyone who saw Martino's Paraguay team at the 2010 World Cup would realize that he fused Bielsa's dogma with his own practicality. And over the years he's proven he could be successful with some of the biggest names in the sport, as well as lead a modest club such as Newell's Old Boys out of a relegation dogfight and eventually to an Argentine championship.
One of the players on that team was current FC Dallas forward Max Urruti, who looks back favorably on his time under Martino.
"On the first day, Martino let everyone know he was counting on them, that they would be able to play. That changed everyone's mentality," said Urruti with the help of a translator. "He knows how to manage the group very well, and his practices are very well managed and day by day he's able to coach a team properly. For me, he gave me a lot of confidence and showed patience so that I could do things well, and that made me grow as a player."
Given how expansion teams typically struggle, patience will be needed. And implementing Martino's preferred style in MLS comes with its unique set of challenges, namely the extreme changes in weather conditions -- the season starts and ends in cold weather with searing heat in the middle -- as well as travel demands that have tripped up many a foreign player and manager.
Yet Martino is forging ahead. The quick transitions from defense to attack were certainly evident against New York, with Almiron, Martinez and Villalba doing plenty to upset the Red Bulls defense. Had Atlanta gotten a second goal from one of the clear chances it created, the game likely would have finished much differently. For now, Martino has no doubts that his team can keep up this pace for the rest of the season.
"We're not just forming a starting XI," he said. "We're forming a full roster, and we have a lot of trust in all the players on the roster, and that they'll be able to step in and play when needed. I think we have the players, but we have to keep focusing on implementing our ideas and our style of play. It's difficult to do in preseason, but it's just something that we need to keep working on."
Developing Atlanta's style will be tightly coupled with improving the team's chemistry. In many ways, creating cohesion is simply a function of time, but Martino said he's doing everything he can to accelerate the process.
"In every aspect, it's something we've tried; in training, in film sessions, in team talks," he said. "The idea of building chemistry is really important and we've tried to support that idea throughout this whole process. But we've only been together for 30 days, so there's still work to be done."
With such an approach, Martino may yet buck some considerable MLS history.
Jeff Carlisle covers MLS and the U.S. national team for ESPN FC. Follow him on Twitter @JeffreyCarlisle.