Can L.A., Major League Soccer handle LAFC's celeb-heavy arrival in 2018?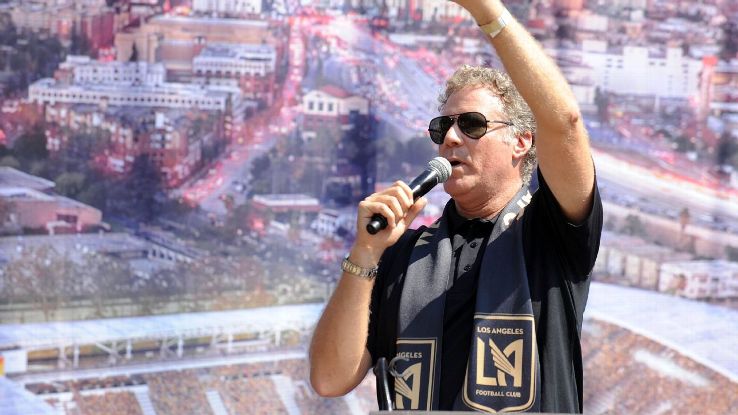 LOS ANGELES, Calif. -- Just before MLS commissioner Don Garber was about to announce the first pick in this year's SuperDraft in January, a mighty roar went up from a raucous pack of supporters seated near the back of the main ballroom at the Los Angeles Convention Center.
Who, I wondered, were these boisterous interlopers bellowing as if their team were about to take the field for the season opener? At first I assumed they were simply over-caffeinated supporters of MLS's latest entries, Minnesota United or Atlanta United FC, who were but minutes away from learning the identity of their first-ever draft choices.
I've never been one to get caught up in the wrist-gnawing tension of an MLS draft but I suppose if you're the 21st and 22nd teams in a league expanding with all the circumspection of the FIFA World Cup field, you're probably entitled to a battle cry or two. Then I looked more closely and realized that this rambunctious mob was clad in black and gold with an angel wing emblazoned on their crest.
Yes, these were fans of Los Angeles Football Club, a team that wasn't even represented in the draft. A team with no players, no manager, no trainer, no doctor, no fitness coach, no nutritionist, no match tracker, no data collector, no high performance director; they don't even have a cheese specialist. In other words, these supporters were hollering for a franchise that doesn't officially kick a ball in anger until March 2018.
"I realize that some people think it's a bit early to be flying our colors more than a year before our first game," said Fernando Varela, a member of the Expo Originals, one of six groups already attached to LAFC, "but we've been together since 2014 and we wanted to let the other teams know that we'll be coming for them next season."
The targets of their derision were sitting near the stage, as befits the hometown club that has won five MLS championships and hawked thousands of David Beckham sarongs. As one of the league's 10 original franchises, the L.A. Galaxy has owned the local soccer ecosystem for the past two decades (try as they might, Chivas USA never managed to escape the Galaxy's long shadow and folded in 2014) and regularly draws celebrity-studded crowds to their 27,000-seat mecca in Carson, California. But on Draft Day, the handful of Galaxy fans were out-numbered and out-chanted by their noisy neighbors-to-be.
Even when they mustered the energy to conjure a polite chorus of "[Clap Clap Clap Clap] L.A. Galaxy!" they were drowned out by the LAFC contingent.
No somos Carson ["We are not Carson"] / One team in L.A. / There's only one team in L.A. / One team in L.A.! / There's only one team in L.A.!
It's technically true, if not wholly accurate. Much like the city/suburban divide of New York's two clubs (the Bronx's NYCFC and Harrison, New Jersey's Red Bulls), LAFC and the Galaxy will play their games in stadiums separated by a distance of roughly 13 miles as the Tesla flies. The $350 million complex that LAFC will call home is centered in the city's downtown melting pot, a corner kick from Exposition Park (hence the name "Expo Originals"), where the NFL's Rams stumbled through last season in the historic Coliseum.
The speed and finesse with which LAFC was able to cut through the city's bureaucratic red tape to construct their soccer Xanadu would make Beckham and his Miami consortium weep with envy. Since being anointed as MLS's 23rd franchise on Oct. 30, 2014, LAFC has wasted no time in establishing a foothold within a local sports market gridlocked with two professional teams in baseball, football, basketball and hockey, not to mention two of the most storied college programs in the country in UCLA and USC. Yet 13 months before they open their doors, they've sold an impressive 14,000 season tickets for a stadium that will hold 22,000 fans.
That LAFC has achieved traction so quickly is a testament to a formidable and diverse ownership group with enough star power to warrant a red carpet in the team's locker room.
Their tentacles reach into nearly every nook and cranny of "LA-ness," from film to comedy, from technology to media, from law to finance and from self-help to fast food. There are even a couple of soccer people -- USWNT legend Mia Hamm and Cardiff City's infamous majority owner Vincent Tan -- among the league-record 31 investors, all of whom share the same blue-sky vision of creating a global brand that will "unite the world's city through the world's game," something team president Tom Penn is fond of saying.
Like many of his fellow owners, who include such heavy hitters as new Lakers boss Magic Johnson, movie titan Peter Guber, comedian Will Ferrell, motivational guru Tony Robbins and You Tube co-founder Chad Hurley, Penn (an NBA analyst for ESPN) is a recent acolyte to the Church of American Professional Soccer, converted by the passion he witnessed at a Timbers game in 2011 when he was an NBA executive with the Portland Trailblazers.
"All it took was going to one Timbers game with my son and I was hooked," Penn recalled in an interview with ESPN FC.
The memory of that transformative experience came rushing back a year later at a leadership conference called the Global Sports Summit (think Davos, but in Aspen) that Penn organizes every summer. There he brokered a meeting between Garber and a Harvard-educated, Vietnamese-American entrepreneur named Henry Nguyen, who saw the same potential in an L.A.-based MLS franchise that he did in bringing the first McDonald's to Ho Chi Minh City. In little more than two years, Penn and Nguyen had assembled a group of deep-pocketed investors that included several of the same Silicon Valley venture capitalists who had helped transform the Golden State Warriors from a team mired in NBA irrelevance to among the best in league history.
(Of course, there is a notable difference between Golden State and LAFC. When Golden State's ownership group purchased the Warriors, they had Steph Curry, not a bad foundation around which to build a franchise. LAFC's investors were simply buying into a quixotic notion they hoped to turn into soccer reality.)
Plus, unlike in, say, the Premier League, the team with the most financial resources isn't inherently successful in MLS; it's an equation not lost on Penn, an analytics expert.
"That's the beauty of the salary cap [$3.845 million per team, not counting the extra salary of designated players]," he said. "You have to be even smarter and creative in building a team from scratch. And in a city like L.A., there's the added expectation that you're going to put a product on the field that doesn't just get results, but plays with some showtime flair."
Those weighty responsibilities fall to the lithe and wiry figure ambling through the Coliseum ballroom with the look of man who doesn't have a care in the world or, more precisely, a pick in the 2017 SuperDraft.
"Check with me a year from now," said John Thorrington, the executive vice president of soccer operations and "soccer brain" of the LAFC operation. "I doubt I'll appear this relaxed."
Thorrington is a South African-born, L.A.-raised 36-year-old with as much experience in the executive trenches of MLS as his club has on the field. Yet he possesses a wide-ranging football pedigree that may be even more valuable than any time spent behind a desk.
For three years, Thorrington learned at the feet of soccer's pope, Sir Alex Ferguson. As a 17-year-old playing prodigy from nearby Palos Verdes, Calif., he passed up a free ride to Stanford to sign with Manchester United at a time (the late 1990s) when young, non-English players, let alone an American teenager, were a sight as rare at Old Trafford as bangers and kale. Though he never played a single second for United's senior team, Thorrington practiced with them regularly and soaked up Ferguson's tactical and technical wisdom.
"I remember an 11 vs. 11 intra-squad scrimmage before [the first team] played Juventus in the Champions League. Ferguson lined up the reserves in the formation he expected the Italians to use and told [Nicky] Butt and [Ryan] Giggs and [David] Beckham to attack certain areas. Every few minutes, he'd stop the game and call us in to point out why something wasn't working and how to fix it. And then to see them successfully carry out those same tactics two nights later was a great footballing education for a young player."
But it was at another English club, then-third-tier Huddersfield Town, where Thorrington found his true calling.
"Toward the end of my time there, the team went bankrupt and a new group of owners emerged," he said. "I took it upon myself to be the players' representative in negotiations with them. It was a career trajectory-changing moment for me. We ended up saving the team and I realized I had an aptitude for the business side of the game."
Thorrington was only 24 at the time and wasn't ready to trade in in his kit for a jacket and tie. MLS beckoned and he ended up playing for three teams, including the expansion Vancouver Whitecaps in 2011.
"I learned that as an expansion team, you have to build from the bottom up," he said. "That's why the first thing we did after breaking ground on the stadium was to establish a youth academy. My dream is that if we do it right the 17-year-old me would opt to stay home and play for LAFC."
For now, though, Thorrington needs a head coach and maybe a designated player or two. Naturally, he is coy about his wish list. In the last month, rumors of marquee names like Javier "Chicharito" Hernandez or Wayne "Ka-ching" Rooney have picked up currency among MLS fans, if not credibility.
"I'm not at liberty to comment on that," Thorrington said sheepishly. "But I'm well aware that L.A. is not only the City of Angels but also of stars. We plan to play an aggressive attacking game and anyone coming here will have to buy into that style."
The same cogent approach applies to finding a head coach.
"A lot of strategizing has gone into tailoring our search for the position," Thorrington said, "And I can tell you that there's a ton of interest out there from some very high level candidates, including guys who have experience winning in the Champions League and World Cup.
"But like everything else we've done, from building the stadium to designing our crest, we've sought out the input of our supporters. We think of ourselves as their stewards in producing the kind of team that will excite them and make them proud."
If Fernando Varela and the Expo Originals are any indication, the future is promising. Three hours after Garber stood at the podium and announced the first pick, they were still singing their lungs out.
We represent Los Angeles, L.A. L.A. L.A. / In black and gold we'll always be, L.A. L.A. L.A. / Our hearts, they beat for you / 'Till death we will adore you / In black and gold we'll always be, L.A. L.A. L.A.
When Fernando came up for air, he sounded almost apologetic that the "Originals" hadn't made more of a ruckus.
"Unfortunately, the league wouldn't let us bring our drums into the draft," said Varela, "but we'll have them with us next March in our new home and then you'll see us really raise the roof."
I almost didn't have the heart to point out that their Banc of California stadium will have no roof and be open to the heavens but Fernando had the perfect response.
"In that case," he said with the unbridled hope of the true believer, "we'll make enough noise to turn God into an LAFC supporter."
David Hirshey is an ESPN FC columnist. He has been covering soccer for more than 30 years and written about it for The New York Times and Deadspin.