Each of the final four goalkeepers standing in MLS has a point to prove
There are three games left in the MLS season. And if the first legs of the two conference finals are any indication, we're going to see plenty more goals.
But four goalkeepers have other ideas. And all of them, in very different ways, have personal points to prove in the moments that remain in the 2016 postseason. While other goalkeepers in the league are acclaimed, if not actively hyped, this quartet represents the upper-middle class of the league's goalkeepers: trusted, with good reason, to do a solid job without ever being the first name that comes to mind when their team's defensive qualities are invoked. An MLS Cup win, however, could move them into a different category.
Goalkeepers tend to become the story at some point in the playoffs, and all have had their moments this year -- but which one will make a decisive difference?
In terms of flash points that have already occurred, Montreal Impact keeper Evan Bush may have made the most decisive intervention thus far. He swung the Eastern Conference semifinal second leg Montreal's way with his penalty save from Sacha Kljestan. By the time Bush was eventually beaten by the Red Bulls' vaunted attack, late in the game, Montreal already had the vital away goal.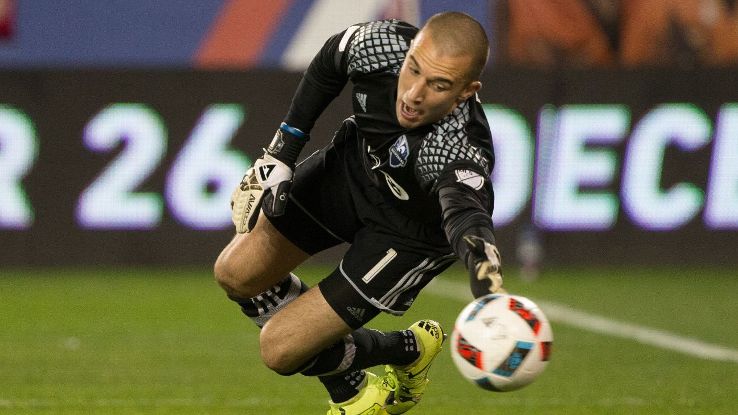 Bush had to wait his turn in Montreal; he was the team's third MLS signing after they joined the league, but he played only 15 games in his first three seasons before a breakout 2015 season, during which he won the CONCACAF Champions League Golden Glove award for his impressive performances in the Impact's rearguard run to the final. There have been question marks over Bush's concentration in the past, though his shot-stopping ability is excellent -- and has needed to be at times, given his team's bunkering style.
And since Montreal gave up two late goals at home in its 3-2 victory over Toronto FC in the first leg of the Eastern Conference final, Toronto will try to test Bush from the start in the second leg at BMO Field. The longer Montreal can hold its slender one-goal advantage, the greater the chance its hugely efficient counterattacking unit can make Toronto pay. If Bush were to tilt the tie again, he would become the story of the campaign, just as much as Ignacio Piatti or Matteo Mancosu.
At the other end of the field, Toronto keeper Clint Irwin will need to concentrate on the game immediately in front of him, even if it might be tempting to let his thoughts slip ahead to a possible MLS Cup against his former club, the Colorado Rapids. Irwin played his part in shaping what has become a formidable Colorado defense in 2016, but unfortunately for him, he did so in 2015, when said defense was being built by the school of hard knocks. The Rapids finished bottom of the West, and by the time that experience had hardened them into the unit that would concede only seven goals at home all year in 2016, Irwin was gone, to Toronto, and never got the chance to share in the acclaim for the miserly defense.
Still, Toronto had begun to build a defensive reputation of its own in the run-in, and swept aside New York City FC and David Villa without conceding a goal. But if Irwin took confidence into the first leg in Montreal, the sight of the ball awkwardly skipping past his fingertips along Olympic Stadium's artificial surface, for the Impact's third goal, could have sent him into despair.
But the thoughtful Irwin is made of sterner stuff than that, and while his team pulled back two goals, he's well-aware from his timeline in Colorado (and since) that sometimes the score line doesn't tell the whole story.
Of course, Irwin nearly didn't spend 2015 as the Rapids' first-choice keeper. In preseason he was pushed all the way by former Philadelphia keeper Zac MacMath. MacMath's own strange journey to starting in a Western Conference final has been an ongoing exercise in public setbacks, as he detailed to ESPN FC's Jeff Carlisle last week. MacMath was rapidly demoted in Philadelphia and then was given only a temporary No. 2 spot in Colorado, to keep the 6-yard box warm for Tim Howard, so losing out to Irwin in 2015 barely cracks the top three of MacMath's public humiliations.
Still, it's a strange paradox for MacMath to be vastly experienced for his age -- he was the youngest MLS keeper ever to reach 100 games -- yet perennially looking for a stable starting spot. He is the starter for the rest of Colorado's postseason because of an injury to Howard. MacMath began the season as the Rapids' starter until Howard arrived midseason after his contract with Premier League side Everton expired. Considering those circumstances, MacMath will try to seize the chance to remind us and his club of his virtues.
And finally there's Seattle Sounders keeper Stefan Frei -- like Irwin, another goalkeeper whose former team may await in the final. Frei started his MLS career in Toronto, but injuries saw him fall behind starter Milos Kocic and then Joe Bendik before Frei was traded to Seattle at the end of 2013 for the modest price of a conditional pick in the 2015 SuperDraft.
At one point, during the coach Aron Winter experiment in Toronto, Winter had envisaged Frei being a foundational element of the team, but by the time the coach left the momentum of Frei's promising career seemed stalled. Seattle represented another chance, but at the time it appeared he was being brought in as a solid role player so the team could concentrate resources elsewhere -- most notably their attack. He was not seen as the second coming of Kasey Keller.
Yet Frei has quietly emerged as one of the leaders of the Seattle team, noted for a calm demeanor that's been crucial this season in particular, in what's been a soap opera of a year for the Sounders. Frei may have made the goalkeeping blunder of the year, but that's been an aberration in a campaign in which he has done as much as any player, except Nicolas Lodeiro, to complete a comeback that's on the verge of taking Seattle further than it's ever been in the MLS Cup playoffs.
And if Seattle were to face and beat Toronto in the final, more than one comeback would have reached a very satisfactory conclusion.
Three games left in the season. Four goalkeepers. One name to be made. But first, a lot of shots to stop.
Graham Parker writes for ESPN FC, FourFourTwo and Howler. He covers MLS and the U.S. national teams. Follow him on Twitter @grahamparkerfc.