How can Major League Soccer become one of the best leagues by 2020?
Major League Soccer wants to be one of the best leagues in the world by 2020. Can it achieve that goal?
ESPN FC spoke with seven American soccer experts from a variety of backgrounds about where the league needs to improve and how it can do so. A couple of themes repeated themselves. Most panelists agree that MLS has made massive strides since it launched 20 years ago and, at least in some areas, can already claim to be one of the top leagues in the world. But the level of play needs to improve and the revenue needs to grow.
How that happens, however, is clearly up for debate.
1. What is the single biggest impediment to MLS becoming one of the best leagues in the world by 2020? Why?
Tab Ramos (first player signed by MLS; current U.S. U20 coach): If you look at MLS overall as a league and take into consideration things like safety of the players, quality of the fields, quality of the stadiums, quality of the training stadiums and passion of the fans, I think MLS is already one of the top 15 leagues in the world or so. But if you look at the talent level -- and if that's the barometer to make us one of the best leagues in the world -- then we need to be a little bit further ahead.
How do you measure talent? If a league is competitive, that doesn't necessarily mean that it's good. You have to measure it by taking the top two or three teams in the league and seeing how they'd do against the top two or three teams in every other league in the world. What would be your bet if the top two or three teams in MLS played the top two or three teams in Russia? Or Switzerland? Or Holland?
Let's forget the top leagues, anyway: What if the top teams in MLS played the top teams from Colombia? Or Chile? If we're looking at the overall league, we're not the Bundesliga or the Premier League -- by the way, I don't think anyone else is, including La Liga -- but I would argue with anyone that we definitely have one of the top 15 leagues in the world already. I was the first player signed by the league. Did I think in my wildest dreams that 20 years later it would be one of the top 15 leagues in the world? The straight answer to that is that as optimistic as I always like to be, I would have to say no.
Shep Messing (former New York Cosmos goalkeeper; color commentator): Let me preface everything by saying that I think [MLS commissioner] Don Garber will go down in history as one of the three greatest commissioners in the history of sports. To me, it's Garber, the NFL's Pete Rozelle and the NBA's David Stern. What Garber and Major League Soccer have done in the last 20 years is nothing short of phenomenal. But if we as a league want to be one of the best in the world by 2020, it's never going to happen because it's all about money.
Look at the average player salaries in the top five leagues in the world. England: €2.3 million per player. Germany: €1.5m. Italy: €1.3m. Spain: €1.2m. France: €900,000. In Major League Soccer, it's an average of $330,000 per player, and that's a little bit misleading. The median is $117,000.
Look at total team salary. The highest right now are Toronto, New York City FC, and L.A. They're around $20m total salary. Look at PSG: Their total salary is $250m. It's true of all the big clubs, too, like Manchester United, Manchester City and Barcelona. We are that far away in terms of strictly money from being one of the best quality soccer leagues in the world.
By 2020, MLS can be one of the best leagues in the world, but it won't be because of the quality of play. It will be because of the quality of venues and fans and that the players get paid every two weeks, unlike some of the other countries.
Peter Vermes (head coach, Sporting Kansas City): It's probably the fact that the increasing amount of money becoming available to leagues around the world is inflating the marketplace. The ability for us to do business in our current structure and how we spend is becoming more difficult.
Clint Irwin (goalkeeper, Toronto FC): [The single biggest impediment is] the salaries on the end of the roster, the guys who are on minimum. You're battling a perception with those salaries. When people look at them, they don't think, "This is a major league," or "This is one of the top leagues in the world."
If you look at the NFL or NHL, the guys on the minimum salary are still making well above what might be considered a normal salary in any job in this country. It devalues the players in this league to make so little. If those players were able to go to any other league, they wouldn't be making those salaries, and they are playing on a level that's on par with Championship or some of the other top leagues in Europe and maybe South America. Because the salaries are that low, the perception is that they are less of a player, which is not true.
Throughout the world, the best players are going where they can make the most money. Sometimes, those places aren't even that attractive in terms of living, but the money that's being offered is well above their market value. That happens somewhat in MLS if you want to talk about getting the top, top players here, but if you're talking about the midtier ($100,000-$200,000), sometimes you're able to get a player coming here for less, but normally [they come here] at the end of their career, where they want to come and experience the American lifestyle rather than getting guys who are in their prime or about to hit their prime.
Those are the guys who are really going to take the league up a level of play. You need to be able to pay those guys their market value.
Heath Pearce (former U.S. national team defender): It's tough to say what the one thing holding [MLS] back is, but the biggest opportunity [to catch up] is in the youth development. That's the one area that is reaching a pivotal moment. The youth movement is the next step. Making sure the players in the academies are being taken care of and that the academies are being rewarded for putting all this time and effort into players. That these players have a place to play.
That has started with the connection to USL [United Soccer League] but I think even further than that, it's that continued investment in the youth and the academies. It's building a system from top to bottom at every club. I think ... that first generation of guys who are starting to become stars on the first team -- and I do mean stars, not just your regular players -- creates a long-term effect on that next generation of kids who saw a guy go through the youth ranks, go through the first team and become that celebrity-level player that people idolize, as opposed to one of the players coming in from abroad.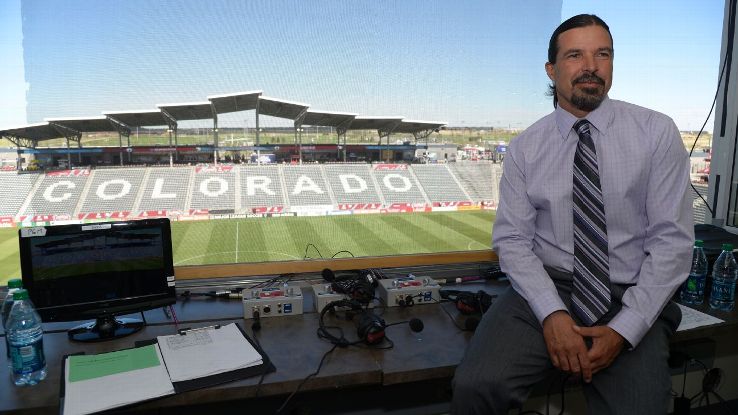 Marcelo Balboa (former U.S. national team defender, Colorado Rapids TV analyst): They've taken so many great steps over the past few years with bringing guys like Alejandro Bedoya, Tim Howard and Jermaine Jones back [to MLS], but one thing that's holding back the league is the schedule. We're not on the European schedule, or even the South American one. That hurts the league with the transfer window.
I think that eventually we have to get in sync with everyone else. [We will have arrived] when we get to a point where it's 30 degrees and snowing and people will come to a game like they do in Europe. And look at the money they spend in Europe. TV ratings need to go up. That all comes by bringing in better players. When you start with one issue, it leads to another [issue] and another and another. We need more of the 28-, 29-year-old [Sebastian] Giovincos to come to MLS.
Jimmy Conrad (former U.S. national team defender): Personally, as someone who has been involved for a long time, I would like to see that there's a plan. I don't think that plan exists. It's fine to say that we want to be one of the best leagues in the world by 2020. I want that, too. But what are the machinations of that statement?
We had Project 2010 and Project 40, and I love that the ambition is there. We need somebody to step up and say, "This is what we're doing and this is why we're doing it." And that we're all working towards it. Right now, it feels like we're working against each other in some ways. It just doesn't seem like we're all working together for the common good.
If money is the driving force, which it usually is, how can we put some financial reward in there for developing top players?
2. If you were an all-powerful MLS commissioner for a day, what's the one thing you would change?
Ramos: I don't think there's any one particular thing. I think that it requires a lot more money. I think it requires a change of schedule. It requires MLS being on par with FIFA in terms of the yearly schedule because the best players move at the right times, and they move to different clubs. And the best players all play on their national teams. I think it has to be the approach of the league itself. It has to be the approach that we're going to play at the same time as the rest of the world.
If you went by rules, MLS would be the No. 1 league in the world. It has more rules than anyone else. The single-entity concept is one that probably doesn't work when you're looking to be the best in the world. I don't want to sound like the expert: I'm very happy with the fact that we have one of the top 15 leagues in the world and that the fans are happy. At the end of the day, you want fans to come to the games. I think we need to grow in every area a little bit at a time.
Leagues are measured by their best teams. The best teams are what make people really excited, and that's what I think we need to get to.
Messing: I think the biggest impediment is money. There are a lot of different ways to do it. If you ask any coach in MLS if he'd rather have one $7 million player or seven $1m players, he'll take the latter. That's a better way to increase the quality. I would reconfigure how the owners do things. You empower them to spend more money, and then you're hoping that the television revenue catches up when the current deal expires. It's a gamble. It's risk/reward.
Major League Soccer has to get rid of whatever convoluted method they have for dealing with players: salary caps, TAM [targeted allocation money], DPs [designated players], etc. This is American sports. If Charlie Davies goes to Philadelphia or Jermaine Jones goes to Colorado, it's the most ridiculous method. That takes away from the fan experience.
Fans are into fantasy sports; they don't want some convoluted formula for dealing with players. That doesn't serve the league well. The easiest way is no more designated players. Pick a number, and say every team can spend $25 or $30 million a year. Get rid of all the DPs, the discovery rules and so on. Let teams spend the money however they want. You'd get much better quality on the field.
I think MLS has grown and done well enough where they can do that. Major League Soccer has earned the right over the last 20 years to take the next step, and the next step is to simplify it, do away with these complicated designations and let the teams go. That's not wild capitalism and risk. That's just common sense.
Vermes: Two pots of money. For one, you take away the restrictions on DPs and all these other things. The league should just give you a pot of money to deal with as opposed to saying, "You can use X amount of money for this guy and X amount of money for that position," and that type of thing. I would not categorize it. I would just say here's a pot of money that you can use, and then also here's another pot of money just for transfers and they are separate from each other.
Irwin: Well, we need to get a $1 billion TV contract. [laughs] Right now the ratings aren't scratching the NBA or NFL. We don't have a marquee game every week. We have marquee time slots, but we don't have a Sunday Night Football where everyone knows, "OK, this is the best game." It's appointment viewing. I'm sure the goal is to establish those habits and get people watching week in, week out, no matter who the teams are that are playing.
I don't think there needs to be a cap [on how much a player can earn]. The guys who are making the top salaries definitely deserve what they're getting paid. I look at it like this: The expectations for the viewers are the same for the DPs as they are for the minimum salary guys. As this league gets bigger and bigger, we're asking the minimum salary guys to experience some real stress in their lives, and I think they should be compensated accordingly.
There's real pressure involved in these games. You make a mistake and you're getting crushed on Twitter. You're losing your spot [in the team] and you might lose their jobs. We're compensating them in a way that doesn't reflect the pressure.
Pearce: For me, it's coaching. It's across the board to the U4 and U6 levels all the way up to the first team. That doesn't mean that there aren't high-quality coaches out there, but I think to become a coach at any sort of level, the qualifications need to be more strict and tested more rigorously. That doesn't mean go get Bayern Munich's coaches and have them train the U6s. It just means a qualification for certain age groups about how to mix development with fun and education in the games. It's not about the style of play. It's about having fun and developing as opposed to the very American trait of winning at all costs at a young age.
We need to know that our youth players, even before the academies, have some sort of education as opposed to him being the fastest guy who's going to run over the top. The investment in coaches and education of coaches will pay off. There are a ton of great coaches out there, but [what's needed is] that consistency, and each club's director holding their coaches to a higher standard of how you train your players. When we're talking about 2020, it's not about bringing in more big-name players. It's bringing up the level [of play] all over the field. Constantly putting out a better product year in, year out starts with a grassroots movement, as cliche as that sounds.
Balboa: You can't have the cart before the horse. We're 20 years in and we're trying to compare ourselves with leagues that are 75 years in. We're comparing ourselves to Liga MX -- they have 75 years on us. I think for me, we have to stop comparing. We need to build slowly, making sure the foundation of this league is solid. Eventually, in time, it will keep growing.
Every year, soccer gets bigger and bigger here. To say we need to be the best in 2020, which is four years from now, it's almost silly. Other leagues have worked out their kinks but we're still learning. We're on the right road and it's going to take us a while, but I think it's silly to say that we're going to be in the top five in four years.
People tell me all the time that MLS is boring. I get that MLS isn't like watching the Premier League or the U.S. national team. Of course it's not like watching the national team. You pick the best 18 players in your country for the national team. You have to give [MLS] a chance, though, that it's taking the right steps.
Look at the players we've brought in over the last four or five years. Look at what the league has done in 20 years. It's grown leaps and bounds since it started in 1996. I think we're doing a disservice when we start comparing our league to the Premier League or the Bundesliga. I think we have to accept MLS for what it is. It's a good league, and every year it's getting better.
Conrad: I'd like us to stop expanding, to get to a solid number [of teams] and keep that for a long time. Build the infrastructure. Reinvest that money into whatever we want: changing the calendar, developing youth players, whatever.
We've gotten to the point where we have enough kids who want to play. I think there's a big void in coaching now. We're not exposing the youngest kids to great coaches. I know we have a massive country, but there should be some kind of backbone that everyone can lean on. Who's going to tap the brakes and say that maybe we've hit our peak in this structure and we should make some adjustments?
Let's really take a hard look at what we can do to make this better. We might not make money if we make some fundamental changes in the short term. And this has nothing to do with promotion and relegation. But there's a long-term plan of developing guys like Erik Palmer-Brown, selling him to Europe and being OK with selling him.
I understand why MLS leadership makes the decisions they make. I can only imagine all the BS you have to deal with when you're running the league. You have to pick and choose where you spend your time. If you're forward-facing and you have to glad-hand and do all this other stuff, that's fine. That's your job. But we need a couple of other people thinking about the bigger picture. Who do we have that's doing that? I don't know who that person is.
It's important to have people recruiting sponsors and dealing with the next television deal, but who are we trusting with the future? I think we have those guys, but it's a matter of putting yourself out there on a limb.
Noah Davis is a Brooklyn-based correspondent for ESPN FC and deputy editor at American Soccer Now. Twitter: @Noahedavis.