Vancouver Whitecaps see Portland Timbers as MLS measuring stick
As a finalist for Major League Soccer's Coach of the Year last fall, nobody would have blamed Carl Robinson for sticking with what worked. After all, the former Welsh international took the Vancouver Whitecaps to within striking distance of the Western Conference title and even the Supporters Shield in 2015 -- not bad for a guy in just his second year as a manager at any level. But as far as Robinson was concerned, it was not nearly good enough.
"Last year was our best year in the history of the football club, but we finished second in the conference and fell short in the playoffs," Robinson told ESPN ahead of Sunday's Rivalry Week game against the Portland Timbers (4:30 p.m. ET, ESPN/WatchESPN).
So the 39-year-old decided to change his approach.
"Our best wasn't good enough last year, so I put more demands on the players this season. That's one thing I've learned in three years as a coach: Players want to be told the truth, but they also want to be pushed."
The change in Robinson's methodology took his players some getting used to at first. Vancouver lost its first two matches of the 2016 campaign and five of its opening 10. But no team in the league is hotter entering the weekend, with the Whitecaps having reeled off three straight victories.
The first of those was a 2-1 home win against the defending MLS Cup champion Timbers on May 7, followed by another four days later against East cellar-dweller Chicago. If those flew under the radar a little, last week's thrilling 4-3 road upset of another rival (high-flying Toronto FC) served notice across the league that Vancouver is now beginning to hit its stride.
But streaks happen in MLS. Robinson, who only retired as a player in 2011, is more excited about the depth he's been able to accumulate over his three seasons.
"You try to build each year," he said. "You can't make wholesale changes right away. But over time, we've been able to increase competition for places."
The Whitecaps brought in Costa Rican World Cup veteran Christian Bolanos and proven MLS players Andrew Jacobson and Blas Perez for the start of this season, considerably strengthening their bench.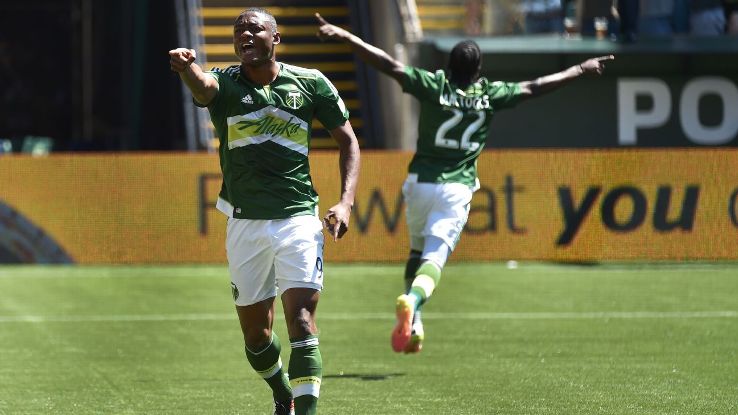 More moves could be on the way. The club came close to adding former Columbus Crew striker Kei Kamara last week before plans changed at the 11th hour. "I nipped it in the bud," Robinson told ESPN's Over the Ball podcast on Friday, but the coach didn't rule out changes when the transfer window reopens on July 4.
"If we can get someone to enhance the squad and make it stronger and better, we'll do it," Robinson said. "One thing I don't do is panic when it comes to signings. It has to be for both the short-term and long-term benefit of the club."
The added quality is crucial, with the club once again involved in both the CONCACAF Champions League and Canadian Championship this summer.
"This last week, when we played three games, shows how important it is to have a big squad," Robinson said. "A number of MLS teams try to stick with the same team as often as they can. In a perfect world I would like to do that, but because of the schedule -- we have the most travel of any team in the league -- I need to rotate my squad to keep my players fresh."
Sunday's match will test that depth. The Timbers may be enduring a post-title hangover, but star striker Fanendo Adi is the joint-top scorer in the league and Portland will be desperate to snap its current three-game losing skid in front of its raucous home fans at Providence Park. It should make for a compelling spectacle.
The loathing between the clubs' supporters may not be on the level of Portland vs. Seattle or even Whitecaps vs. Sounders, but Robinson insists it's a genuine rivalry nonetheless.
"It's definitely a rivalry," Robinson said. "The fans make it that. They're in the Pacific Northwest, and we always have good games against the Timbers, not just tactically but emotionally. And everyone wants to beat the champions. Does that add to the rivalry? Yeah, I think so."
Robinson also admires Sunday's foe. After all, despite having a better regular season than Portland did last year, the Timbers got it right when it counted.
"I believe that with the core players we have, we can achieve what they did," Robinson said. "From year one to year two, we went from crawling to walking to jogging, and now we're starting to run."
Doug McIntyre is a staff writer for ESPN The Magazine and ESPN FC. Follow him on Twitter @DougMacESPN.