Steven Gerrard's and Frank Lampard's contrasting buildup to All-Star Game
On Saturday, at halftime in the U.S.'s Gold Cup quarterfinal rout of Cuba, the Major League Soccer All-Star selection was rounded out, with perhaps the most noteworthy inclusions being the additions of Sebastian Giovinco and Kei Kamara up front. It is perhaps belated recognition for two of the form names -- Giovinco had four goals and an assist in his last two matches and Kamara leads the league in scoring with 13 goals -- if not the brand names, in the league right now. There was also a rather touching nod for Colorado's Drew Moor.
The brand names, of course, will be out in force at the All-Star Game -- something that was ensured by Don Garber using his commissioner's picks for the July 29 game to select Frank Lampard and Steven Gerrard as All-Stars before either had kicked a ball in the league.
Garber's discretionary picks on these occasions are often symbolic ones that can be read as indicative of league priorities or popular narratives. The last MLS original, Ramiro Corrales, was honored in 2012, while the emblematic homegrown talent of DeAndre Yedlin got a call in his breakthrough year in 2013.
But until this year there's generally been at least some notional correlation to league performances. Gerrard and Lampard, though, are pure box office. Their inclusion was duly greeted by some cheerful and pointed criticism from the Twitterati, including several MLS players, who weren't inclined to give the commissioner a free pass.
Lampard and Gerrard must not have All Star bonuses. #Saving$$

- Michael Parkhurst (@MFparkhurst) July 14, 2015
And while the All-Star selections are not worth analyzing too seriously, that latter set of responses was an interesting symbolic and timely moment in and of itself.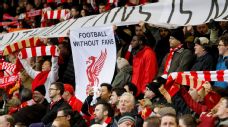 The CBA agreement that just went through is widely seen as a missed opportunity by the rank and file of MLS players, who went into negotiations pinning hopes on free agency as the best strategic hope for the next generation of MLS players, but who came out of it with minor concessions rather than a generational legacy from the players that built the league. On the one hand, many of these players feel like stakeholders in the growth of MLS, but on the other, the recent negotiations have left them in no doubt about how the owners see the value of that stake.
And in that atmosphere, if there was ever a time when the arrival of veteran foreign star power was a moment for celebration, before they'd actually done anything in MLS, it felt long past.
First, that's a good thing -- healthy irreverence represents a progress of sorts in and of itself. Second, in fairness to Lampard and Gerrard, the criticism is not really about them personally, but what they represent. The fight for free agency is one that has very little impact on the very top tier of players in MLS, but rather destiny choices that revolve around whether they prefer beaches or skyscrapers. Under the circumstances, the commissioner's selection created an unfortunate "let them eat cake" impression.
Gerrard arrives
So Garber may have been somewhat relieved to see what happened in L.A. on Friday night, when Gerrard arrived in MLS in emphatic fashion and looked every inch the worker among workers he promised to be.
There was a brief element of tension introduced by the opening 25 minutes from the San Jose Earthquakes and the brace from Quincy Amarikwa that looked to have ruined the script. But from the moment when Gerrard was caught by Tommy Thompson's elbow in the box for the penalty that saw L.A. pull one back moments later, the game became the Galaxy show.
Gerrard was soon on the scoresheet himself, gleefully lashing a chance in the box home and setting off on what looked like a genuinely ecstatic celebration. And he wasn't done, either, sending in the training-ground free kick with which Robbie Keane gave Los Angeles the lead, and generally contributing a lively 88 minutes. He later claimed to have pretended not to hear Bruce Arena asking how he was doing after the first 60 minutes because he was having so much fun out on the field.
It was a strong performance that had been trailed midweek by Gerrard's cameo in the Open Cup in Salt Lake. His team lost that night, and Gerrard missed a decent chance during his 45 minutes on the field, but the player claimed to have come off the field with a smile as he gauged his long-term chances of success in the league.
It was a confidence that could have been read as disrespect for his new league, but seen in another light was perhaps a rather more understandable relish on the part of a great player who has endured two seasons at least of being told he has only diminishing powers to offer in a bit-part context. As Gerrard himself has said, simply, "I want to be playing every game." Thanks to Garber, he'll get an extra game to play in.
Lampard's contribution?
And so will Lampard, although Garber will be hoping that his first game as an MLS player is not in the All-Star Game. Lampard's debut was postponed for another week when he didn't travel to New England with the team this weekend, after missing the home game against Toronto last week with a calf injury.
Since his arrival, Lampard has been on a similar sort of charm offensive as Gerrard -- for Gerrard's free beer for supporters groups, read about Lampard's free tickets for fans -- but whereas Gerrard's arrival has been stage managed to perfection, Lampard has arrived in New York well aware that he has a first impression to erase after his extended stay in Manchester.
It's more than likely Lampard's play will make the case to do that, once he finally sees the field, and perhaps he deserves some benefit of the doubt in how the Manchester debacle went down (upon his arrival, he described it as a "difficult situation").
But in a way he could perhaps have done with easing into his new home without being given the All-Star selection, particularly given the fact that it comes in tandem with Gerrard. Where the latter is slotting into and augmenting an increasingly formidable Galaxy side now further bolstered by Giovani dos Santos, Lampard -- along with Andrea Pirlo -- has accepted a New York construction job on an expansion team with little margin for error.
NYCFC have been inching into form in recent weeks -- although the loss to a limping New England side on Saturday shows how far they still have to go -- but given how tough chemistry has been early on, the team would probably rather work out how to integrate an expensive asset than send him to accompany David Villa in Colorado next week.
There's now only one game for any version of that integration to happen, in next Sunday's home match vs. Orlando, before Lampard will be rushed away to Denver for the All-Star Game. You can bet Garber would like to copy and paste a version of Gerrard's performance against San Jose as Lampard's contribution to the Orlando game, but NYCFC is no well-oiled machine like the Galaxy.
And even if such a breakout performance were to appear, you'd hope Gerrard and Lampard will still have the grace to be a little sheepish given their somewhat questionable selections when they take the field as MLS All-Stars.
Graham Parker writes for ESPN FC, FourFourTwo and Howler. He covers MLS and the U.S. national teams. Follow him on Twitter @grahamparkerfc.