U.S. women, Red Bulls and NYCFC create a big weekend for New York City
From a historic U.S. women's national team victory parade to both local MLS sides hitting four, this was a big weekend for New York soccer. Graham Parker was there.
Friday: Soccer fever grips NYC as U.S. women celebrate
New York soccer fans know a thing or two about triumph and disaster (generally more of the latter), so you could have forgiven a little skepticism on their part about any projected "bounce" for the domestic game as a whole in the wake of the U.S. Women's World Cup win and the unprecedented audiences that watched it.
If you were following social media in tandem with the parade scenes, you might have experienced a cognitive dissonance in comparing the sight to some of the commentary. As the floats filed by to cheers and group chants of "I believe that we just won" from the 10-people-deep crowds, a segment of Twitter was full of complaints about Major League Soccer's presence and, on a more parochial level, the likes of Red Bulls sporting director Ali Curtis showing up at the head of one float in a Red Bulls shirt.
Yet the parade actually ended up as an interesting and encouraging exercise in a manner that went beyond even the historic spectacle of 200,000 people showing up for a Broadway parade for any soccer team. In some ways, it was necessary to look past the huge numbers that showed up and look at some of the more familiar faces in the crowd to see what might be shifting for the current stakeholders rather than the masses they might hope to now convert to sustained interest.
The parade perhaps showed two significant factions of U.S. soccer acknowledging the mutual benefit of closer working practices, in each starting to achieve what the other enjoys. MLS would kill for the number of viewers who broke records watching the U.S. women win the World Cup, while many of the women can mostly only envy the relative financial stability of even an average MLS player compared to their own weekly wages.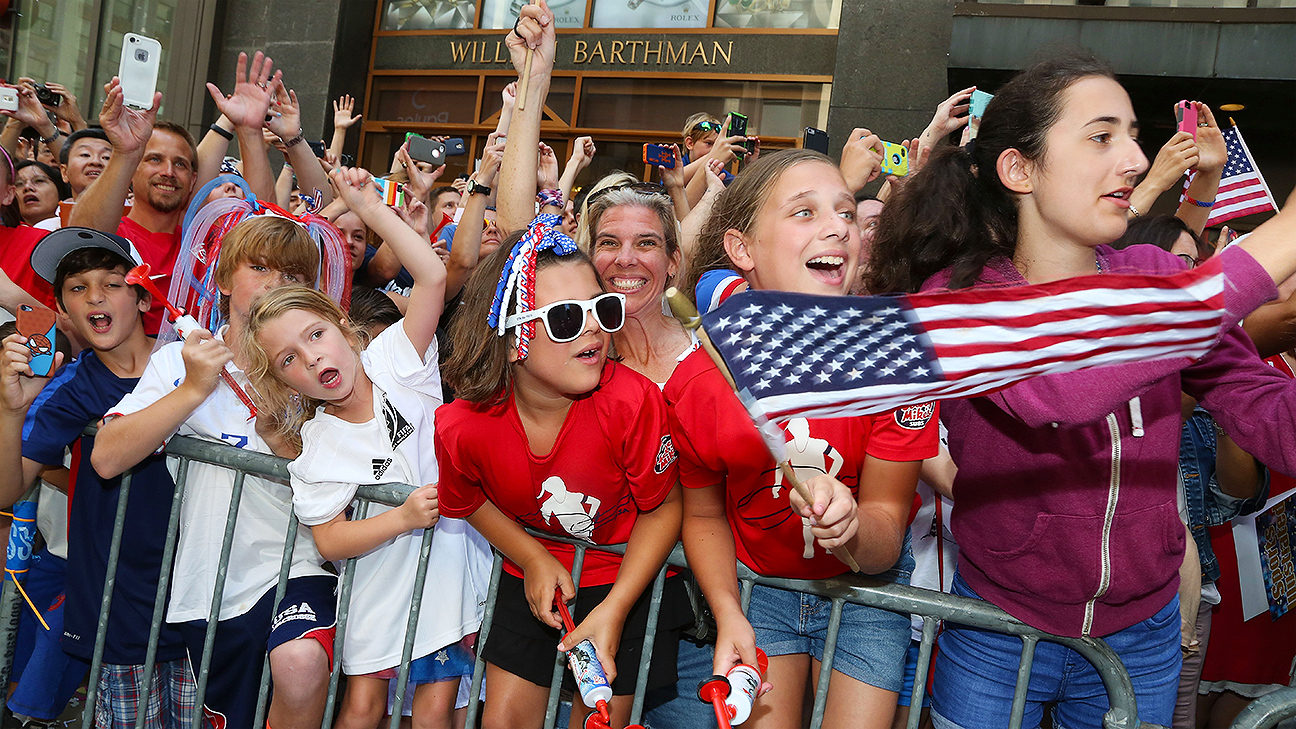 Their competitive peaks might be very high, but after this weekend's first round of regional buzz at NWSL "homecoming" games, history suggests that retention of that interest in the coming weeks will be no easy feat. Two women's domestic leagues have folded since the 1999 World Cup success, and the NWSL's modest new TV deal (announced to little awareness, let alone fanfare, during the World Cup) is not, in and of itself, an indicator that the World Cup win represents a paradigm shift in the perception of women's club soccer in the U.S.
But with MLS partially funding Friday's parade, the various product placements that routinely supplement the modest wages of the women's team players were augmented by some further living-statue adverts on behalf of local men's soccer.
Whether you agree with Don Garber's addressing the rally on Friday or not, his point that fans should now support the NWSL was a pertinent one. Given the modest success of the handful of MLS-affiliated NWSL sides -- the Houston Dash's alliance with the Dynamo might be the most practical scalable example, as opposed to the outlier of the Portland Thorns -- there might be a realization on all sides that the profile of the international women and the infrastructure of the top domestic men's league might actually be complementary in any healthy version of U.S. soccer's future.
Each side of the U.S. Soccer gender divide clearly represents a level of practice the other aspires to, and at the very least it was heartening to see some symbolic shows of collaboration all round on Friday.
And if it seems pedantic to be looking at a party and asking what it means while also wondering about the hangover, that's historically been part of the dedicated U.S. soccer fan's condition. Part of the pleasure of support has tended to come with a sense of responsibility for maintaining a more or less underground culture of the game. Watching it burst into joyous, legible life within New York popular culture was a surreal and profound moment, but for better or worse, the lessons of the past few decades have been more about slow growth than white light awakenings. Even as Don Garber & Co. danced on their floats amid World Cup champions taking selfies, they knew as well as anyone that this was a happy pause on a longer, less glamorous journey.
Saturday: Red Bulls turn up heat vs. NE
There were still bits of ticker tape on lower Broadway on Saturday night as people made their way to the Red Bulls game against New England.
Not as many fans as had lined the streets the day before -- the announced attendance was 18,460, while the nearest NWSL game that night, Sky Blue FC vs. Portland Thorns (two rosters who contributed a total of four players to the World Cup winners), might have doubled their average attendance to just over 3,000. It fell far short of a hoped-for sellout. But it was perhaps still possible to note a certain spring in the step from soccer fans walking through a big-city environment where their presence has perhaps never been so legible.
The Red Bulls certainly started their game against the Revs with a Carli Lloyd-style intensity, carving open a slumping Revs team for three goals in the opening 12 minutes. Their scoring woes of a month ago appear to have eased significantly, not least due to the return of Lloyd Sam to the lineup. At the back, Matt Miazga continues to play beyond his years and has been a big part of the Red Bulls' shooting back up to second in the East with three games in hand on leaders D.C. United.
Meanwhile, New England's Jose Goncalves turned in a hapless performance for the ages. From standing off Sam to allow the Red Bulls wide man to turn and cross for Bradley Wright-Phillips to head the opening goal in the fourth minute, to seeing red about four minutes before the end of the game, Gonçalves was a one-man wave of self-destruction, poor positioning, unfortunate deflections and ultimately a penalty-conceding foul. His second yellow card actually felt like mercy. It will be small consolation to him that Bobby Shuttleworth saved the penalty as he sits out "Jose Goncalves bobblehead doll night" with his suspension next week.
Goncalves is two years past his defender of the year award, but on Saturday his confidence looked shot. That fragility struck much of the rest of the New England team, too, or at least those who didn't look wholly anonymous. It's remarkable how deflated they look without Jermaine Jones and how easily Dax McCarty was able to subdue Lee Nguyen all night without Jones to worry about.
Afterwards, a somber Jay Heaps sounded crestfallen as he tried to talk about what could be done to revive the Revs from their slump; since beating the Red Bulls at home on May 2, the Revs have won only once in 12 league games and been dumped from the U.S. Open Cup. Last year, Heaps turned the team round with the addition of Jones after an indifferent spell that included a nine-game losing streak. The sooner Jones comes back this year, the better.
Sunday: Star-less NYCFC dazzled by Giovinco
Speaking of absences, it was a theme that continued on Sunday for what was initially billed as Frank Lampard's MLS debut but soon turned into the Giovinco show. Along with New York City's David Villa, the little Italian was one of only two designated players on the field for two teams who have gone all-in on a marquee-name strategy.
Yet even with Lampard injured, Andrea Pirlo still awaiting clearance for NYCFC, and Toronto's Jozy Altidore and Michael Bradley away on Gold Cup duty, the remaining two star attractions were worth the price of admission alone, as each tried to haul his flawed team past its opponent.
If neither succeeded it wasn't for want of trying; both men missed and scored penalties, fired in a wicked free kick (Villa) and conjured a stunning nine-minute hat trick (Giovinco). The Italian also had a surging run and assist that looked to have stolen the points for Toronto late on, but a wild game reached a fair conclusion with a Patrick Mullins header almost immediately at the other end.
Steven Gerrard might have been making his L.A. Galaxy debut in the International Champions Cup this weekend, but Sunday's game at Yankee Stadium also felt like an exhibition game at times, or at least a frenetic cup tie as both sides seemed to abandon tactics in favor of trading end-to-end attacks.
No wonder Jason Kreis called it the "type of game fans love and coaches hate" in the postgame news conference, lamenting the sloppy and costly touches of his team. Certainly, the fans were treated to a rather more enjoyable spectacle than the last meeting between these two, when Giovinco was kicked out of the game in a cynical NYCFC performance that had neutrals calling for greater protection for his type of creative player.
Whether referee Ted Unkel's four penalties constituted a version of that protection is debatable. He too seemed caught up in the frantic spirit of this wild game, or perhaps the irrational exuberance of this New York soccer weekend. The goals, big decisions and yellow cards flew like ticker tape.
Graham Parker writes for ESPN FC, FourFourTwo and Howler. He covers MLS and the U.S. national teams. Follow him on Twitter @grahamparkerfc.