Flaws galore in Jermaine Jones, Major League Soccer deal
When the news broke about Jermaine Jones' move to New England and the circumstances around it, I found myself imagining the room where the deal went down.
Let me explain: I'm a little bit of an architecture geek and have always found one of the perks of this job, especially in the access-rich sporting environments of North America, is being allowed to move around more areas of the stadium than most fans see.
These backroom spaces are part of my experience and memory bank of the game in the U.S. There's the TV room at LA's StubHub Center, which is like a somber funeral chapel with its heavy black drapes and raised dais; the service elevator at Sporting Park, whose always-cheery operator can dispense unwary media members into the kitchens if they get off at the wrong floor; the precarious gangplank to the press box at Portland, or the open stairwell you climb higher and higher at Philadelphia's PPL Park to make your way to the press box there, hoping throughout the climb that you don't get allocated that seat behind the pillar.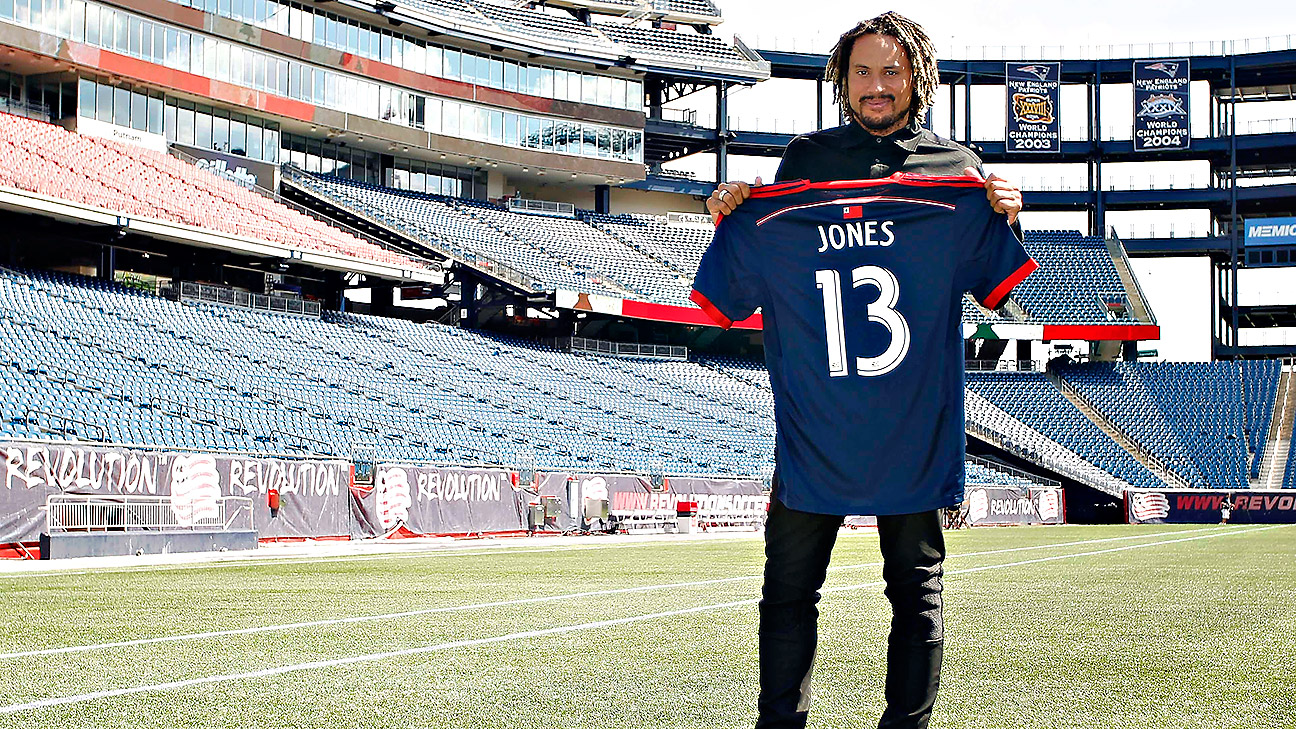 These glimpses behind the curtain can be a mixed blessing, of course. They satisfy my curiosity but also rob me of some of the pleasure of the spectacle and ritual of the game itself: When you're aware of a lot of the joins, there's less mystery.
That said, of all the glimpses behind the curtain I've been privileged enough to have, I have never seen the mysterious room where MLS does its "weighted lotteries," or now, "blind draws."
I have been to the league offices themselves on several occasions. They basically consist of a modest floor in a midtown New York office block, with some central cubicles, a boardroom that's struggling to keep up with the elbow room required for rapid expansion and a pleasant, although hardly overbearing, office for Don Garber in one corner.
Some overflowing cubicles run round the center of the space. Club paraphernalia, not all of it MLS by any means, is dotted around each of these cubicles, and there are some cool U.S. soccer artifacts dotted around the walls too. Other than those details, though, you'd be hard-placed to identify the HQ as distinct from a law firm on the next floor up.
Yet each time a deal like the Jones deal is done, I keep visualizing a magical space at MLS HQ, possibly hidden from casual visitors like me by a David Beckham mural, where senior MLS officials don cowls in dim lighting and go about the business of player allocation in sequences straight out of "Game of Thrones."
- Jeff Carlisle: Jones deal shows need for transparency
- Jones: Klinsmann 'pushed' me to MLS
- ESPN Boston: Jones brings positive vibe to N.E.
I keep imagining this space, because if it doesn't exist, you suspect the league would make it up on a whim one Thursday evening and then claim it had been there for a thousand years. The relative banality of the rest of the offices could not possibly produce such language as "designated player of a certain threshold" (which I intend to steal for the "Occupation" line on my passport), or the ritual of the "blind draw."
Both those phrases appeared in a news release to describe the process whereby Jones became a New England Rev. The language sounds both ridiculously arcane and entirely appropriate to the convoluted and mysterious system that produces it. It reminds me of my brother-in-law's tales of working for Blizzard, the company who produce World of Warcraft, and how the company had to eventually employ economists to keep the game play balanced by monitoring and adjusting the in-game gold supply while other programmers made sure that the Sword of Sigischmid, or whatever weapon they'd recently introduced, didn't take out too many elves at a time and ruin the game for those who only had the Orb of Petke.
Basically, a system was set in place to do one thing and then adjusted on the fly when it turns out it also does something else ("You mean good U.S. players want to come back? OK ... give me a minute ... does anyone have an envelope? Actually, make that two ... by the powers of Valderrama, I bequeath thee a D-Mid and undisclosed allocation gold. You owe me a stamp.")
There's a collective bargaining agreement negotiation coming up -- the current deal expires at the end of 2014 -- and while the players and league will be rightfully contending their own visions of a fair and sustainable future for the league and their respective parts in growing it, the fans might hope that part of the conversation on marquee U.S. players negotiating re-entry to the league (which is after all, a much-vaunted part of MLS's recent marketing and business strategy) involves adding in some transparency on how not just that but other trade processes work.
The value in that is not just that those of us following developments in the MLS bubble have a clearer understanding and greater sense of accountability of how parity is being served, but that the league itself continues to examine how it operates and how its statements reflect that -- not just to the converted fans, but to the curious. More than one potential post-World Cup MLS fan will have been turned off to the league by how the Jones deal went down and how it was described, not least of all because it sounds so alien to the club football models familiar in most of the rest of the world.
Not that those models are perfect either, of course, but almost 20 years of post-Bosman labor relations in Europe, for example, mean that the world players' union, FIFPro, can bring a legal case against the very transfer system itself and at least have it be treated as something that needs to be contested by those who oppose it. The MLS version of player freedom of movement is apparently modeled on a long-past era, with public justifications written by modern Nigerian spammers.
To be clear, given the figures being reported, I doubt Jones has been forced into a situation he's unhappy with, and I'm looking forward to watching him play for a Revs midfield that has missed his type of presence since Shalrie Joseph faded. The talented-but-lightweight Revs midfield need him as much as the indistinct Fire midfield could have done with him.
It's also entirely likely that Jones is now more richly renumerated than most other solid-but-unspectacular 32-year-olds could reasonably expect to be, and has negotiated a deal "of a certain threshold" beyond which he was basically happy to go anywhere.
And I'm happy he's here. But I'm not the only one who's unhappy with how he got here -- and I'm not just talking about Frank Yallop. A few more rooms in the league could do with a few more lights on and a few less blind draws.
Graham Parker writes for ESPN FC, FourFourTwo and Howler. He covers MLS and the U.S. national teams. Follow him on Twitter @grahamparkerfc.