Liverpool must win something to be called world's best - Milner
James Milner says Liverpool must win something before they can live up to Porto head coach Sergio Conceicao's assertion that they are sometimes "the best team in the world."
Liverpool take a 2-0 lead into the second-leg of their Champions League quarterfinal at the Estadio Dragao on Wednesday, and speaking ahead of the game, Conceicao said he is a fan, to say the least, of Jurgen Klopp's side.
"Liverpool are all about the way that I think about football," the Porto head coach said. "I like Liverpool's dynamics, their game model. I like the way they play with the ball and without it -- it's similar to how I see football. In my opinion, in a lot of these moments, they are the best team in the world."
Asked about Conceicao's comments, Milner appreciated the praise but said Liverpool have yet to earn it.
"That's a nice compliment, and we get those compliments by playing good football over a sustained period of time," said Milner. "But to be that you have to win trophies, and that's something we haven't done yet and what we're trying to do this season."
Klopp reacted with something like confusion when Conceicao's assessment was put to him.
"When did he say that?" Klopp asked. "He said we are the best team in the world? OK. Sometimes we are really good, that's true. Hopefully, we can show it again. That's a compliment, but we know we have a really big job to do tomorrow.
"So far it's a very positive season, but we are not here to celebrate our situation, we're here to get through to the next round. We have to fight really hard because they have won all their home games so far. It's not about how good our season has been to now. That's something we can think about at the end of the season."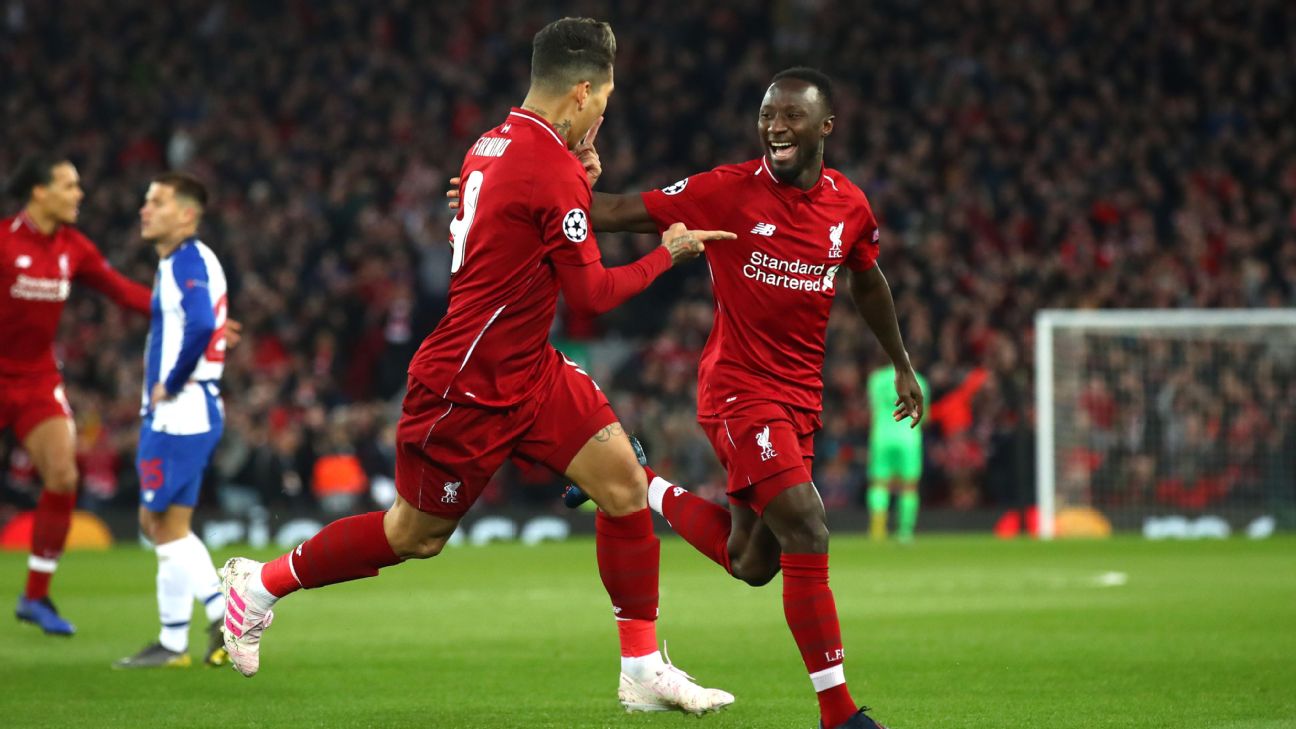 Liverpool travel to Porto for the second time in two seasons, having blown the Portuguese champions away in the round of 16 last year, but both Klopp and Milner placed little significance on that 5-0 victory.
"I didn't like the last game, because it was really strange," Klopp said. "Until we were 2-0 up [and] it was a completely open game -- you don't remember things like this. Porto is a really good football team, and we have to be good tomorrow again. We have to play at our limit, and try to come through somehow."
Milner agreed: "The result last year was a bit of a false result. They had chances, and we were very clinical on the counter-attack.
"Some of the talk in the media when we got this draw [that this was an easy tie for Liverpool], I would have taken it as pretty disrespectful if I was a Porto player. We know how difficult it's going to be: one goal can change the complex of the tie."
Joel Matip will almost certainlyalmost partner Virgil van Dijk in the heart of the Liverpool defence on Wednesday. Dejan Lovren didn't travel with the squad to Portugal, left out due to illness, and while Joe Gomez will be part of the 18-man team, Klopp suggested that he would not start as Liverpool manage his return from a broken leg in December with caution.
"Can he play 90 minutes in a Champions League game?" said Klopp, of Gomez. "I'm not sure. But can he come on whenever he's needed: I would say yes. You have to remember what a season he played until he got injured."