Liverpool were expected to lose against Crystal Palace - Klopp
LIVERPOOL, England -- Jurgen Klopp said he told his Liverpool side not to lose their nerve in an encounter with Crystal Palace that he believes many people expected his side to lose.
Liverpool went into half-time 1-0 down but scored twice shortly after the break and twice more after Palace made it 2-2 in the 65th minute -- with Mohamed Salah bagging a brace -- to seal a thrilling 4-3 victory over Roy Hodgson's team, who beat reigning champions Manchester City last month.
They had to hold on as James Milner was sent off late on to set up an incredibly tense finish, but re-established a seven-point lead at the top of the Premier League and Klopp was delighted.
"Nobody should be surprised about the character of the boys," he said at his postmatch news conference. "If something was really here before I came in, it was character.
"I have known the boys since 2015 and I have found boys with outstanding character. The work-rate has always been unbelievable and you have to mix that with a few other attributes. Confidence, self belief, its important, but the boys are ready to fight. That's clear.
"It's not the first time this season we had to do it, but today it was pretty special and I really liked it.
"It was not too easy for the crowd to get the first half, we did OK but you're 1-0 down and I'm pretty sure a lot of people thought today was the day we would lose it.
"We were not like this, I told the boys we had to stay positive and we were not allowed to lose our nerve, there was no reason for it.
"We needed to improve a few things and do things again and again. Of course we had to protect the left wing extremely well, to win the ball back there, and the boys did it. You always need a bit of luck in football, but the boys deserved these three points in a very difficult game."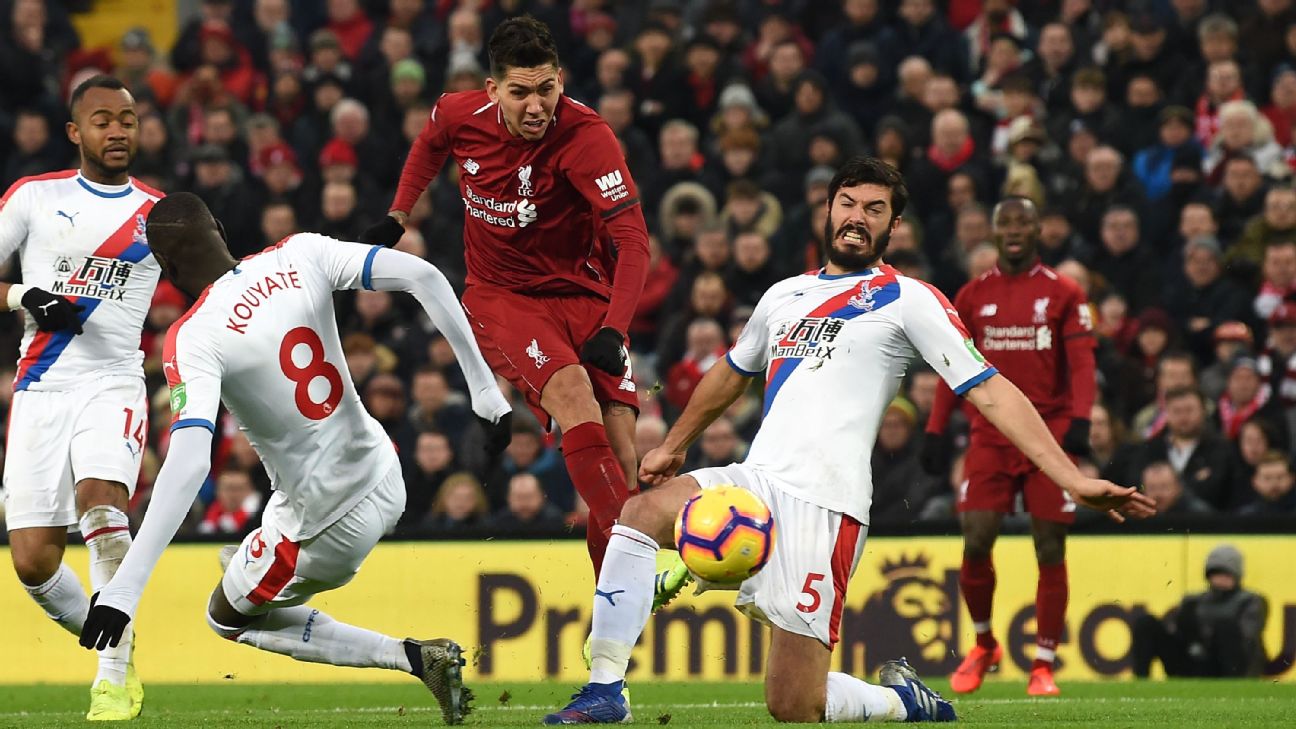 Salah's goals -- both from close range in the 46th and 75th minute -- took his Premier League tally 50, with two of those strikes coming during his stint at Chelsea.
He becomes the first Egyptian to record a half-century of goals in the Premier League, reaching the landmark after 72 appearances.
"Exceptional achievement from a world-class player," the Liverpool manager said. "He made a few steps in the last couple of months in the right direction. Wow, an outstanding number.
"I heard the names of the other players who got there a bit quicker -- Alan Shearer, Ruud van Nistelrooy, Andy Cole -- good strikers as well, eh? Maybe he would have scored more and earlier if I hadn't played him on the right wing so often -- my fault.
"But no, not bad. Helped us a lot. It's a typical win-win situation. He benefits from the style of play, and the boys benefit of course from his scoring desire. It's cool."
Meanwhile, Liverpool will check on the fitness of Fabinho after he limped off in the 87th minute, while Milner will be suspended for the meeting with Leicester City on Jan. 30.