Liverpool boss Jurgen Klopp more than a cheerleader - Virgil van Dijk
Virgil van Dijk believes Liverpool have the "complete manager'' in Jurgen Klopp, whom he insists is so much more than a touchline cheerleader.
The German again goes head-to-head with arguably the greatest coach of his generation in Pep Guardiola, against whom he has a better record than anyone else, having won seven of their 13 encounters.
But while the Manchester City boss is quite rightly hailed as a footballing genius, the praise for Klopp can be less forthcoming, with the assumption being the brand of football he plays is less complex, while his over-the-top technical-area antics often detract from a more rounded assessment of his tactics.
Van Dijk, who has only worked with the 50-year-old for just over three months, says there is plenty more the public does not see.
"He is the complete manager. He is a fantastic team manager, player manager as well, and everyone is working hard together,'' said the Netherlands captain.
"Obviously that [interaction with crowd] stays more in people's minds because that is what you see, but he is much more than that.
"You don't see all the hard work we put in behind the scenes. He has shown already that he is an outstanding manager.''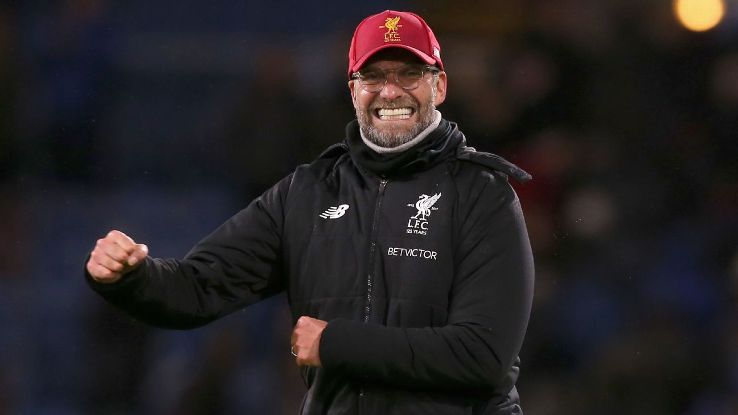 Klopp's tactical nous will come under scrutiny on Tuesday as his side take a 3-0 lead into their Champions League quarterfinal second leg.
Many have questioned previously whether Klopp's sides can kill off games when they need to and make a departure from their high-pressure, attacking game.
That puts the focus firmly on their defensive structure at the Etihad, but Van Dijk insists that is all part of the overall strategy.
"They need to come at us, but we want to play our game. That is the only thing for us,'' he said.
"We cannot go there and think we are going to defend. We have to play our game.
"I think we approach the game as though it is still 0-0. We want to win this game -- that's the mindset from us.
"We don't want to go there and think maybe we can lose 1-0 and we are still through. We want to win this game as well.''
Meanwhile, Klopp has maintained it is still only half-time in the Reds' tie against Manchester City -- and that should be warning enough for his players.
The greatest moment in the club's recent history came when they trailed AC Milan by the same 3-0 scoreline in the 2005 final in Istanbul and no one needs reminding of how that turned out.
But the last time they led a European match by three goals at half-time was November's group tie against Sevilla when they conceded three in a crazy 45 minutes to draw.
Should City find a way to reproduce that on Tuesday, there will be all manner of panic within the red ranks, even if Klopp insists they would still be capable of seeing out the game.
But he will not use the Ramon Sanchez Pizjuan experience as a motivational tool.
"You don't need to remind them of a specific game,'' he said.
"I saw the game of City vs. United at the weekend. It was one of the best first halves I ever saw. It was like a thunderstorm.
"Then, in the second half, after the first goal, one team gains rhythm, another team loses rhythm. The game changes.
"I cannot tell the boys: 'Boys! Score early!' Well, I can but I am not sure that it really helps.
"We have to think about football: what we have to do, where we have to do it. That's what I am talking about in terms of not needing examples.
"The boys knew after the [first] game this is half-time. We are in the lead, nothing else.''
Klopp has no intention of running through with his squad every eventuality on Tuesday night.
Instead, he will do what he always does: send them out with a plan and do all he can to encourage them to stick to it as he is confident his methods, if performed correctly, will succeed.
That has already been reflected in his record against Guardiola.
"It always helps if you know about the problems, you deal with the problems but if we concede a goal nothing changes. We are still in the lead,'' he added.
"It is about doing the right things, staying in the mood where we can bring in our strengths, playing in the right spaces, defending in the right spaces; attacking them in the right spaces.
"It would be the same if they were 3-0 up. It wouldn't change anything. We are here to not concede and to score to win the game so that is the plan.''
Liverpool's last visit to the Etihad in September ended in 5-0 defeat after Sadio Mane was sent off with the score at 1-0.
Klopp maintains much has changed since then.
"It is different. We are longer together. Things are better but it only shows us that these things are possible,'' he said.
"We don't need that information. We have to be at our best but that is how it should be if you want to go to the semifinals of the Champions League.''
Van Dijk, the club's £75 million record signing and world's most expensive defender, will be a key man in their defensive organisation.
He has already made a difference since arriving from Southampton in January and insists he can cope with the focus and pressure.
"I'm never nervous. I am just excited. I think, 'Look where I am. Playing for the semifinals of the Champions League with my team. Just enjoy it and love it,''' he said.
"I always have been [calm], sometimes a little too much. Sometimes that cost me back in the day, to be fair. Sometimes you lose, but if you win the feeling is amazing.
"Every game you have to stand up, it is not only this night. I think it is only other people who put pressure on me, but I don't care really.''
Prior to his arrival at Anfield, there were suggestions Liverpool's long-term pursuit was set to be hijacked by City, although Van Dijk would not be drawn on those claims.
"Southampton, Liverpool and me came to an agreement which was right for me and my family,'' he said.
"These games were definitely a reason why I wanted to play for Liverpool. That is clear and I am enjoying every bit of it. I love the club already.
"Liverpool is the perfect fit. That is how it is and how I feel and I hope it will be like that for years to come.''