Jurgen Klopp says 'I don't care' if Liverpool deserved win at Burnley
Liverpool manager Jurgen Klopp suggested his side might not have fully deserved to beat Burnley on Monday, but he was thrilled to see his side earn six points in a matter of days.
Klopp's men looked like they had thrown away two points when Johan Berg Gudmundsson's 88th-minute equaliser cancelled out a stunning strike from Sadio Mane, but centre-back Ragnar Klavan was Liverpool's unlikely match-winner in the fourth minute of added time.
The result follows another 2-1 win over Leicester on Saturday as Liverpool earned two league wins in a three-day span for the first time since December 2008.
"A very difficult game, these fixtures are really difficult to take. We did brilliant, the weather made it so hard, windy, rainy," Klopp said after the New Year's Day win.
"Burnley are dong well, we denied them to do what they usually like to do. It took a while to score and then the next two goals were very similar.
"Did we deserve to win? I don't care. We got the three points.
"Adam Lallana was great, after four or five months out, performing like this. It's not easy at this time, the whole team applauded Sadio Mane when he came in because we needed that goal. He is not playing at his most fluent but a great goal.
"Six points in two days -- I've never had that before."
Klopp made seven changes and was without top scorer Mohamed Salah and playmaker Philppe Coutinho, but he said he was happy to see his squad players come together to secure the dramatic win.
"I like rotation, I love the quality of my squad and I am really pleased," he said. "It was not fantastic football but it was a fantastic attitude.
"Today it wasn't possible to play brilliantly but it was an open game, we had a massive setback with the equaliser but we changed it again -- we haven't done that too often this year."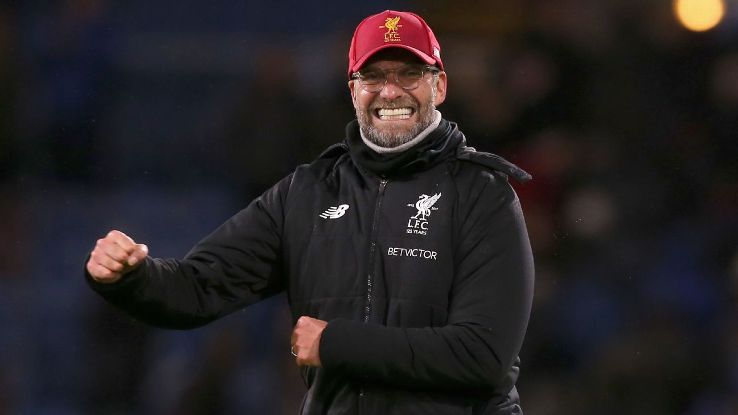 Klopp confirmed in his news conference Mane and Salah will attend the Confederation of African Football (CAF) awards just a day before Friday's Merseyside derby.
Mane and Salah, along with Borussia Dortmund's Pierre-Emerick Aubameyang, have been shortlisted for the African Player of the Year award, which will be presented at a ceremony in Accra, Ghana, on Thursday.
A source told ESPN FC in December that Liverpool were looking to arrange a private jet in order to allow the duo to attend and return in time for the FA Cup third-round tie with Everton on Friday.
The pair will not train with the rest of the Liverpool squad on Thursday, but Salah (groin), along with Philippe Coutinho (thigh), is a doubt for Friday night's game anyway.
"Everything is organised," Klopp said. "We have two of the three best African players in our squad. Now we can sit at home and can say: 'OK, they have something to celebrate and we are not interested.' That would not show the respect we have to show them in a situation like this.
"If it would have been a matchday, they wouldn't have asked. It's the night before. It's not cool. We are in a hotel, we train before. They sleep in a plane. That's the modern world. That's all the difference. They will be ready or not. If Mo is not ready, it will have nothing to do with this. We can send physiotherapists. We have everything organised.
"For our side, it is just a sign of respect. I know it, I had Aubameyang. Oh I trained all of them? Cool. There is nothing more important than to go there. I try everything to help that we can make it possible. Is it ideal? No. Will it disturb? No.
"[They will not] train with us because we train in the afternoon and they train in the afternoon. But, yes, they will train."
On whether record-signing Virgil van Dijk will make an appearance against Everton at Anfield, Klopp said: "I don't know. We made a few tests now and I think it made sense for him and for us to see where he stands.
"There's no rush. He's on fire. He really wants [to play]. That's all good, but we have to make sure that he can perform."
Meanwhile, Klopp insisted he "couldn't be less interested in anything in the world" after Coutinho recently appeared as a Barcelona player on Nike's official website.
"Somebody told me and I thought: 'Wow.' Top story," he added.
Glenn is ESPN FC's Liverpool correspondent. You can follow him on Twitter: @GlennPrice94.