Liverpool's Philippe Coutinho a doubt vs. Huddersfield through injury
LIVERPOOL -- Jurgen Klopp says it is "not clear" at this current moment whether Philippe Coutinho will miss Liverpool's match with Huddersfield Town on Saturday through injury.
Coutinho is a doubt for the Anfield encounter on the weekend with an adductor injury sustained in training this week.
The playmaker overcame a back issue to play in Sunday's defeat at Tottenham Hotspur, but may lose his fitness battle this time around after missing training on Thursday.
When asked at a news conference on Friday how long the No. 10 would be sidelined for, Klopp said: "It's not clear in the moment.
"Last week he had some back problems before the Tottenham game, but then during the week it settled with treatment and all that stuff, so he was fit for the game.
"This week he had a little bit of problem with the adductor. It's not clear so far if he is out for tomorrow. We will make the decision today after training.
"He didn't train yesterday, that's true, but that's all for the moment. There are no other new things [injury problems]."
On a more positive note on the injury front, Klopp is hopeful that Adam Lallana (thigh) and Sadio Mane (hamstring) will be in line for a return following the upcoming international fixtures.
"After the international break, I think Adam and Sadio are back," Klopp said. "It will be close, so hopefully they can train during the international break and be part of the normal training.
"Adam was this week, for the first time, part of the warming up. His face showed how happy he was about this!
"I saw in the last hour them both with the fitness coaches on the pitch doing technical things and stuff like this, so it all looks good.
"In the end, they all need to be at 100 percent and they aren't at the moment, so that's it but they're on a good way."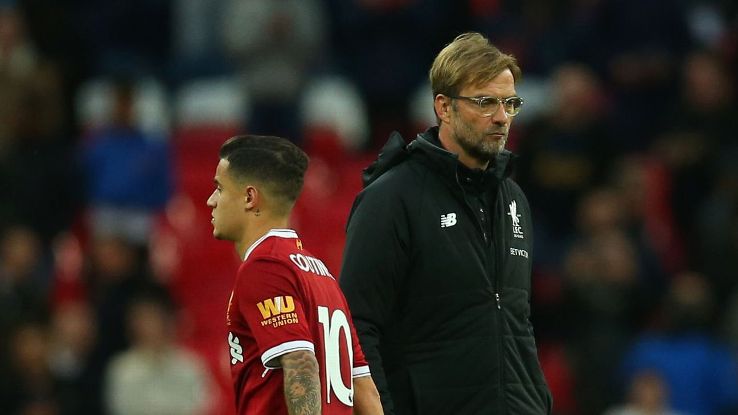 Liverpool head into the Huddersfield game on the back of their 4-1 loss at Wembley last weekend.
Dejan Lovren was taken off 31 minutes into the Spurs affair after errors which led to the opponent's opening two goals.
Defending his centre-half, Klopp said: "Look, I don't wish on one of you that all your mistakes are discussed in public.
"The boys, in the first case, are still human beings. It's kind of like watching an accident and there are people standing around with smartphones instead of helping -- I am not this kind of person.
"We had a normal week and, of course, it was not the nicest week in Dejan's life, but at the end, it's only football.
"We have to know about this and people don't become a better or worse person after making a mistake in a football game so that's how it is.
"If I think about Dejan, I have much more positive things that I can think about than negative things, still. That's easy if you want to do it. He is a player of Liverpool and that's how I treat him, as a member of this family, and it is clear that I will help him if I think I have to help him.
"Everything is OK, Dejan had a good training week, we will see what we will do tomorrow for the game."
Saturday's Premier League encounter sees Klopp come up against his "best friend" David Wagner in the opposing dugout.
Despite the pair's close relationship, the Reds boss recalled how he took greater satisfaction at the beating his friends as a youngster.
"We had a little chat on Monday but then it was clear for both of us that it would not be more," he added.
"I didn't ask him how he'd line up and he didn't ask me. I didn't ask him: 'Will you play like you did against Man United or like against West Ham?'
"It is exciting, 100 percent, as you can imagine. I'm really happy that we play against each other in the Premier League. Nobody would have expected that 20 or 30 years ago. It makes it even nicer. That's the only difference.
"When I was a kid, I played against my best friends all the time. I actually enjoyed nothing more than winning against my best friends.
"He is my best friend and we have a really close relationship, but that changes nothing for the game.
"I think it's a special story, but that's all. Our friendship will last for the rest of our lives -- whatever happens in this game.
"I want to win the game and that means we have to beat Huddersfield. I know him well enough that he thinks exactly the same. I have no problem with that."
Glenn is ESPN FC's Liverpool correspondent. You can follow him on Twitter: @GlennPrice94.