Liverpool fans' protest over 'obscene' ticket prices backed by mayor
Liverpool fans should be congratulated for protesting against "obscene" and "unjustified" ticket price rises at Anfield, the city's mayor has said.
Joe Anderson, the Mayor of Liverpool, suggested supporters at other clubs follow suit in order to challenge football's "greed" and put pressure on all owners to freeze prices.
Writing for The Times, the mayor said that with enormous sums of money coming into the game courtesy of broadcasting deals, supporters did not need to be asked to pay extra.
He added that the proposed increases showed that those in charge of Liverpool were out of touch with the club's fanbase.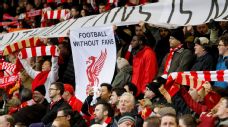 "They receive £90 million in TV rights and increasing ticket prices is obscene," he wrote, blaming the treatment of supporters on "the greed of football clubs who don't understand how the ordinary man, woman and kids in the street are affected."
He said Liverpool fans "need to be congratulated" for their stance -- highlighted by Saturday's 77th-minute walkout during the match against Sunderland -- and hoped other clubs' fans would "pick up the cudgels."
The mayor noted the club's help in regenerating the area around Anfield through the construction of its expanded Main Stand -- whose 8,500 extra seats prompted the new pricing structure.
But after his administration worked to bring about "the opportunity for them to do what they are doing," Mayor Anderson said the boost in revenue from the extra seats at existing prices would have made an increase needless.
Even if some decreases and freezes meant some of the poorest "have been protected," he said, many more had been affected by "tough times" in the economy.
"I would have thought that people who were running football clubs, especially in areas such as Liverpool, which has been hardest hit, should take that into account," he wrote.
The mayor criticised the increase in price of some of the Main Stand's season tickets to £1,029, and suggested that all club owners should ask whether the price of football was fair.
"What I would say is with the increase in TV revenue and the revenue increase from building a new stand, I don't think anyone would say it is justifiable to say we want to make season tickets over £1,000," he wrote.
"Every club should look at themselves and think, 'Do we really need to price out more fans? Do you need an increase when players' wages are going through the roof and our income is getting stronger every year through the TV deal?' There is no justification for any of them to make increases."
Tom is ESPN FC's Liverpool correspondent. Follow him on Twitter @writertombell.