Jurgen Klopp: 'Sign' received from Liverpool fans in ticket price debate
Liverpool manager Jurgen Klopp says the club have received "the sign" from Saturday's supporters' walkout at Anfield and says compromise is needed in the debate over rising ticket prices.
About 10,000 Liverpool fans protested a new ticket pricing scheme for next season by walking out of the club's match on Saturday in the 77th minute.
The club have caused outrage with the cost of tickets for next season, with the most expensive matchday ticket rising to £77.
On Monday, Liverpool cancelled a planned Q&A session with chief executive Ian Ayre to discuss the matter.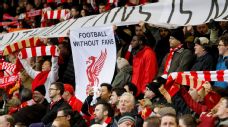 But Klopp said he wasn't concered the club's relationship with their supporters has been permanently damaged.
"I'm not worried, no," Klopp said. "There is always a reason for a situation like there was on Saturday. It was not a situation where one game you have 40,000, the next 39,000, the next 38,000, 37, 36 and so on. But it was a sign on Saturday and I think it was easy to understand. That is the good thing with signs. Now we have to talk about it. This club is a really big club that has faced a few difficult situations in the history of Liverpool FC.
"These other problems were bigger than the problem we have in this moment but supporters never ever lost their love of the club and that will not happen now. We have our job to do on the pitch which is easier to help people enjoy the game, we will try, and I know the owners are really interested in having a good relationship with our supporters. In the moment, we understood the sign, I think, and now we look for a solution."
Klopp said he understood the fans' anger but urged them to see both sides of the debate.
"The situation for the fans at this moment is not too easy," he said. "The situation in the table is not too easy and you have to think about other things that are not only about football. Our job is to make it easier for them to think about the positive side of football.
"We all love this game for different reasons, it is a great game to watch, a great game to play, all these things, but I don't think it is a strange time -- I think this is the situation throughout the whole world. We have to talk and find solutions that everybody wants."
However, Klopp did not agree that the walkout on any impact on his team wasting a two-goal lead and settling for a 2-2 draw with Sunderland.
"No, that is absolutely not allowed," he added. "I saw the reasons on the pitch and they had nothing to do with it. It was a completely different situation to what we spoke about a few months ago.
"In my position I have only a few words on this but we have to really think about it and to have talks. I know Ian Ayre has already had some talks but we are in contact and that is very important. We are really interested in finding a solution and that is how it should be.
"We should talk about this, with as much people as possible, and hopefully in the end find a solution that everyone can be satisfied with."