Liverpool's Jurgen Klopp 'back in the race' after having appendix removed
Jurgen Klopp has given himself a clean bill of health and called for his Liverpool side to find some consistency in Tuesday's FA Cup fourth-round replay at West Ham.
The Reds manager was back at work on Monday two days after having his appendix removed, and said he was fully recovered from the operation, which he revealed was carried out by a Liverpool season-ticket holder.
Having been diagnosed by club doctor Andy Massey on Friday night and admitted to hospital on Saturday, Klopp watched Saturday's 2-2 draw with Sunderland -- which took place while he was under anaesthetic -- the following day.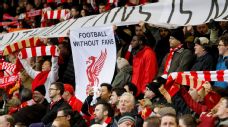 And the German told a news conference he would be back in the dugout for Tuesday's clash with West Ham.
"I feel good and I am back in the race," he said. "I am very thankful to our doctor, because he said we should go to hospital -- I was not too sure -- and then the surgeon was great, a season-ticket holder. He told me we both wouldn't see the game. I was like, 'OK, sorry!'
"I feel really good and that's the only reason I am here. If I am not fit then I can't help here, so I would be at home. So everything is OK, and we don't have to talk about this any more."
Klopp felt that there were signs of progress in Saturday's performance against the Black Cats, but that Liverpool failed to play for the full 90 minutes, being found out defensively in the closing stages.
He said: "I spoke to all of my coaches and what I heard before was what I saw afterwards: that it was not necessary to give the points away -- the same if you were in a deep sleep or on the bench.
"It's easy for me to say we have to carry on and take the positive things out of this game, because there were a lot of positive things. If you take out the last 10 minutes, then it was a real good game and how you should play.
"We could have scored a few more goals and how we conceded the goals was not too good, how it always is. But it is not the only information I need to understand what our situation is at the moment.
"You could see a lot of things get better and better and we have to bring this consistently on the pitch in different formations -- that's the challenge. Of course, we will have a different formation to Saturday, but if we can do it similar, then it's not too easy to play against us.
"I can't say anything about the first game [this season] against West Ham when I was not in charge, but the second game we were really bad and that's the reason why they could win. If we are better, it's more difficult."
The 48-year-old said that he may rein himself in at Upton Park rather than give his usual emotional display on the touchline.
"I think I am experienced enough to know that for me it won't be a normal coaching game, so I don't want to jump or things like this," Klopp said. "I have a few holes in my body -- hopefully the water will stay in. I can't win the game with my emotions outside, I know this, so I can handle it, no worries."
Tom is ESPN FC's Liverpool correspondent. Follow him on Twitter @writertombell.