Daniel Sturridge expected to make Liverpool return against West Ham
Daniel Sturridge is expected to make his long-awaited Liverpool comeback in Tuesday's FA Cup replay at West Ham, along with Divock Origi and Philippe Coutinho.
Sturridge was an unused substitute for Saturday's 2-2 draw at home to Sunderland, but is set to feature in the fourth-round replay despite not having played since Dec. 6.
Origi (absent since Boxing Day) and Coutinho (injured on Jan. 5) joined Sturridge in training last week after overcoming their hamstring injuries, and will also be in the squad to travel to east London.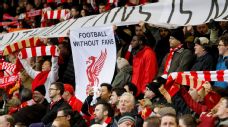 Manager Jurgen Klopp, who held his news conference on Monday after undergoing appendix surgery at the weekend, said that the makeup of his side would be dictated partly by his reluctance to risk all three of the forwards at once.
He added that Sturridge would have seen some action on Saturday but for the early forced substitutions of Dejan Lovren and Joe Allen, who are now both sidelined with hamstring injuries.
"We haven't decided yet on the starting line-up," Klopp said of Tuesday's tie. "We now have another very important session. [Sturridge] was fit enough to be on the bench on Saturday.
"He was impressive in the last session on Friday night, so we thought if there's a chance for him to have 15 minutes [against Sunderland] we should try it. We spoke to him and he said he would like to.
"But then the game was a different story and so there was no possibility to do it after two early changes. We hope, like Divock and Phil -- they have been training too and are in the squad hopefully.
"It's a little bit complicated, because overtime is possible, right? It could be complicated with changes, so we have to look at who will start. They can't start all together -- it's not possible because then you know you could have to change three times. We will have to figure out how we do that."
Klopp said that -- as in previous FA Cup ties -- he would field some younger players to rest those who have played in the league meetings with Leicester then Sunderland but that midfielder Cameron Brannagan, who starred in the 0-0 draw with West Ham at Anfield on Jan. 30, is ill.
"It was always about who is available and who played the last game," Klopp said. "We have a lot of players off today but we have 20 players in training.
"We have I think 38 players in our squad, so with all these young lads involved and we already trained with them, then the rest can rest. That's what we are working out -- today players are off, tomorrow we will make a squad.
"It's not like Exeter or something, because now a lot of players are available and it's good for them to play.
"Like I said before the West Ham game, it's easier to be brave against Exeter. It was necessary to be brave [to choose that team] against West Ham in the first game but I didn't see it as too brave, to be honest. They were normal decisions for this situation.
"Now we have a few of the young players not available. I'm sorry for Cameron Brannagan [who] is ill; it's a shame for him because he played really well. But the other players did really good jobs.
"I think the full-backs will be similar [to previous FA Cup ties], one of the other midfield positions will be similar, but then we can fill up with players who usually would expect in the FA Cup."
Klopp added that the FA Cup is not seen as a lower priority for Liverpool.
"We have only to always try to find a solution for our situation -- we don't think about the competition because it doesn't make a difference," he said. "We can't say 'this game is not too important'. Each game for us is very important. We will try to find a line-up to be rested.
"The last game [against West Ham] was a good one for us -- we saw what we are able to do, so we should do it again or better."