Liverpool scrap plan to hold public Q&A with Ian Ayre on ticket price rises
Liverpool have pulled the plug on a live Q&A with chief executive Ian Ayre to discuss the club's new controversial ticket pricing.
The club have caused outrage with the cost of tickets next season, with the most expensive matchday ticket rising to £77.
Fans organised a 77th-minute exodus during the 2-2 draw at home to Sunderland on Saturday in response, with more than 10,000 supporters leaving before the end of the game with their side 2-0 up at the time.
The club invited fans to submit their questions to Ayre for an hour-long live Q&A, which was to be held at 6 p.m. GMT on Monday and broadcast on their TV channel. But just hours before it was due to begin the club tweeted that it had been shelved.
LFC thanks fans for submitting questions for tonight's Q&A however due to ongoing ticketing discussions, this will no longer take place.

- Liverpool FC (@LFC) February 8, 2016
Widespread reports on Monday morning suggested that Liverpool are considering an urgent review in the wake of supporters' walk-out.
Fenway Sports Group (FSG), the club's U.S.-based owners, reportedly began emergency discussions with representatives in Liverpool over the weekend. Those had been set to continue as they assess whether to adjust the new ticket prices.
The talks were prompted by alarm within the club at Saturday's protest, which also saw chanting during the match that accused FSG of greed.
Manager Jurgen Klopp said it was vital to bring the fans back on side.
"It's not too easy for me. I heard about it of course from a lot of people in the last few weeks. Now I know it's my problem too," he told his prematch news conference ahead of Tuesday's FA Cup replay at West Ham United.
"Anything I'd could say about this now I think would make it more complicated because I have to first of all collect more information.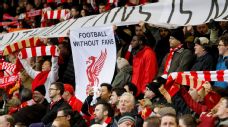 "What I know is that everybody in the club has a big interest to find a solution for this -- this is not what we want. We don't want that people leave the stadium before the game is finished."
Supporters' groups said further protests were possible at the club's matches at home to Manchester City and Chelsea in March, and some of Liverpool's commercial partners, including Subway, have been targeted by an email and social media campaign.
Anger grew last week after the new prices included, for the first time at Liverpool, a £1,000 season ticket -- up £160 on this season -- in Anfield's redeveloped Main Stand.
Ayre defended the new prices on Friday, saying there was "something for everyone." The club also highlighted price decreases or freezes for 45 percent of match tickets and 64 percent of season tickets, as well as various initiatives and discounts for local and young fans.
Ayre added that the cost of the expanded Main Stand was met by FSG. He said: "We have great owners -- that £100 million came interest-free and they don't take a penny out of this football club."