Liverpool to review ticket price rise in wake of Anfield protests - reports
Liverpool are considering an urgent review of next season's proposed ticket prices in the wake of supporters' walk-out at Anfield on Saturday, according to widespread reports.
Fans organised the 77th-minute exodus during the 2-2 draw at home to Sunderland in response to the most expensive matchday ticket rising to £77, with more than 10,000 supporters leaving before the end of the game with their side 2-0 up at the time.
Fenway Sports Group (FSG), the club's US-based owners, began emergency discussions with representatives in Liverpool over the weekend and these were expected to continue on Monday as they assess whether to adjust the new ticket prices, reported the Liverpool Echo.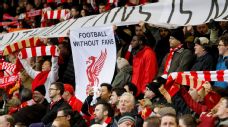 The talks were prompted by alarm within the club at Saturday's protest, which also saw chanting during the match that accused FSG of greed.
Supporters' groups said further protests were possible at club's matches at home to Manchester City and Chelsea in March, and some of Liverpool's commercial partners, including Subway, have been targeted by an email and social media campaign.
Anger grew last week after the new prices included, for the first time at Liverpool, a £1,000 season ticket -- up £160 on this season -- in Anfield's redeveloped Main Stand.
Liverpool chief executive Ian Ayre defended the new prices on Friday, saying there was "something for everyone." The club also highlighted price decreases or freezes for 45 percent of match tickets and 64 percent of season tickets, as well as various initiatives and discounts for local and young fans.
Ayre added that the cost of the expanded Main Stand was met by FSG. He said: "We have great owners -- that £100 million came interest-free and they don't take a penny out of this football club."