Christian Benteke needs time under Klopp like Lewandowski did - Rodgers
Brendan Rodgers believes Christian Benteke will come good at Liverpool under Jurgen Klopp if given time -- just like Robert Lewandowski did under the German at Borussia Dortmund.
Rodgers told beIN Sports he had met Klopp at his house after being replaced by the German as Liverpool manager in October.
Having struggled to fit in at Anfield since being bought by Rodgers for £32.5 million from Aston Villa last summer, Benteke has looked bereft of confidence and has struggled to win a place in Klopp's starting lineup.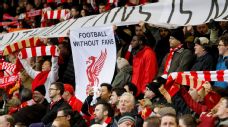 But Rodgers said the Belgium international was in a similar situation to that of Lewandowski, who went on to become one of the world's leading strikers at Dortmund.
When the Poland international moved on in 2014 to Bayern Munich -- where he has so far scored 52 goals in 77 games -- he was replaced at Dortmund by Pierre-Emerick Aubameyang, who was also given time to develop into the finished product.
"I remember spending time with Klopp when he first got the job and I'd left, and we sat and we spoke," said Rodgers, who added that he was happy to meet his successor in the Anfield dugout after being dismissed in October.
"I had an incredible time at Liverpool, a wonderful club. And this was a guy who was coming in from another league, and [we decided to] sit and have a chat. [It was] at my house. Good guy, and whatever help he would need going into the job as the manager, I was there for that.
"We were speaking about the patience element, and we talked about Lewandowski. In this Premier League, he wouldn't have been given the chance that he was given in Germany."
Lewandowski's improvement after a modest first campaign under Klopp at Dortmund provided hope for Benteke, Rodgers said. The Belgian has seven goals in 29 appearances for Liverpool this season.
"In his first season [Lewandowski] scored eight goals," Rodgers said. "Can you imagine, as a striker, coming into the Premier League and scoring eight goals?
"But [Klopp] gave them time -- Aubameyang as well as a player now, over three years, has improved. So Christian I think over time will show that he's a top-class player."