Daniel Sturridge, Divock Origi, Philippe Coutinho, Martin Skrtel to return
LIVERPOOL -- Daniel Sturridge is expected to return to training on Wednesday and should be closely followed by Divock Origi, Philippe Coutinho and Martin Skrtel, Liverpool boss Jurgen Klopp has said.
Striker Sturridge's problems have ruled him out since Dec. 6 -- since when he has not trained with the team -- but Klopp told a news conference on Monday the player was close to a breakthrough.
The Liverpool boss is also confident that he will soon be boosted by the returns of Origi, who strained a hamstring against Leicester on Boxing Day and then had a minor knee operation, as well as Coutinho and Skrtel, who have both been out for several weeks with hamstring problems.
"Closer," Klopp said of the four players. "They are close to a return to training. Martin needs two or three days more. Divock and Phil and maybe Daniel should return to training [this week].
"Daniel on Wednesday, the other two guys on Thursday. Martin I think on the weekend."
He added, on transfer deadline day: "These are our transfers. It's good for us, of course."
Klopp said he was not expecting any incoming moves on deadline day, and said departures were unlikely.
"I'm not sure what's better for you, for your work," he told reporters. "I can say something will happen or I can say the truth.
"What do you want to hear? Maybe something will happen. No, you can finish work for the day.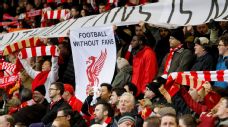 "I'm not sure on the outgoing side -- I'm not 100 percent sure but I don't think something will happen from the other side."
On the confirmation that Bayern Munich boss Pep Guardiola is to be the next manager of Manchester City, Klopp said: "No advice. He'll have a very warm welcome like I had. For sure, he's one of the best managers in the world."
Tom is ESPN FC's Liverpool correspondent. Follow him on Twitter @writertombell.