Liverpool's Daniel Sturridge still out with injury - Jurgen Klopp
Daniel Sturridge is still struggling to regain fitness and has been discounted from Liverpool's plans for the next two games at least, manager Jurgen Klopp has said.
Sturridge has missed yet more fitness sessions at Melwood as Liverpool try to get to the root of his injury problems, with Klopp still unable to predict when he might be available for selection.
Ahead of Saturday's FA Cup tie at home to West Ham, Klopp told a news conference on Friday that there had been no progress with Sturridge, who has not played since straining a hamstring in the loss at Newcastle on Dec. 6.
"Not really, not news, not something to tell you to be honest," Klopp said. "[He is] still working, sometimes better, sometimes a little bit worse from one or the other issues, that's all.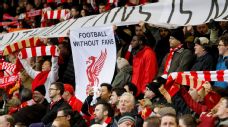 "He did a lot of sessions in the last few weeks but always interrupted with a few breaks. He needs consistency in sessions, and that's what we try to do."
The manager said that the player's ongoing absence stemmed from his history of assorted injuries and was not linked to one problem that the club could identify.
"It's always like, in that injury history, it's no coincidence or some things are not right, if you are that often injured," Klopp said. "To find out we have to be really sensitive with all the information we get and that's what we try to do.
"If we find a point from which we can really train and build up fitness. A lot of good sessions in the last few weeks but, like I said, always interrupted by a few different issues where we always have to wait to see what will happen. That's how it is."
Klopp reiterated that his admiration for Sturridge had not dimmed, but said that he felt resigned to making do without him for the short-term future. That meant discounting him from the cup tie and next Tuesday's Premier League game away to Leicester City.
"I think everybody in this room knows Daniel much better than myself," he said. "I saw him playing, I saw him in training [and] there's no doubt about quality, that's not a thing to think about.
"I'm not here to think about what will happen if a player is [fit or not] in the future or whatever, so we have to work in this moment, together with Daniel, on his fitness. There's no doubt that he's a very good player, everybody knows.
"But in this moment, as I understand it, he is not available, so we don't have to talk too much about him, because he is not here. He cannot play tomorrow or for sure against Leicester. I don't know what happens after Leicester, to be honest."
Tom is ESPN FC's Liverpool correspondent. Follow him on Twitter @writertombell.