Liverpool manager Jurgen Klopp brushes off semifinal woes
Liverpool should forget about their semifinal failures last season because "everything has changed" since then, manager Jurgen Klopp has said.
Klopp leads his side into Tuesday's Capital One Cup semifinal second leg at home to Stoke City aiming to go one better than his predecessor Brendan Rodgers, who oversaw defeat by Chelsea at this stage last season as well as a loss to Aston Villa in the FA Cup semifinals.
Those results need have no relevance now, according to Klopp, who instead can point to a number of good omens.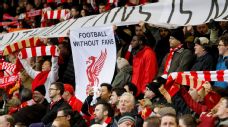 Liverpool -- who hold a 1-0 aggregate lead from the first leg at Stoke -- have never lost at home in a League Cup semifinal, have never lost a cup tie against Stoke, and have gone on to lift the trophy after their last three League Cup meetings with them. In addition, Klopp has never lost a semifinal as a manager.
There should also be no psychological burden from a year ago, the German said.
"Everything has changed here since last season," Klopp said in The Guardian. "If you want to solve problems, you can take the problem, talk about it, find solutions for it and in the end you can find yourself facing the same problem.
"The other option is you ignore it completely and say 'It was only one time' or, in last season's case, two times. Or you prepare yourself for a semifinal and that's what we want to do. Don't think too much about the past. It doesn't help to think about these things.
"Last year I don't know why but some things went wrong in the semifinals. The only thing that stays in the mind is that we lost. We should be fully focused on this game. That's the only way to win it.
"This is a different team, a different situation, a different manager and different opponents. It wasn't Stoke last season, it was Chelsea. It's different and we don't need to think about that."
Among the present concerns for Liverpool may be their inconsistency, but Klopp believes that is linked to the number of changes in central defence enforced by injury. "The performance of my team is not as surprising to me as you would imagine," he said.
"Yes, we have been inconsistent but, if you take a few parts out of the game and analyse, you find we have a lot of things that are always there with a similar lineup. If we have to change the lineup, immediately a few things change.
"We defend usually in the right spaces, we play football in the right spaces, we create opportunities in the right spaces, we play good football in the final third. The next thing that is consistent is we defended mainly well in the past few games but conceded a lot of goals. I don't think Norwich [against Liverpool last Saturday] had a shot on goal which didn't come from a set-play.
"It was the same against Arsenal [on Jan. 13]. We've had to change the centre-halves at a time when you wouldn't usually change the centre-halves.
"Dejan Lovren was in a really good shape, Martin Skrtel was in a really good shape, then Mamadou Sakho got an injury. Kolo [Toure] has had to always play and that's not perfect. We are always having to solve problems. Consistency is only possible when you have a settled lineup. We haven't been able to do that."
Should they progress, Liverpool could feature in an all-Merseyside final, with Everton taking a 2-1 lead into their second leg at Manchester City on Wednesday. That would not, however, be a consideration against Stoke, Klopp said.
"Until now when I've met an Evertonian nobody has knocked me, nobody has kicked me, nothing has happened," he added. "It has always been nice. It is one of the best rivalries in world football because in a lot of things we are together and in the sport we are against. That is cool, that is how it should be.
"Going to Wembley is the best thing you can do in football but who the opponent is at this moment is not the biggest issue. If it is Everton, we want to beat them. If it is Man City, we want to beat them. First of all we have to beat Stoke and then we can talk about the rest."
Tom is ESPN FC's Liverpool correspondent. Follow him on Twitter @writertombell.