Liverpool had 'intensive' talks to fix set-piece vulnerabilities - Jurgen Klopp
Jurgen Klopp says Liverpool's players have held discussions to sort out their vulnerability from set pieces once and for all.
An inability to defend high balls has dogged the Reds all season and it threatened to be their undoing in the 5-4 win away to Norwich City on Saturday. The Reds failed to deal with a corner that led to Dieumerci Mbokani back-heeling Norwich level at 1-1 and the free kick from which Sebastian Bassong made it 4-4 in injury time.
That left Klopp furious at defending he described as "the biggest rubbish ever" and "a self-fulfilling prophesy." But he told a news conference on Monday that the team had held "intensive" talks to get to the bottom of the issue before Tuesday's Capital One Cup semifinal second leg against Stoke.

Liverpool
Stoke City
Leg 2
Aggregate: 1 - 1
Liverpool wins 6-5 on Penalty Kicks.
Game Details
"First of all, of course we know about this problem," he said. "I'm sorry to say it's not a problem we can ignore and try to sort it that way. It's obviously something [we did] not too well, but we are always working on our weaknesses in the short periods in between [matches].
"It's not too easy because yesterday was recovery, today something like extended recovery and then tomorrow a little session and then we have to play [against Stoke]. So it's not the best time, but we spoke about it really intensively, a good talk together -- not the first one, hopefully the last one, and in the end it's clear."
The goals given away at Carrow Road did not come directly from initial balls into the box -- unlike those in the past six weeks alone from set pieces against West Bromwich Albion, Watford, Exeter and Arsenal, and those conceded from crosses against West Ham and Manchester United.
Conceding from the second or third ball at Norwich led Klopp to suggest that his defenders had switched off too soon.
"It's not about the formation because we changed the formation," Klopp said. "It's not always about the quality of the set plays; it's more often about what we are doing in the situation. At Norwich it was different because we defended the first ball well but then struggled with the second or third.
"That's a normal reaction that you spoke about it, you changed something and are then fully concentrated in defending the situation but then you close the book too early, so when you don't push up we have a situation.
"The goal of Mbokani we had still a full box, so we could have pushed up a little bit earlier and then whoever was left in our box would have been offside -- that would have been a clever idea. We have a few movements we can do and if we are doing them then we are stronger in defending this."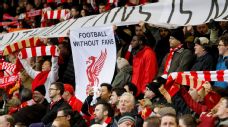 The amount of defensive work in training had been limited by the quick turnaround between Saturday's league outing and Tuesday's semifinal, Klopp said. But he maintained it was not too late for Liverpool to change their ways in dead-ball scenarios, and said players needed to forget mistakes because they have helped breed indecision.
"It's not too late to learn this but I would say now it's time to learn and show that we learned," he said. "Then when we have spoken about it, then we have to ignore the problem, because it's not allowed that always balls, set pieces, everything's like 30 seconds [holding his breath] waiting to see what happens.
"We have to get cool again. Most of the time in our life we knew how it works; now we have a bad moment with set plays, but it's long enough, I think we can change it now. Then between the games against Stoke and West Ham [in the FA Cup on Saturday] it will be one day more, that's important for training and maybe we can do something on the pitch."