Jurgen Klopp to rotate Liverpool vs. Exeter City, Daniel Sturridge out
LIVERPOOL -- Jurgen Klopp has said that Liverpool will again field a youthful team for Wednesday's FA Cup replay against Exeter City, and that Daniel Sturridge currently has "no chance" of returning to action.
Despite criticism of his selection for Jan. 8's third-round tie away to the League Two club -- when his team of untried players scraped a 2-2 draw -- Klopp said injuries and fixture congestion demanded he do the same again.
But he told a news conference on Tuesday the youthful Reds would be better prepared after having had only 40 minutes' training together for the initial tie, and he described Wednesday's replay as "a big opportunity."
He said there would be no run-out for Sturridge, who the manager said had again had to miss sessions in his personalised fitness training.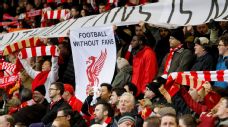 "No, no chance," he said of Sturridge's readiness to play. "He had a break in his training sessions because of some issues.
"He's now back on the pitch, again training and always, in a good way, losing time. No team training since Newcastle. I don't know how long it is [Dec. 6] but no team training since then.
"Of course, that is not a situation where we can think about him."
Klopp also said Jon Flanagan could return as a substitute to make his first appearance in 20 months.
The manager moved to counter suggestions that he was taking the FA Cup lightly with his below-strength team, who trained together on Monday and Tuesday and would do so again on Wednesday morning.
Klopp added that he had been impressed with the quality of the Exeter players, despite the basic facilities Liverpool experienced at St James Park.
"There are different things we have to talk about and it is not always injury situations," he said. "We've had a few players in the squads for the games against Manchester United and Arsenal that were injured a few weeks ago.
"We have to think about for who it makes sense and for who it's not too dangerous or difficult to start again. So it will be a similar team to last time.
"If somebody thinks that we've picked the team we have picked because we don't think the FA Cup is an important competition, that would be the biggest misunderstanding in the world. I cannot change the overall situation.
"I was not surprised [by Exeter] because we saw the videos before: they have a lot of talented players. I am not sure how Exeter could keep a few of these players in Exeter -- it couldn't be the dressing room! There must be some other reason -- they are a really skilled team and play good football.
"But we had a lot of opportunities on a really bad pitch with a completely new team who trained for 40 minutes together, so we should be a step further.
"But it's football and what I love about football is it's always possible for any team to win, so we have to be really focused.
"These boys who will play tomorrow are focused and they see it as a big opportunity."
Playing at Anfield could bring a burden of expectation, Klopp admitted, but he felt it would be an important test for his young side.
"You never can be sure," Klopp said. "I don't want to put too much pressure on their shoulders.
"This is Anfield and we don't have to think too much about the first match. It's a big chance -- we can show the players that we trust them. I think it's really important.
"It's a real competition against a good team. Now I know more about League Two players, to be honest."
Tom is ESPN FC's Liverpool correspondent. Follow him on Twitter @writertombell.