Jurgen Klopp needs to fix Liverpool's defending on set pieces - Rodgers
Former Liverpool manager Brendan Rodgers has said Jurgen Klopp must address the team's current weakness with conceding from set pieces.
Liverpool have conceded nine goals from set pieces in the Premier League this season, the most recent of which coming in Sunday's 1-0 loss to Manchester United.
The result leaves the Reds ninth in the table, eight points off the top four, and Rodgers, who was sacked as manager in October, believes a change in tactics is required from the man who replaced him.
Rodgers said on Sky's Monday Night Football: "My preference is for man-to-man marking.
"Normally the opponent will send five players into the box -- normally one in front of the goalkeeper and four attacking the ball, splitting their runs into various areas. My preference is to have players marking those four and have one marking the guy around the goalkeeper.
"When you're conceding goals -- and as Jurgen Klopp can see, Liverpool are conceding goals far too easily -- you have to intervene at some point.
"If you've got players being beaten one-on-one in a duel too easily then you have to find a different way -- usually switching from man-to-man to zonal defending to try and help the team."
Rodgers also said Liverpool are still recovering from the sale of Luis Suarez as they continue to be hampered by a shortage of goals.
The former Reds boss said that, along with the injury problems of Daniel Sturridge, another cause of Liverpool's lack of potency is the absence of players who could share the goalscoring burden.
A second-place finish in the Premier League in 2014 came largely thanks to the 101 goals they scored, but Liverpool sold Suarez to Barcelona that summer for £75 million and have been able to call upon Sturridge in only 24 matches since.
Rodgers' successor Klopp has frequently omitted £32.5 million striker Christian Benteke as he searches for a lineup to fit his preferred playing style, but Rodgers said the loss of Suarez was still being felt.
Liverpool reached January with just 22 goals from 20 league matches, their lowest ever tally at that stage of a season.
"Since Luis left, the goals have gone right out of the team. Not only that, but with Daniel being injured," Rodgers said.
"Obviously Jurgen is having that problem now, with people talking about the number of goals and strikers.
"That season when we finished runners-up, if you look, we had a front five going forward.
"Suarez, Sturridge, [Raheem] Sterling, [Jordan] Henderson and [Philippe] Coutinho -- and then the five behind them defending.
"Five on the attack, five behind, plus the goalkeeper -- you're going to score goals, and they were outstanding."
Rodgers said he had prioritised Champions League qualification over winning domestic cups during his time at Anfield, but wished that, when Liverpool rejoined Europe's elite competition in 2014-15, they had been able to call upon their side from the previous season.
With Suarez gone, Sturridge often a spectator and new signing Mario Balotelli having an unproductive season at the club, Liverpool failed to qualify for the knockout stages, finishing behind Real Madrid and Basel in their group.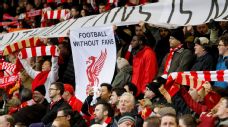 "My sole focus when I went to Liverpool was to get into the Champions League," Rodgers said. "The club was synonymous with winning trophies and I respected that, but I knew what the Champions League meant to the club.
"My sole focus in my three-year contract was to get the club there. We did that in two seasons.
"And when we arrived into the Champions League we didn't have a squad as good, I felt, as the previous one. I thought the team we had the year before could have really done something.
"But no regrets. When I put the mind to getting a trophy, we got to two semifinals -- one we should have won, against Chelsea, and one we were poor in.
"I did my very best. It's an incredible club, a privilege to manage it and I will continue to support from afar."
Tom is ESPN FC's Liverpool correspondent. Follow him on Twitter @writertombell.