Liverpool almost signed Dele Alli, Alexis Sanchez - Brendan Rodgers
Former Liverpool boss Brendan Rodgers has told Sky Sports' Goals on Sunday that he was not to blame for Raheem Sterling's acrimonious transfer to Manchester City and that the club could have signed Spurs' Dele Alli and Arsenal's Alexis Sanchez.
Rodgers left Liverpool earlier this season, with Jurgen Klopp replacing him, but revealed that things could have been different if the club had brought in Sanchez to replace Luis Suarez when he left for Barcelona in 2014.

Liverpool

Manchester United
Game Details
"I manage the club how I want to but there were other conditions that meant that we could not get players that I wanted in," he said. "The huge blow for us was we felt we were getting Alexis Sanchez. We thought Luis [Suarez] was going and he would have been the like for like replacement.
"He would have been perfect for us, how aggressive he is and how he presses the game. If we had got Alexis in after Luis going, it would have been a smooth transition. Then we were bringing Rickie Lambert in alongside that.
"But it ended up that we didn't get Alexis Sanchez and then suddenly there is a lot of pressure on Rickie Lambert and that wasn't meant to be the plan."
Rodgers also revealed Fenway Sports Group told him to sign the problematic Mario Balotelli after he had rejected the player.
The Reds made a last-minute move for Balotelli after missing out on Sanchez that summer.
It was a gamble which never paid off and the Italian was loaned back to AC Milan at the start of this season but Rodgers, who throughout his time in charge at Anfield insisted he had the final say on ins and outs, claimed if he had had his way the striker would have never been signed at all.
"It wasn't just a goalscorer we were after. Luis Suarez was giving so much more than that," he told Sky Sports' Goals on Sunday programme.
"After playing AC Milan in a friendly in America I was asked a question, and he wasn't someone I felt was suited or fitted the profile of what we were after.
"He's had issues, Mario, but he's a wonderful talent and make no mistake. Come the end of summer, when we were struggling to get in the type of player we wanted for that role, the ownership thought this was a player I could maybe develop.
"They thought this is a £50m player that they can bring in for £16m, and I can maybe develop him how I developed a few of the other players.
"When the owners want you to go down that route and there are no other options, you give it a go."
Balotelli scored just four goals in 28 appearances and Rodgers' fear of the "circus" which surrounded him was born as there were a number of training-ground tales and questions almost every week at his press conferences.
In addition, Rodgers said that Liverpool were ahead of Tottenham in the race to sign the highly-rated Alli, who has impressed in the Premier League this season, but did not get a deal done with MK Dons.\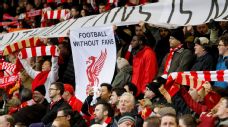 "[MK Dons coach] Karl [Robinson] had actually come on to me and said, 'Listen, I've got a player Brendan, I think he is going to be fantastic. I'd love to see him at Liverpool.' We watched him, looked at him and then I spent a couple hours in a hotel room with him," he said.
"He wanted to come to Liverpool. It was just then about getting the deal done with the club and unfortunately it never got done but at that point, that Saturday evening, we thought we had him in, it was done.
"He stayed on then, the deal didn't get done between the clubs and eventually he went to Tottenham, which was frustrating and disappointing really."
Sterling left in a high profile £49m deal for Man City last summer and Rodgers insisted his relationship with the player was not behind him leaving, as had been implied by Sterling's agent Aidy Ward, and claimed Sterling made contact with him when he was sacked as Reds manager in October.
"It was a shame," said Rodgers. "He was close to signing [a new contract] and it did not happen. I was surprised [at the suggestion there was a breakdown in communication].
"We were still in contact with messages and when I left Liverpool one of the first messages was from Raheem.
"There were reasons he wasn't signing and at the end, it transpired [to Ward] I became another one... but I had a good relationship with Raheem.
"I take great pride in bringing him into the team. He can play wing, No. 10 and he was such a good footballer I could even play him right wing when chasing the game and moving to three at the back. People thought it was playing him out of position but he was brilliant there."
Tom is ESPN FC's Liverpool correspondent. Follow him on Twitter @writertombell.