Ex-Man United boss Alex Ferguson 'the John Lennon of football' - Jurgen Klopp
Jurgen Klopp expects Liverpool's clash with Manchester United to be a highlight of the season, and has spoken of his respect for former United manager Sir Alex Ferguson, whom he called "the John Lennon of football."
The Reds manager had been told of concerns expressed by Ferguson -- who early in his 27 years at Old Trafford vowed to knock Liverpool off their perch -- that Klopp's appointment could turn the tables back the Merseysiders' favour.
And the German told a news conference on Friday of his first encounters with the Scot, saying: "First of all, I had a few really good moments with Sir Alex and for me as a -- in comparison with him -- young manager.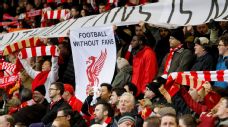 "It's a big honour to talk to him, for a football manager nearly the best thing you can do, to sit there and listen. I needed 10 minutes to understand all but then I was in the language.
"Maybe he is the greatest ever, the John Lennon of football or something like this, that's really impressive to talk with him.
"From my side for sure there is a big amount of respect because what he did in his life as a manager I think it's not too easy to be done again by another manager so that's great."
Current United boss Louis van Gaal, who is struggling to keep his side near to the heights of Ferguson's time, has mixed memories of Klopp from Germany, where he managed Bayern Munich. A week after his last meeting with Klopp's Borussia Dortmund in February 2011 -- when Dortmund won for a second time that season en route to the title -- Bayern told the Dutchman he was to be replaced.
The previous season Bayern won both fixtures, including a 5-1 win at Dortmund in which Bastian Schweinsteiger, now of United, scored.
"I know Louis not too good, but we met a few times and we had a few intensive games, that's for sure," Klopp said. "Both want to be successful, both need to do a lot of work in order to be successful. It's a different idea of football, but I won't say we have the better idea, it's another one.
"In the end it's not about possession or counter-pressing or something like this. I think we have similar number of possessions in the games.
"We are different characters," added Klopp. "He is more experienced. Maybe I'm more lively on touchline than him.
"I'm not too close to the news at Manchester United in the last week. Louis van Gaal is one of the most successful managers in the world, he's won a lot of titles, including in Germany.
"He has a special idea of football and we have to respect this."
Newcastle's recovery to hold a wasteful United 3-3 on Tuesday should not offer too much room for optimism, cautioned Klopp.

Liverpool

Manchester United
Game Details
He felt keeping a cool head on the pitch was more important in the latest installment of a rivalry he compared to "the salt in the soup" -- even with both sides outside the top four.
Liverpool, sitting ninth before the weekend, needed points to close the five-point gap to fourth-placed Tottenham Hotspur, while United, in sixth, were three points better off.
"You have to defend well because they have brilliant players," he said. "Two days to go, we can prepare.
"Newcastle did really well but United reacted really well. If you analyse, the last three games is what you need, not the last 10.
"We have to see what we can find out: Has something changed, really, or was it only the good performance of Newcastle?
"Obviously it is important for the table, we are close together and both teams need the points to stay close with the top teams in the table.
"But it is Manchester United. If we were 20 points in the lead of the whole table, it would [still] be important.
"That's how I understand derbies. I love derbies, to be honest. It's the salt in the soup. They are the best matches to perform in.
"Of course you can be over-motivated. You don't have to think too much about motivation in games like this. It's all about timing -- doing the right thing in the right moment."