Liverpool's Jurgen Klopp: Respect for Arsene Wenger 'goes up day by day'
Liverpool manager Jurgen Klopp says his admiration for Arsenal boss Arsene Wenger has only increased since realising for himself the true intensity of the Premier League.
The pair go head-to-head in Wednesday's league clash at Anfield, the visitors arriving on the back of winning five of their last six matches to go top of the table.
Klopp's side have endured mixed results and a lengthening injury list during that time, with the German commenting on the impact of not having the winter break he formerly enjoyed in the Bundesliga.

Liverpool

Arsenal
Game Details
And he told a news conference on Monday that the challenges of his first three months in Merseyside had given him a more acute appreciation of Wenger's two decades at the Gunners.
"Absolutely, and my respect goes up day by day," Klopp said. "It's really intense to work in the Premier League, especially in a team with international matches too. He always had my biggest respect but now it's a little bit bigger since I've been here.
"It's a really brilliant job he has done for about 19-and-a-half years. He's a high-quality manager, one of the best in the world for sure.
"To do this for such a long period -- it's really rare that you can do this, but he has. He's a football maniac in the best possible way.
"It's always a challenge to play against him but I'm looking forward to it."
Wenger is familiar to Klopp, who took on Arsenal six times in the Champions League when he was manager of Borussia Dortmund.
But he was reluctant to draw any conclusions from those past meetings, other than to acclaim the brand of football Wenger favours. "We had different results -- all the possible results," said Klopp. "Winning away, losing at home, drawing away and at home -- but one thing was always the same: it's a good football-playing team, that's for sure.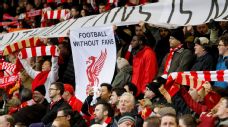 "But they are [there] to beat. It's not easy, but it's possible, and I think we should not compare too much or talk too much about my personal experiences against them or Arsene Wenger teams. There was not only one Arsene Wenger team -- because he's worked so long at Arsenal.
"The players have their experiences against Arsenal, I have my experience against Arsenal, but I think we should find an actual, present plan for this game."
That included the ongoing battle to nurse a depleted squad through their busy spell of January fixtures, Klopp added, conscious that Manchester United loomed next at Anfield on Sunday.
"We have to make decisions about the team, the starting line-up," Klopp said. "Hopefully we can make decisions for the squad so that we don't have to take all the players who are healthy. "We're really looking forward, excited, it's a good moment. Wednesday, Anfield, it's good."