Jordon Ibe latest Liverpool player to injure hamstring, out of FA Cup - report
Liverpool winger Jordon Ibe will miss Friday's FA Cup tie at Exeter City after missing training with a hamstring problem, according to the Liverpool Echo, while manager Jurgen Klopp has admitted the long injury list leaves his team vulnerable to an upset.
Ibe scored the only goal away to Stoke City in Tuesday's Capital One Cup semifinal first leg, but was in discomfort afterwards, according to the report.
Incredibly, that would make the 20-year-old the eighth Liverpool player to suffer a hamstring injury in the past month -- joining Dejan Lovren and Philippe Coutinho, who also pulled hamstrings at Stoke and were substituted.
Exeter City

Liverpool
Game Details
Seven players remain sidelined by the issue. Before Tuesday's injuries at the Britannia Stadium, Divock Origi strained a hamstring at home to Leicester City on Dec. 26, Martin Skrtel suffered a tear away to Watford on Dec. 20 -- a match that Simon Mignolet missed with a hamstring issues -- Jordan Rossiter limped off just minutes into the Europa League clash with FC Sion on Dec. 10, and Daniel Sturridge fell victim in the defeat away to Newcastle United on Dec. 6.
Ibe missed training at Melwood on Thursday but has not yet been ruled out of next week's Premier League fixtures at home to Arsenal and Manchester United, the Echo reported. Klopp earlier confirmed that Coutinho and Lovren would not be available for those games.
The club's overall injury list includes 13 first-team players, with Kolo Toure (cramp), Mamadou Sakho (knee), Jordan Henderson (heel), Danny Ings (knee) and Joe Gomez (knee) completing the absentees and Jon Flanagan working his way back from 18 months out with a serious knee injury.
Klopp admitted on Thursday that he would be forced to field an inexperienced line-up against Exeter in order to protect first-choice players ahead of the visits of Arsenal and United.
Looking ahead to the third-round tie at St James Park, the manager could not say which recognised players were left standing, but he confirmed there would be changes. And he made clear that circumstances had forced him to gamble with the Reds' Cup prospects.
"I will be there for sure," Klopp said ruefully at a news conference on Thursday. "I'll take a few players with me. We have to make decisions now for the team for Liverpool, and to make changes. That's all I can say, because I don't know at this moment who is available to train. But of course we will make changes.
"We have to find a solution for the [bigger] situation. If we go through, great; if we go out, you'll have to criticise us but we have to think about more than only one game."
Klopp said he planned to dip into Liverpool's under-21 side to make up shortages among his front-line players, and that some inexperienced faces were likely to shoulder the responsibility of securing a fourth-round berth.
The manager conceded, however, that if the Reds are beaten in the South West there would be little sympathy for them, even after the injuries at Stoke left him with a threadbare forward line and no fit centre-backs.
"I think if you go back to shock results and ask why it happened, nobody is interested," he said. "For example, I remember I heard about Man United losing three years ago against MK Dons [4-0 in 2014], and nobody was interested why Man United played with the team they played, if they played their first team or not, blah blah blah -- everyone wants to see the sensational result. That's what you have to live with.
"The team that will play [on Friday] will want to win this game, for sure, 100 percent, with everything they have. But it will be a team who haven't played too often together, that's the truth. If this is a chance for Exeter, they have to take it.
"We only go there to win but in our situation we cannot be blind and say, 'OK, wake up and don't think about Arsenal' -- usually I am like like this because at this level of sport you always have to be fully concentrated.
"But now we need the time for a few players to recover and come back and be available for Arsenal. And the squad is big -- with all the young players it is really big -- so we have to use this quality now and that's what we'll do."
Experience of cup ties in Germany had given Klopp an idea of what to expect of his first FA Cup outing, he said, even if Exeter promised to be an inhospitable place to visit.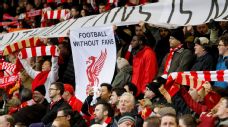 "I don't know too much about Exeter but we watched them yesterday after a lot of rain, so the pitch is not in the best shape," Klopp said. "We know they are a good team and had a respectable result against Sunderland in the Capital One Cup [in August], losing 6-3.
"It's not too easy to make three goals against a Premier League team, but they did. Quality players no doubt, and they are professional and they'll have trained a lot. The dressing room will be small, I heard -- so maybe we should not be a long time in there.
"In Germany it's the same in this competition -- everybody wants to play the big team and then they want to beat you and they celebrate the draw. The last few years with Dortmund we were always in the final -- three finals in four years.
"There's always a sensation [upset] in the air, that's football. We'll know enough about Exeter, and we will go there, try our best, and hopefully we will come back in the next round."