Jurgen Klopp rejects Sam Allardyce's claims over Liverpool injury crisis
Jurgen Klopp has defended his playing and training methods after claims by Sunderland manager Sam Allardyce that he is to blame for Liverpool's hamstring crisis.
Allardyce -- who last week labelled Klopp a "soft German" -- was one of a number of voices on Wednesday suggesting that the intensity the Reds boss has demanded of his players since he took over in October may be to blame for the freakish succession of hamstring injuries to hit the club.
The 1-0 victory in Tuesday's Capital One Cup semifinal first leg at Stoke City came at a considerable cost, with Philippe Coutinho and Dejan Lovren the latest to sustain hamstring strains.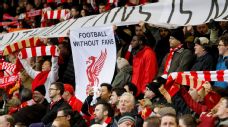 It follows current absences with the same problem for Martin Skrtel, Divock Origi, Jordan Rossiter and Daniel Sturridge, with Simon Mignolet also a recent victim, and Allardyce said the pattern may be partly due to Klopp not knowing what to expect from English football.
Klopp refuted this suggestion at a news conference on Thursday, saying: "I knew about the English Premier League, I knew about the fixtures. It's not a problem.
"I'm glad for Sam, that such an experienced manager has time to think about Liverpool's problems. I don't really have time to think about this.
"We know about our situation. One injury at the wrong moment is a problem for the whole squad because another player has to play too much. You have to react to this. But I knew about the intensity of the football here."
Allardyce later attempted to clarify his comments on on talkSport, saying: "If Jurgen is listening, I didn't mean to upset you or criticise your club in any way. I was just giving what I see could be one of the reasons why we get injuries.
"It was a question that Alan [Brazil] asked me, I answered it and never expected it to bring the headlines it's brought.
"I am very wary about the amount of work we do in the week now, in the hope that our players have enough energy to do the running in this period of time to try and get a result. We are all suffering because of it.
"I'll probably suffer some injuries now, by the end of next week, when we are playing three games in a short period of time.
"I was just trying to say he hasn't experienced this level of football before and maybe that might be one of the causes.
"I had no intentions of trying to wind him up or any such. Alan asked me to talk about Sunderland. He threw the question in at the end and maybe I should have said it's not for me to answer, it's for Jurgen."
Questions have been raised -- notably by former Liverpool captain and manager Graeme Souness -- over whether Klopp's pressing style takes its toll on his players' legs.
But the German denied that he trains his players too hard, while he feels the club have been unlucky with injuries.
"You all talk about the intensity of my style," Klopp said. "I didn't create a style -- how could I, I'm not a genius. I only try to be successful. I said a few weeks ago we need a little bit of luck with injuries. Two weeks ago we had no idea we would have this problem at centre-half.
"Now we have to think about it. Maybe versus Tottenham [on Oct. 17 -- Klopp's first game in charge] it was more intensive than other games, but they are completely normal averages for running. Football is not always about more -- it's about thinking quicker and being quicker in our minds, and sometimes you have to run a bit more.
"At the moment there's only time for recovery and the game is our best session in the week, or our only session."
Tom is ESPN FC's Liverpool correspondent. Follow him on Twitter @writertombell.