Jurgen Klopp admits Liverpool's aerial struggles ahead of Stoke clash
Jurgen Klopp has acknowledged that Liverpool are defending crosses poorly and must improve if they are to prevent Stoke City from taking advantage in the Capital One Cup on Tuesday.
The Merseysiders slumped to a 2-0 defeat at West Ham on Saturday, with both goals coming from headers.
Andy Carroll's powerful finish for the second followed what Klopp described as a "passive" approach from his team when Michail Antonio scored the opener.
When left-back Alberto Moreno seemed to be fouled by Antonio, Liverpool were on the attack -- but the home side travelled the length of the pitch for Antonio to score.
And as he prepared his team to travel to Stoke for the first leg of the semifinal on Tuesday, Klopp told a news conference: "We were passive in this moment and that's not good -- it's never good in football, never good in life.
Stoke City

Liverpool
Game Details
"We waited for the situation, and for both goals we had three or four players around the ball -- for the second, we were a little more active but we were not aggressive enough in that moment and they could come out of a three-against-one situation.
"First goal, as everyone could see, the player who made the foul, at the end scored the goal.
"He had a long way to go -- when Alberto fell down, there were 10 players of ours closer to our goal than the player who scored in the end. That's the reason I was not too happy.
"There are ways [to stop it] and we didn't take one of these. We let them get the cross in, then it's in the air and it's really difficult against a player like Carroll especially.
"But even the first goal was difficult once the cross came in, because that's what you have to avoid."
Klopp noted that Liverpool had conceded a succession of goals from set-pieces in the first half of the season and said failing to address their problems from crosses would leave them exposed.
"Now you can say we have an issue with crosses -- before, we had an issue with set plays," he said.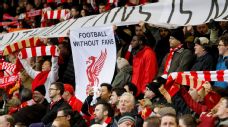 "It is always a ball in the air. As long as the ball is on the ground, most of the time we handle it. When the ball is in the air we have had some problems in the past with the goals we concede.
"We know about this, and we have to solve it. We are really serious in our analysis, we are clear in our words, no excuses. We want to improve.
"It's a different game against Stoke -- they make crosses too and [Marko] Arnautovic goes in the box.
"We will see how they start, but it's one of the biggest rules in football -- you have to avoid crosses, because when the ball is in the air it is 50/50. That is not a good ratio.
"We have to do better. Talking is easy, changing is more difficult -- but nevertheless we have to do it."