Messi: Golden Ball 'means very little'
Lionel Messi will never be more unhappy to win a major award.
FIFA gave Messi the Golden Ball as the World Cup's top player, though he would much rather have won the World Cup itself.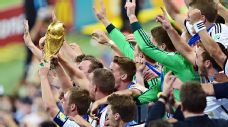 Argentina lost the final 1-0 to Germany on Sunday, leaving Messi to sheepishly accept his individual prize.
"The Golden Ball means very little to me at this moment. It is great pain," Messi said. "We played something important, the country was watching and we wanted to give them this happiness. For them and for us.
"For me personally, I lived moments of great sadness with the national team and this was the chance to change that. It is a pity not to go home with the Cup, but we go home with our heads high. We can return calm from this World Cup."
Compared to recent World Cups, it was a successful tournament for Argentina, who made the semifinals for the first time since 1990, when they lost to final to West Germany.
"I think that we were coming off long years of not making it out of the quarterfinal," Messi said. "To play in the final at the same level against a great team, we deserved a little bit more today."
Messi's best chance to score came when he shot just wide shortly after halftime. He also struck a free-kick into the stands in the closing moments.
Germany
Argentina
Game Details
But he wasn't alone in missing chances. Gonzalo Higuain found himself ahead of the defence on a German back-pass in the first half but shot wide. Argentina did not put a shot on goal in 120 minutes, and Messi said the attacking line was responsible.
"Those out in front didn't define the game well," he said. "We had all the opportunities. We go home very dejected.
"I only wanted to raise the World Cup and raise it for Argentina. We deserved more. If we had scored a goal it would have changed the match. They handled the ball better, but the clear situations [looks] were ours."