Scolari, Neymar ready for Brazil charge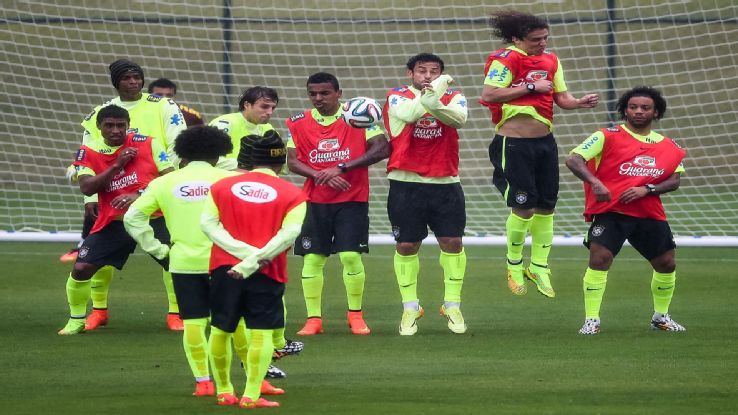 SAO PAULO -- Brazil coach Felipe Scolari preached a spirit of togetherness on the eve of the World Cup and declared that his side are "ready" for the first of "seven steps" to glory against Croatia.
"For all Brazilians, I want to say our time has arrived," Scolari told a packed news conference in Sao Paulo. "We want to go together. This is our World Cup. My team is ready."
- Bennett: 2014 is a wide open World Cup
- Rousseff: Brazil ready to host tournament
- 32 Teams in 32 Days: Brazil
- #WorldCupRank: No. 6 - Neymar
Although Scolari was not asked about the ongoing protests surrounding the event, the implicit message was clear, and the manager insisted that the unity of his squad had helped him with the tragic death of his nephew on Tuesday.
"Yes, we have gone through difficult times together and we know what this means but life goes on. We do what we have to do and we go on. Each one has a path to follow.
"I find my strength from working with the players. These players dedicate themselves every day. They work among themselves. Even when we are not amongst them. They are always trying to improve.
"All this makes us, even when we're feeling sad, to forget the sadness and feel the beauty of what is happening around you. When we... arrived at the airport, arriving at the Corinthians stadium, in fact it's a beautiful stadium, we forget some sad aspects and we think of the positive side of 95 percent of our life and we go on.
"We have seven steps. We have to go up these seven steps but, to start, we have to think of the first step. We can't jump the seven. So the idea I transmit to my team is that we have the first step against Croatia."
An extremely confident Neymar echoed his coach, with the Barcelona playmaker dismissing any pressure on him to perform as Brazil's great hope.
"As Mr Scolari has said, the time has arrived, that all Brazilians, that I think the whole world was waiting for. And we, the players, the technical commission, we hope that the last day goes by very quickly. I am anxious of course. But also I'm extremely happy of being where I am today.
"I don't want to be the best player in the World Cup, I don't want to be the top scorer, I want to win the World Cup. Individually, what will happen will happen, but what I want is to win the World Cup with my team."
Scolari interjected to again suggest a sense of unity, adding: "The star player will be the champion because if you're the star player and don't win the World Cup, it doesn't make sense."
Brazil bring the curtain up on this year's World Cup when they take on Croatia in the tournament's opening game on Thursday.