Germany vs. Argentina: 50-50 Challenge
Germany
Argentina
Game Details
It is time to decide which country will stand atop world football for the next four years as Germany and Argentina lock horns in the World Cup final for a third time. Stephan Uersfeld (Germany) and Sam Kelly (Argentina) preview the tournament finale in Rio de Janeiro.
Final nerve? World Cup history between the two countries
Stephan Uersfeld: Sunday will be the third meeting between Argentina and Germany in a World Cup final. Both nations have won one each. Adding to the two finals, there have been four previous meetings, with Germany winning three times and drawing once. While the 4-0 in the 2010 World Cup quarterfinal might stand out -- it was that night and the previous match against England that Germany finally put their name back on the map -- the 2006 semifinal continues to haunt the land.
Germany knocked Argentina out on penalties on their way to the last four in their own country but lost to eventual winners Italy. Philipp Lahm, Lukas Podolski, Bastian Schweinsteiger, Miroslav Klose and Per Mertesacker are survivors from the 2006 team and will want to finally get rid of the "what if" thoughts.
Sam Kelly: When the game kicks off on Sunday, this will become the most-played World Cup final fixture. The two met twice consecutively when Germany were still West Germany (FIFA views the current nation as the continuation of West Germany for historical records), with one win and three goals scored apiece. In the Estadio Azteca in 1986, it was 3-2 to Argentina and four years later in the Stadio Olimpico in Rome, a late Andreas Brehme penalty conversion gave the World Cup to Germany.
- Cox: How Germany, Argentina press
- Smith: The genius of Philipp Lahm
- Hirshey: What kind of final will we get?
In all matches between the nations, Argentina have a 9-6 advantage (with five draws), but that's thanks to a healthy record in friendlies. At the World Cup, it's 3-1 to Germany, with two draws. Aside from the two above-mentioned finals, Germany won a group match in Sweden in 1958 and of course thrashed Diego Maradona's mismanaged side 4-0 in the quarterfinals at South Africa 2010. The two draws include a 1-1 followed by a penalty shootout defeat at that same stage in 2006 and a 0-0 in the group stage in 1966.
Player to fear
SU: "We need to stop the passes to Messi," Benedikt Howedes recently said. And Thomas Muller added that even the forwards will need to make fast recovery runs to stop the superstar, who has only covered 52 kilometers in six games -- nothing compared with Mesut Ozil's 59 or Toni Kroos' 68. But even if Messi sometimes appears to be missing in action, he has been the difference-maker for Argentina.
He scored crucial goals against Iran and Bosnia, as well as that fine free kick against Nigeria and the match-winning assist against Switzerland. Can Germany take him out of the game completely, or will Messi have another game-changing moment?
SK: It's hard to pick just one out, but Thomas Muller is probably the most dangerous. Argentina's defence has been a lot stronger than anyone -- Argentines included! -- expected, but Muller will be dangerous not just for his finishing and nose for goal, but for the intelligence of his movement between the lines.
He'll provide a more mobile threat than Argentina have faced so far, and concentration will have to be high to keep him quiet without forgetting about the various other angles this German side offers in attack. How quickly Argentina can win the ball back and hurt Germany will also be vital, particularly with the difficulty that their attack has had in showing its true face during this tournament. Keeping Muller quiet will make some of that job a lot easier.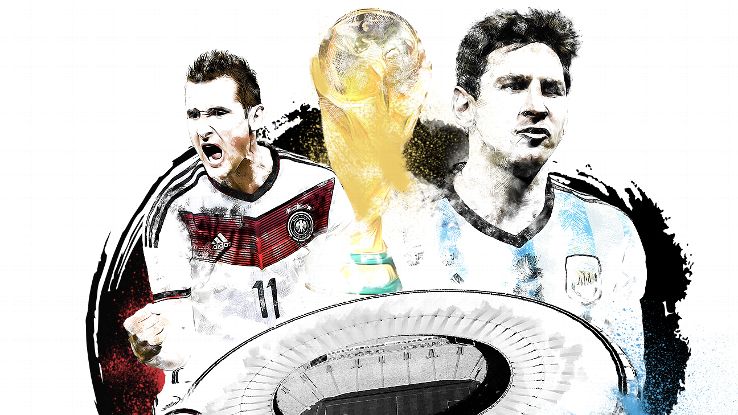 Key battle
SU: Muller has been the outstanding player of the tournament, no doubt about that. How could he score that first goal against Brazil? He must have been invisible to the Selecao's defence. He will be tracked by Marcos Rojo, who did a more-than-solid job against Muller's Bayern Munich teammate Arjen Robben in the semifinal. The thing is, Muller can't be tracked over the complete 90 minutes. Just as Germany will need a team effort to defend Messi, Argentina require more than Rojo to stop Muller, who has scored the opening goals in three of Germany's six World Cup games.
SK: Javier Mascherano versus Muller -- or, really, the entire German side. Everyone with any defensive responsibilities for Argentina will need to be alert, but Mascherano is the man who'll be at the centre -- literally -- of their attempts to keep the German midfield quiet. He'll be afforded more help from his fellow midfielders than he got in Maradona's abysmal system four years ago, but his drive, willingness to put his body on the line and capacity to act as manager Alejandro Sabella's conduit on the pitch will all be vital.
To that end, his reading of Muller's runs will be of huge importance. Muller is probably not the most technically able player for Germany, but he's the obvious danger man because of his mobility and the intelligence of his movement when his teammates have the ball; not for nothing does he get so many goals in spite of normally starting in midfield. Mascherano will attempt to break up play of whoever has the ball for Germany, but I think we can expect him to be paying particularly close attention to Muller.
What would winning the World Cup mean?
SU: Bringing the trophy back home and ending 24 years of hurt. That night in 1990 when Franz Beckenbauer strolled over the pitch in Rome all alone, Germany were only a couple of months away from reunification and everything looked perfect. The 1990 World Cup title would not be a one-off, everyone believed, not with Lothar Matthaus, Andreas Moller, Thomas Hassler, Jurgen Klinsmann, Rudi Voller and those legions of talents from the former GDR.
"This Germany will not be beaten in many years to come," Beckenbauer famously said. They remain without the World Cup since that night in Rome. The nation has been longing for the fourth star, and it would be seen as a natural continuation of what the Bundesliga has achieved at club level. They got close many times, but only in recent years have they begun to collect the rewards.
SK: An end to the 21 years of hurt since Argentina last lifted a major trophy (the 1993 Copa América), revenge for the last two World Cups -- in which Germany have eliminated Argentina at the quarterfinal stage -- and the most epic Sunday night out imaginable; Buenos Aires' nightlife is already among the world's most famous, and the party they threw just for reaching the final was incredible.
It would also provide vindication for Sabella against his critics -- if Argentina avoid defeat and if he steps down as his agent has suggested he will after the final, he'll be leaving the national side with a record of just four losses in 41 matches, an astonishing record by any standards. Criticised for overly defensive tactics even when his side were thrashing most opponents during qualifying, that focus on building a strong defence has turned out to be his master stroke with key members of the attack struggling for form and fitness in Brazil.
And, surely, it would end the doubts around Messi's true greatness. OK, he's not been at his best during this World Cup, shackled superbly by successive opponents. But by the logic of those who ignore his spectacular previous performances at the top level and say he's done nothing until he has that medal, we have to end the debate regardless of how he gets it, right? And without him, Argentina wouldn't have got out of the group stage.
Prediction
SU: Brazil won their third World Cup in 1970 and their fourth in 1994. Italy also had a 24-year-long title drought from 1982 to 2006. Germany have now waited for exactly that time span and will add their fourth star to the jersey. Rarely has there been a more talented and focused side. They did not celebrate against Brazil, but they will celebrate on Sunday -- Germany 2 Argentina 0.
But other than the scoreline, let's just hope for the best final ever.
SK: For the first time in the tournament, I don't make Argentina favourites for a match. The underdog role might suit them, and I'd be amazed if they suffer the kind of defeat they did in 2010 or that Brazil did on Tuesday, but Germany have to be the more likely victors.
All the same I think Argentina can take it to at least extra time. An exception is if spaces open up as Germany come forward, and Argentina's attack suddenly remember how they used to operate. In the end, I foresee 1-1 after 90 minutes and Germany to nick it either in extra time or on penalties.