Juventus boss Massimiliano Allegri: Chelsea job link 'doesn't exist'
Juventus boss Massimiliano Allegri says there is "nothing'' to reports linking him with Chelsea.
The 48-year-old Italian has been touted as a possible successor to Guus Hiddink at Stamford Bridge, with the Dutchman in interim charge of the Blues until the end of the season.
However, Allegri, who has won the Serie A title with both AC Milan and Juventus, has dismissed speculation he may be on his way to the reigning Premier League champions.
Speaking at a youth tournament on Tuesday, he told Sky Italia: "There's nothing to it. I cannot either confirm or deny something that doesn't exist.
"I want this matter over and done with now. What's important for me right now is to get to the end of the season with Juventus and try and win some silverware.''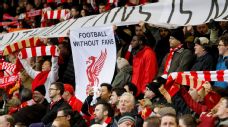 Juventus have won 17 of their last 18 matches in all competitions and are two points behind Serie A leaders Napoli, who they play on Saturday.
They are also through to the last 16 of the Champions League, where they face Bayern Munich, and in the semifinals of the Coppa Italia, with Inter Milan their opponents.
Earlier on Tuesday, Allegri's mentor and former coach Giovanni Galeone said he was almost certain the Juve manager would take the position at Stamford Bridge if given the chance.
"If I were Allegri, I would even walk there -- and I think he will," Galeone said. "Allegri is certainly among the five best coaches in the world. I think he will leave Juve because the offer from Chelsea is truly fantastic."