Juventus relieved after difficult win vs. Genoa - Juan Cuadrado
Juan Cuadrado was a relieved man after Juventus emerged unscathed from a "difficult'' match against Genoa to register a record 13th straight Serie A victory.
The on-loan Colombia winger crucially cut inside from the right midway through the first half of a 1-0 success in Turin, with his low cross ending up in the Genoa net thanks to a wayward clearance from visiting centre-back Sebastian De Maio.
Juve were grateful for the gift of an own goal as they were not at their best on Wednesday night and substitute striker Simone Zaza created late concern by earning a red card for his needless challenge on Armando Izzo.
Come full-time, however, they remained within two points of league leaders Napoli and have won 13 consecutive league games for the first time in their history.
Cuadrado said: "It was a difficult match. Genoa are a great team and played really well.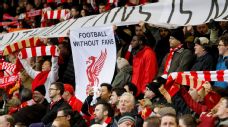 "We'd wanted to win the game so we could try and reclaim first place. We may not have put on a really good show like we did in our last game [Sunday's 4-0 victory at Chievo], but we fought right to the very end and got the result.''
Head coach Massimiliano Allegri felt the tough nature of the encounter served as a timely reminder of how hard it will be for Juve to secure a fifth straight title.
"It's been an intense period for us,'' Allegri said. "Sunday's victory created a sense of euphoria both inside and outside the locker room.
"But this result brings us all back down to earth -- if we're going to win the Scudetto then we have to suffer through games like this.
"I don't care about the record. Now we're only thinking about Sunday's game [at Frosinone]. I've only got two strikers available as Simone is now suspended.
"He needs to try and remain calm. To play in a great team you have to keep a level head irrespective of whether you're in the starting line-up or on as a sub.''